When it comes to London hotels, it seems good things really do come in small packages. When I checked TripAdvisor this morning to advise a friend who asked me to suggest "the best" London hotel, I discovered that each of the UK capital's five top hotels on TripAdvisor is a small boutique establishment. Numbers one and three have around thirty rooms and number two less than sixty.
Guests clearly appreciate the individuality and bespoke service on offer in these hotels; does this signal the end of the "one size fits all" chain hotel?   Judging by guest comments, it seems that luxury in hotels is nowadays defined by intimacy, personalisation and bespoke experiences.
To help anyone planning a luxury trip to London, I've tried to dissect the unique factors that make each of these top 5 establishments unique.  Disclaimer: I haven't stayed personally in any of the hotels below so my comments are drawn exclusively from recent guest reviews.
Similarly the "USP" (or unique selling point) which I've picked out for each one reflects aggregated TripAdvisor comments rather than my own personal experience.  Here they are in their current order on TripAdvisor (NB the rankings can fluctuate):
Elegant and exclusive, Egerton House Hotel is in the heart of London's swanky Knightsbridge district. No two of its 28 bedrooms and suites are alike, with some boasting flamboyant interiors while others are more restful. The martinis by head barman Antonio at the Egerton's bar are infamous and the hotel's art collection is equally impressive, with original works by the likes of Picasso and Matisse.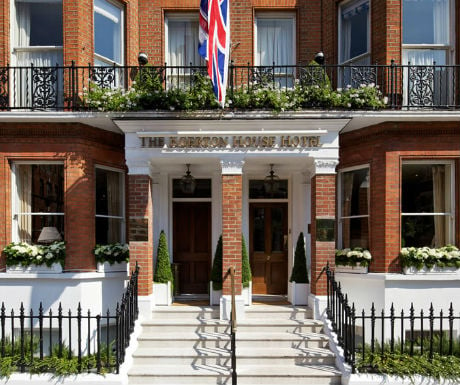 Guests praise the hotel's location (it sits just a 5 minute walk from Harrods), the beautifully decorated interior, the remarkable service and the drinks mixed expertly by bartender Antonio.
One reviewer described the luxury townhouse hotel as "superb," adding: "From the moment we walked in, jetlagged from our long flight to the moment we left, we felt right at home in this small, darling, exquisitely British hotel."
USP: service – guests describe the service as "discreet but caring".
Steeped in history, the Milestone has been home to the mistress of James II and the Russian Ambassador to London as well as being a Jesuit school in years gone by.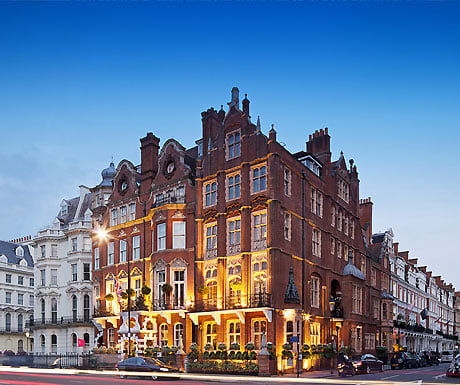 Now one of the world's finest hotels, the Milestone has been showered with travel industry accolades and awards. Those that matter most, the hotel's guests, also have nothing but praise for this 5 star establishment, which boasts 59 rooms, suites and apartments.  TripAdvisor users who stayed lauded the Milestone's distinguished building, great position opposite KensingtonGardens and the elegant dining room.
"Anyone staying in London who wants the intimacy and elegance of a boutique hotel should definitely book their stay at The Milestone," advised one reviewer while another simply said: "This is the finest hotel I've ever stayed in".
USP: family holidays, with guests having stayed with children saying Milestone staff made their youngsters feel special
Named after its location at 41 Buckingham Palace Road, Hotel 41 sits directly behind BuckinghamPalace, about as close to the Royal family as a visitor can get without securing an invite to the palace itself. Rooms and suites are individually decorated yet share a striking black and white theme, while the Executive Lounge has the feel of an exclusive London club and The Leopard Champagne and Cocktail bar is the ideal place to enjoy a glass of pink Cristal.
Guests of the 41 have described the hotel as "luxurious and indulgent," praising the "spacious and stylish rooms, comfortable beds, large baths, fluffy towels and gowns, and great food."
USP: for honeymooners – one newlywed told Tripadvisor about their room being decorated with rose petals, adding: "It was absolutely perfect for a honeymoon."
Sitting in Bloomsbury, next to the British Museum, the Montague on the Gardens combines opulent décor with understated yet personal service. Even though they are staying in the heart of the city, guests describe feeling as if they are cosseted in a comfortable country house.
Guests loved the location, with one saying: "I could see the BritishMuseum from my window". They also praised the comfortable beds, describing slumbering at the Montague as "like sleeping on clouds". Another reviewer summed up the Montague by saying: "This hotel is the epitome of a small upper-class hotel".
USP: afternoon tea, which guests describe as "exceptional".  A member of the Tea Guild, the Montague's afternoon teas include finger sandwiches and freshly-baked scones with Devonshire clotted cream
Renowned for its understated luxury, guests return to the Chesterfield again and again because of the value staff place on the old fashioned values of service and courtesy. Situated at the heart of Mayfair in one of the Capital's chicest addresses, just off Berkley Square, the hotel is home to Butlers Restaurant, said to serve the best Dover sole in London.
TripAdvisor reviewers said the Chesterfield "ticked all the boxes". One guest praised the atmosphere for being "traditional but not at all snobby," while another described the service as "top notch".
USP: foodies – guests praise Butlers Restaurant as "a great experience" with excellent food and wine.
Rajul Chande is Owner of London Hotels Insight.
If you would like to be a guest blogger on A Luxury Travel Blog in order to raise your profile, please contact us.