Top 10 luxury country breaks in Africa
If you are looking for a rural getaway with a difference, then look no further than Africa – a continent so diverse and beautiful, both in its landscapes and, of course, its flora and fauna. Whether it's a hot air balloon ride over the Maasai Mara, fly fishing on the Zambezi or simply relaxing on a UNESCO World Heritage Site, there is something here for everyone – just take a look at our top 10 luxury country breaks in Africa:
The Observatory, Leobo Private Reserve, Waterberg, South Africa
The Observatory
is the newest and most unique private house to hit Africa for decades. Situated in 12,000 acres of pristine wilderness with stunning views of the Palala Valley this malaria free reserve epitomises an unrivalled freedom to explore the bush. The Observatory is a three bedroom (one of these is for children) private house complete with unparalleled luxury decor, stunning rock hewn infinity pool, magical sun-downer deck with Jacuzzi and mind blowing views, illuminated hippo skeleton hanging above the dining table, star gazing tower with 20 inch telescope, library and of course a full compliment of staff including expert guides and gourmet chefs.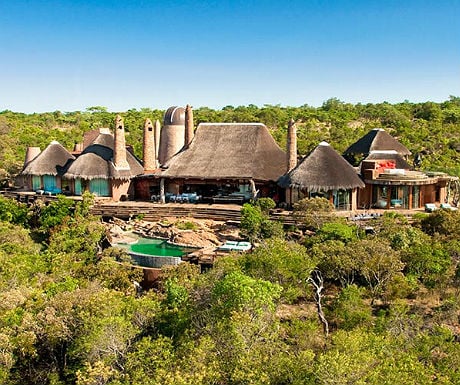 The design and luxurious nature of the Observatory isn't the only thing that you have to look forward to when staying at this unique property – you will have the whole 12,000 acre Leobo Reserve to yourself and the emphasis is on exploration any way you like. You can explore Leobo by polaris (these amazing machines can take you through rivers, across rocks and basically anywhere!), by quad, by foot with an expert guide, on a horse, or by helicopter, and they also offer fishing, fresh water swimming, clay pigeon shooting and sleep outs on star decks near the hippo dam. If you really want to explore Africa at your own pace with a vast stretch of land to yourself it doesn't get any better than the brand new to the market Observatory at Leobo.
Naibor Camp, Maasai Mara Game Reserve, Kenya
This is a stylish and contemporary tented camp – completely away from it all – in the heart of the Maasai Mara Game Reserve, yet only minutes away from the world famous wildebeest crossing site. At
Naibor
 you can marvel at your surroundings with a hot-air balloon safari at 6am, so that you are in the air as the sun rises, and the morning will be spent floating in total silence over the plains, face-to-face with the eagles which float on the warm morning thermals.
If you can pull your eyes away from the spectacular sun-rise, and look down over the edge of your wicker basket, you will see the whole of the Mara laid out below you, complete with stampeding herds of buffaloes, elephants and wildebeest, and if you look hard enough you may even make out a pride of golden-brown lions camouflaged against the straw-coloured grass. The trip is rounded off with a delicate landing in the middle of the plains, and lavishly consolidated with a Champagne breakfast.
River Bend Lodge, Addo Elephant National Park, South Africa
Voted Luxury Boutique Hotel in Southern Africa last year in the World Luxury Hotel Awards,
River Bend Lodge
is located on a 14000ha private concession of the world famous Addo Elephant National Park. This 5 star lodge is the perfect balance between the Eastern Cape bush and the sheer elegance of fine country life. The concession on which River Bend is located is home to an abundance of wildlife including the Big 5 and over 300 bird species. A unique wilderness experience, famous for its life changing elephant encounters, River Bend Lodge also enjoys a reputation as an excellent culinary and photographic destination.
Unlike most game lodges River Bend welcomes children of all ages at the property and on game drives. It has 8 stand alone suites which surround a magnificent garden containing indigenous trees that date back to the original settler days. The Lodge has a formal dining room, a comfortable lounge, bar and library, Day Room, Salon and fenced swimming pool. Inter-leading suites are available for families.
Royal Zambezi Lodge, Lower Zambezi National Park, Zambia
Royal Zambezi Lodge
, an intimate family-owned property, is situated on the banks of the mighty Zambezi River on the edge of the unique Lower Zambezi National Park, directly opposite Mana Pools, Zimbabwe. The design of Royal Zambezi Lodge allows nature and the environment to play a leading role in ensuring the relaxed pace and magical experience enjoyed by guests.
Royal Zambezi Lodge is an ideal place to stay when combining a visit to Victoria Falls. It works perfectly for a family safari holiday yet also as the romantic setting for honeymoon couples. The lodge offers the ultimate in comfort & luxury, with unrivalled game viewing accompanied by professional guides, a luxury spa and world-class fishing and fly fishing.
Beho Beho Safari Lodge, Selous Game Reserve, Tanzania
If you're looking for a remote, luxurious, easy safari experience in vintage fashion, you have it all with 
Beho Beho
. The Selous Game Reserve is utterly unique offering safari how it was a hundred years ago, unfenced lands with a natural beauty that delivers a world class game viewing experience. Beho Beho is one of East Africa most prestigious properties with breathtaking views of the Selous Game Reserve.
The rooms are enormous and look out down the valley to a stream and water hole where, at any given time, you should see Elephant, Giraffe, Hippo or many other animals, all from your stone cottage. You can be on safari at Beho Beho in under 15 hours from London, where you will see no-one for days and experience one of Africa's last real safari destinations in one of its last real safari camps.
San Camp, Makgadikgadi Pans, Botswana
From April to October there is no better place to be than at 
San Camp
 in the Makgadikgadi Pans. The Makgadikgadi Pans stretch as far as the eye can see and represent what it must feel like to be on the moon. San Camp boasts inviting chic white tents spread far apart across the pans. Decorated with exceptionally comfortable antique furniture the camp has an elegance unrivalled by anything else in Africa. San Camp is run by Uncharted Africa who are famous for having some of Africa's best guides on their books so your stay here involves fascinating drives into the surrounding bush.
The camp employ many of the local San bushmen, one of Africa's oldest tribes – they are charismatic and welcoming with a fantastic sense of humour. In between game drives, quad biking across the pans, visits to the San bushmen's village and seeing the famous Chapman's baobab you will have the opportunity to meet habituated families of meerkats. These adorable creatures are not against climbing tentatively onto your head to get a better view of their surroundings and lying with them as they play and forage around you is one of Africa's ultimate wildlife experiences. San Camps cool white tents give you a sense of utter tranquillity as soon as you arrive and it is certainly Africa's most unique tented camp in one of the World's most remote and wild locations.
North Island, Seychelles
You can't get much away from it all than the private island sanctuary of 
North Island
. It has just 11 guest villas and has hosted many a celebrity honeymoon – actress Salma Hayek and husband Francois-Henri Pinault in 2009 and, more famously still, Prince William and Kate Middleton in 2011. As well as being an island paradise, it's where natural habitats and being rehabilitated and where critically endangered Seychelles flora and fauna are given a place to regenerate.
Babylonstorem, Cape Winelands, South Africa
Babylonstoren
, situated in the heart of the Cape Winelands, between Franschhoek and Paarl, is just a 40 minute drive from
Cape Town
International Airport. Surrounded by the Simonsberg, Drakenstein and Franschhoek Mountains, this estate is the epitomy of farm chic. Even the food in the restaurant is colour coded and hand-picked from their own gardens. The whole experience simulates peaceful farm life three centuries ago. Babylonstoren is one of the best preserved Cape Dutch farms, with its classic manor house, historic gates embellishing a traditional courtyard surrounded by a low, whitewashed wall. This combined with newly built luxurious accommodation, make for a richly layered experience.
The days are intentionally unscripted at Babylonstoren, leaving guests free to do as they please. You can stroll out onto the farm and see fruit being picked in the orchards, vines being pruned and the remarkable fruit and vegetable garden. Pick your own salad or enjoy a meal in the superb restaurant, Babel, or in the Glasshouse conservatory. Sample the fine wine, cheeses, bread and charcuterie in the warm atmosphere of the tasting room. Everything is made on the farm. Before long you will be refreshed and inspired by this holistic experience. The tranquility envelops you from the minute you drive through the gates, and their ethos of simplicity speaks for itself.
Wolwedans Private Camp, NamibRand Nature Reserve, Namibia
Situated in a quiet and idyllic valley, this splendid Suite caters for four guests exclusively. It is the perfect getaway for honeymooners or individuals seeking uncompromising privacy and solitude.
Wolwedans Private Camp
offers two spacious en suite bedrooms, a 'Sala' where one can laze away siestas, various decks and the central lounge, combining a study, living room, a dining area and a fully equipped kitchen. Its open-plan design allows uninterrupted views of the surrounding nature.
The Private Camp is designed for those who enjoy the peace that utter silence can afford. Get away for a day or two and revel in the luxury of reading, reflecting or taking walks in one of the most enchanting landscapes in Africa.
India House, Bainskloof, South Africa
Spend time with family or friends, or just a deux, in this gorgeous house only 90 minutes from Cape Town. Nestled in a private estate within a UNESCO World Heritage Site,
India House
is a luxurious retreat for up to six people. Two spacious main bedrooms have ensuite bathrooms and outdoor showers, and a third bedroom sleeps 2 with an ensuite. There's a state of the art French oak panelled kitchen, fully equipped to cool your wine and perk you up with espressos and cappuccinos, a massive fireplace and sheltered courtyard for al fresco dining. The swimming pool has spectacular views of the surrounding mountains, and there are hiking trails, secluded river pools and bicycles for exploring the 2500 hectare estate.
Excape the madding crowd, enjoy fine food, great wine (local of course!) and the company you choose. The Bastiaanskloof estate and nature reserve is home to over 800 different plant species, 200 bird species and some 50 mammal species including the Mountain Leopard, the Chacma Baboon and Cape Grysbok antelope.
Did you enjoy this article?
Receive similar content direct to your inbox.