A place of endless discovery, literary allure and architectural improbability, Venice exists to be adored. This postcard perfect city, a quixotic arcadia that attracts 18 million tourists every year, is a jumble of sun-drenched canals, waterside palazzo, lively restaurants and an inimitable art-scene that goes well beyond the Biennale.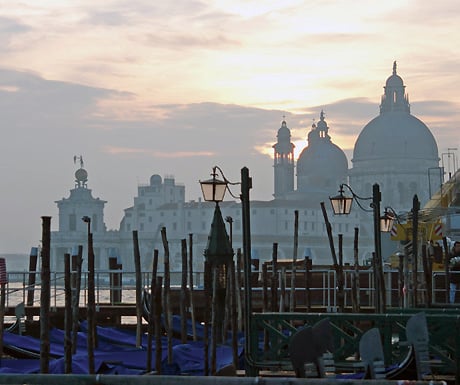 To truly fall in love with Venice you must get lost. Roam away from the tourist drag, the stretch of narrow streets connecting the Rialto to Piazza San Marco, and bask in the quiet bliss. Catch washing drying above a mirror-like canal, children turning an abandoned square into a soccer field and true Venetians at work – the more unfamiliar the street, the greater the discovery. Sooner of later you'll arrive at the ghetto, where a tour of the local synagogues and their enthralling history is an absolute must. Or back at the Academia. Or Rialto. Idyllic as it may be, one never stays lost here for long.
For those willing to be delightfully luxurious, the best way to act like a true Venetian is to take a room on the Grand Canal and gaze nonchalantly from your window at the watery activity unfolding below you. Soak in the utter romance of it all at Ca'Sagredo, a restored 15th Century palazzo that has attracted royalty, great thinkers and boasts one of the most elegant, fresco adorned staircases the ancient city has to offer. Overlooking the Rialto Markets, it's both in the middle of everything and capable of making you feel as if you're a million miles away. For a more boutique experience stay at Ca' Gottardi. Sleek and elegant, this quiet abode, overlooking local-filled streets, quickly makes you feel whimsically Italian and rather lux.
Stay in character by catching the traghetti, a beat-up gondola that takes you across the Grand Canal, rather than along it. Generally used by pet-toting locals (it's considered effete to sit down on one), from here you'll spy at least one gondolier steering skillfully with one hand while yelling 'pronto, chi parla' down his phone. On the vaporetto front, board the slightly slower moving number one from Piazzale Roma, nab a seat out the front and make every significant stop along the Grand Canal. Particularly disarming at dusk, the entire journey will take you around forty minutes.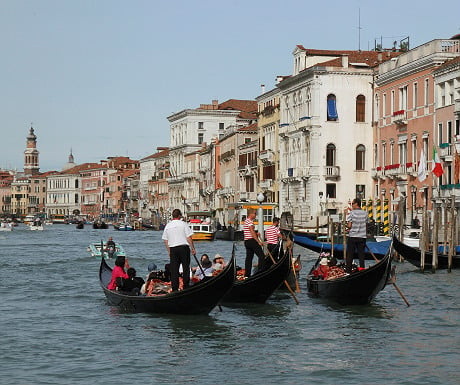 In this slowly sinking city there's scarcely a church that doesn't give pleasure for its architecture, location or the art it contains. Madonna dell'Orto, home of Tintoretto's Adoration of the Golden Calf and the Last Judgment, found in Cannaregio, is no exception. San Zan Degola, famed for its frescos, is equally awe-inspiring. Then there's the gold covered Basilica di San Marco. With much of its decoration taken from Istanbul during the Crusades, this is a place of history, Eastern-intrigue and opulence aplenty. If you're after something a little smaller be sure to wander into Santa Maria dei Miracoli, a favourite of Venetian brides.
When it comes to art, Venice excels. Punta della Dogana, the city's former customs house, now holds the sizeable collection of luxury goods magnate Francois Pinault. With a view of the Grand Canal and across to Giudecca, the building's exterior is almost as captivating as the works found within. Ca' Pesaro is similarly enchanting. This white marble palazzo from the 17th Century features a thoughtful selection of modern works with Miro, Picasso, Kandinsky and Warhol juxtaposed fantastically against a Baroque façade. Avoid the crowds at Museo Correr, a somewhat secretive museum that takes up one side of Piazza San Marco, and stare in awe at the Doge's Palace. The latter is the home of the iconic Bridge of Sighs, given its name by Lord Byron, who, in true romantic fashion, mistakenly believed the bridge offered condemned convicts their last sigh-inducing view of Venice. Then there's the Peggy Guggenheim Collection, a modern art museum that was originally the private collection of the eccentric American heiress Peggy Guggenheim. Flamboyant and brilliant – her artistic flair still seems rather contagious.
This art activity is sure to bring on peckishness but fear not, Venice is a Mecca for pasta, seafood and gelato lovers. In Campo dei Mori, the old stomping ground of Tintoretto, you'll find Osteria L'Orto dei Mori. The food here is a mix of Venetian classics and dishes from the South, with all ingredients purchased from the markets and cooked on the premises daily. Poste Vecie, found beside the Rialto fish markets, is the oldest restaurant in Venice and serves delightful local dishes in a slightly kitsch yet beguiling setting. For extravagance, head to ABC QuadrI. Its blue mosaic floor contrasts dramatically with the rich red of the upstairs dining room. Complete with an outside bandstand, that attracts waltzing locals, this opulent restaurant is the perfect place to watch the world go elegantly by and feast upon some of the richest, Old World inspired dishes around. Similarly charming, La Piscina, near the salt stores that allowed Venice to grow its wealth (yet are now more likely to house Biennale instillations), allows you to sit above the lapping Venetian waters and watch the sun descend. The perfect Bellini spot.
For something more low-key just stop by a Bacari, a small food and wine bar where habitués stand at the counter and sobriety is maintained by feasting on cicchetti, the Venetian version of tapas. The cicchetti at Trattoria da Fiore are delightful while the offerings at Cantino do Mori draw an elegant, flavor savvy crowd. Alternatively, just indulge in a gelato at Grom. While this may be a chain, it's where all the gondoliers and their families stock up. La dolce vita indeed.
Known throughout history as the serene republic, this is a place like no other. Art filled, food rich, impossibly beautiful and explored by some of the most elegantly and colorfully dressed individuals imaginable – the Biennale really does bring out sartorial daring – Venice lives up to every possible expectation. Now go get lost!