This dish showcases local Scottish produce at its best and is inspired by the Ayrshire coastline, where you'll find some of the world's finest seafood. Easy to prepare, quick to cook and delightful to eat, this recipe for freshly grilled langoustines with garlic and parsley makes a great sharing dish. If you do decide to share this gourmet masterpiece with others, make sure you're quick – the langoustines never last long!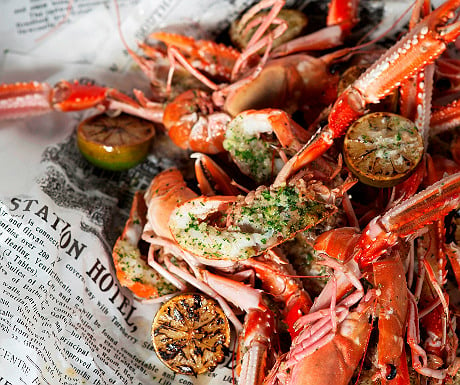 Ingredients
As many langoustines as you can eat or alternatively what your largest tray can hold (usually around 10 live langoustines, halved)
200g unsalted butter
10g crushed garlic
10g of chopped parsley
10g of shallots diced finely
3 limes cut in half
Sea salt
Directions
1. Place the butter, garlic, shallots and parsley into a sauce pan and gently heat to allow the butter to melt and ingredients to mix together.
2. Place the langoustines and lime halves on a roasting tray, pour the melted butter all over shellfish to coat evenly.
3. Place under a hot grill and cook for 3 to 5 minutes, the langoustine should be a creamy white colour when done.
4. Serve on a large heated platter, pour over all of the melted butter that's left on the tray; squeeze the lime juice over the shellfish while the limes are still hot, sprinkle with a little sea salt.
Thank you to Justin Galea, Executive Chef at Turnberry Resort, for the recipe.
If you have a recipe you would like to share with  A Luxury Travel Blog's readers, please contact us.