For its suitability for skiers of all levels, range of resorts, variety and scale of terrain, quality of nightlife and scope of back-country and off-piste skiing, there are very few countries that are able to match France for the quality of skiing on offer. From protected nursery areas and sheltered beginner slopes to steep off-piste couloirs and professional level terrain parks, The French Alps are a truly spectacular mountain range offering some of the finest skiing in the world. The many different ski resorts and villages available have really proven themselves to be a cut above the rest. For families, post-piste partiers, half-day skiers and seasoned professionals alike, these resorts are solid all-rounders which work well for all.
Meribel
Meribel sits at 1400 metres above sea level in the Three Valleys ski area, nestled in between Courchevel and La Tania on one side and St. Martin, Les Menuires and Val Thorens on the other. What really impresses visitors to this iconic resort are the size of the Three Valleys terrain and how well it's all linked– it's truly staggering.
Other amenities
Aside from the skiing, visitors to Meribel have a wealth of non-ski activities to enjoy. The resort's Parc Olympique is the highlight, and offers fitness area with cardio training, weights rooms, rowing, cycling and running machines and Powerplates, plus an indoor swimming pool with aqua-biking sessions available. The resort also has a wide range of spas and wellness suites open to the public, mostly located in the 5 star hotels dotted around town.
Accommodation
Many people associate Meribel with the upper end of the accommodation spectrum and whilst it may be true that the resort boasts some of the most luxurious catered ski chalets and hotels in the Alps, it's a sizeable place and skiers on far more modest budgets are also extremely well catered for.
The slopes
Learners in Meribel are best off starting in the Altiport sector of the Meribel valley where the long, undulating piste runs down through the trees to Meribel Village. The run is serviced by two chairlifts and for beginners mastering their first turns, is just perfect. From Meribel Centre and La Chaudanne, the Altiport is within easy reach via the Rhodos gondola.
Intermediate skiers can avail themselves of the local lift pass and enjoy the excellent range of slopes in the Meribel valley alone. 1-day Three Valley lift pass upgrades are available for more competent intermediates keen to spread their wings and explore further afield. Advanced skiers can navigate the entire area on intermediate level blues and steeper red and black runs, plus of course after good snowfall the off-piste potential really opens up.
Tignes
Tignes sits at an eye-watering 2100 metres and boasts superb snow coverage all season long. It's a purpose-built resort, so is very much 'function over form', but with its easy ski access and fantastic terrain it has a very dedicated following. It sits in the Espace Killy ski area along with its more upmarket neighbour, Val d'Isere, and boasts around 300kms of groomed runs.
Other amenities
Tignes is very much a skiers' resort but also has a great range of off-the-slopes activities to choose from. Le Lagon is the resort's wellness centre and you'll find a sports complex with fitness centre, gym and cardio classes, 25 metre swimming pool with slides for the kids plus hot tubs, saunas and the like. Pursuits such as ice diving in the Tignes famous lake, scenic helicopter trips, dog sledding, parapente and ice-karting are all also readily available.
Accommodation
Tignes offers a good range of 3* and 4* chalets plus a few 5* options too but, in keeping with its purpose-built nature, it's dominated by tower-blocks housing separate chalet-apartments. They may not look like much but for parents with kids or adults who just want to enjoy the pistes, they're perfect!
The slopes
Tignes is best-suited to intermediate skiers and above, but there are good learner slopes dotted around the valley too. In Le Lavachet there's a green run called Digues which is great for beginners, and in Tignes Le Lac the Millonex lift services brilliant green slopes.
Intermediate and advanced skiers ought to buy the full area lift pass and test their skills on the area's steeper slopes. Some of the most challenging are located up on the glacier, where wonderfully challenging terrain can be found.
La Plagne
La Plagne's main resort sits at 1800 metres, and a number of different villages at different altitudes make up the rest. Some are traditional mountain towns, others purpose-built and less attractive.
Other amenities
A big highlight for visitors to La Plagne is the resorts bobsleigh track. It was built for the 1992 Albertville Winter Olympic Games and sits just under Plagne 1800. Keen thrill-seekers can leave their skis in the apartment and try their hand at any one of the different ways down, including Bob Raft, Speed Luge and Bob Racing. La Plagne also offers activities like skidoo hire and snow-shoeing.
Accommodation
Although La Plagne is dominated by large accommodation blocks there's also a good range of stand-alone chalets too, most notably in base-villages like Les Coches and Montchavin. The range of accommodation in La Plagne is decent, but it's largely function over form and the luxury market is not well represented. That said, the range of options with UK flights and transfers included is excellent.
The slopes
One of the reasons behind La Plagne's enduring success is the fact that the ski area works so well for all levels of skier. Beginners can choose from more than 15 free lifts, with at least one in each different village. The best beginner areas are located in Plagne Centre, Aime-la-Plagne and Plagne-Bellecote but wherever you go, you're never far from gentle learner slopes.
The variety of terrain makes things interesting for intermediate and advanced skiers, with a wonderful selection of blues and reds in the La Plagne valley. The area is linked with Les Arcs via the Vanoise Express gondola, which spans the valley and doubles the amount of terrain on offer.
Photo courtesy of weldonwk on Flickr
Morzine
Morzine sits in the Portes du Soleil ski area, which straddles the French-Swiss border. At an altitude of 1000 metres it's not the highest place to ski but outstanding snowfall, easy access into high-altitude Avoriaz and bags of traditional charm make it a popular resort choice.
Other amenities
Away from the slopes, Morzine's resort facilities are outstanding. The indoor ice-rink is available for public use and is also home to the local ice hockey team, les Pinguins, who rank well in the league tables. Home matches regularly take place on the ice in the evenings and watching the games is wonderful fun.
Accommodation
Morzine's range of chalets and hotels is excellent, with well located options to suit all tastes. Compared to many other resorts though, there's a lack of packaged options with travel included. Whether opting for a chalet or a hotel, the majority of visitors to this resort book travel separately and it works well.
The slopes
Morzine is a resort which best suits beginners and intermediates. The nursery slopes on the Pleney are a haven for learners, and the pistes are sheltered from the elements by tall pines. You can graduate from there to any of the rolling blue pistes around the Morzine valley, though pistes D and B are highlights.
Advanced skiers will cover the Morzine slopes quickly and although there's steeper terrain and good powder runs in fresh snow over the ridge in the Les Gets valley, the best runs for advanced skiers are up in Avoriaz, which is only a gondola ride away.
Val d'Isere
Val d'Isere sits at 1800 metres, and boasts an outstanding snow record with season-long coverage. The altitude is impressive enough as it is, but the fact that this is an old, traditional mountain town at heart makes the altitude all the more impressive. Val d'Isere sits in the Espace Killy ski area, neighbouring Tignes, with about 300kms of groomed runs to explore
Other amenities
As a luxury resort it will come as no surprise that wellness suites are in abundance in Val d'Isere. If a spot of pampering is the order of the day then visitors can choose from an array of different spa and sauna facilities around the resort. One of the loveliest is the Deep Nature spa located in the Aigle des Neiges hotel, offering facial treatments, essential oil massages, sports massages, exfoliation treatments plus more besides. The resort's Centre Aquasportif offers a wide range of facilities including 12m high climbing wall and sports courts.
Accommodation
Like Meribel, Val d'Isere has a reputation for offering luxury accommodation. Certainly some of the most jaw-dropping chalets in France can be found here but, like Meribel, this is a large resort and there are accommodation options to suit all tastes. Val d'Isere is strung out along the valley floor in three main areas, La Daille, Centre and Le Fornet, and anybody keen to experience Val d'Isere on a budget can stay on the periphery of the town with easy access by bus.
The slopes
If you're a beginner in Val d'Isere, the best learner slopes are easily accessible from La Daille. You can take the La Daille gondola then the Mont Blanc chairlift followed by the Borsat Express chair to find yourself at the top of the Col de Fresse peak, and from there you can ski all the way back down to base level on shallow green runs!
Intermediates and advanced skiers can hit the long, undulating blue and red pistes running off the Col de l'Iseran and Arcelle peaks and explore the 300kms of groomed terrain across Val d'Isere and Tignes collectively.
Courchevel
Courchevel is, for many, the archetypal ski resort – it's certainly one of the best known resorts amongst skiers and non-skiers alike. The main part of Courchevel sits at a base altitude of 1850 metres, and the 3 other villages making up the rest of the resort as a whole sit below at 1650m, 1550m and 1300m. These villages sit on the most easterly side of the mighty Three Valleys ski area, with resorts like Meribel and Val Thorens within reach to the west.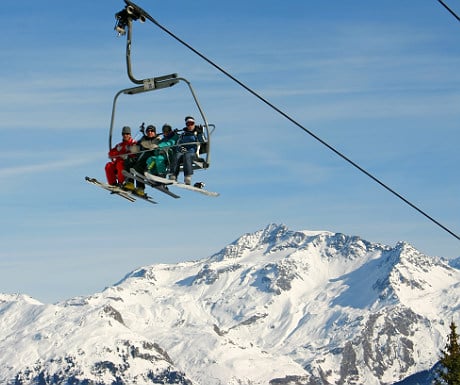 Other amenities
Away from the slopes, Courchevel is best known for its shopping. Luxury brands such as Cartier, Prada, Louis Vuitton and Fendi line the high streets attracting Europe's super-rich like bees to a honey pot. Aside from all that, Courchevel is also very family-friendly and parents can keep the kids entertained for hours in the Forum Centre where a climbing wall, arcade games, cafes, shops and the like can all be found.
Accommodation
At the pinnacle of the accommodation market, a sixth star has recently been added to a select few luxury hotels in France and two of them are in Courchevel! Aside from the luxury properties, Courchevel offers a surprisingly strong range of accommodation to meet all requirements across all four of its separate villages. As a rule of thumb the lower down the mountain you base yourself the cheaper things get, but this is only a general rule.
The slopes
It is for the amazing terrain that skiers of all levels return to Courchevel year after year, and the slopes here are wonderfully varied. The best beginner slopes are located underneath the gondolas heading up the mountain from the La Croisette area in 1850, and the Pralongs, Biollay and Coqs chairlifts are superb for learners too.
Intermediate skiers can base themselves in any part of the resort they wish, because the links into the valley are excellent and the entire area is suitable to intermediate skiing. Advanced skiers are better off staying in the centre of Courchevel, because this area offers the easiest access into the Courchevel valley and beyond, into Meribel and over towards Val Thorens.
Chris Callaghan is Head of Marketing at Interactive Resorts.
If you would like to be a guest blogger on A Luxury Travel Blog in order to raise your profile, please contact us.