Queensland, Australia has the fortune to be the host of the Great Barrier Reef, the largest living creature and a recognized wonder of the natural world. It is also where the magnificent Daintree Rainforest, a World Heritage listed sight and the Whitsunday Islands, considered a sailing paradise, are also located. This is all bound by stunningly beautiful beaches in a tropical climate with luxurious resorts to enhance this experience.
There are some stunning resorts that will entice you to FNQ (Far North Queensland). They all have the WOW factor!
Its name means "a collection of deeper sensory experiences" and that is eactly what you will get. This resort is located on Hamilton Island and overlooks the Whitsunday Islands, a mecca for sailing around the many islands. Qualia lives up to its luxury status and its name. Many consider this to be the most beautiful resort in the world, and that is certainly putting it out there. Invariably the reviews of this luxurious resort come in at 5 star ratings, and justifiably so.
Qualia has 60 luxury pavilions to choose from, all set amongst the stunning gardens and of course the brilliant blue sea. The two enormous infinity pools, offer incredible vistas of the surrounds. There is so much to do, and yet nothing to do, should you choose. Qualia has its own 19 hole championship golf course, as well as every conceivable pamper package imaginable.
A huge draw card is the cuisine of chef Jane-Therese Mulry, which showcases modern Australian cuisine, which is a fusion of flavours from everywhere.
Again, its location says it al,l as it is quite remotely situated off the Great Barrier Reef. It has over 24 secluded beaches and is the only resort on the island, giving you some space and privacy and this has been embraced by celebs choosing this discrete resort.
The restaurant Osprey, is of an exceptionally high standard and guests can enjoy a prepared picnic hamper on one of the many beaches and relax in your own space. You can also  partake in all of the water activities that are on offer at Lizard Island, all the while be taken care of.
This is a resort that caters for just 34 guests, adults only, and is particularly suited to those wanting a lot of luxury and a lot of privacy. The island is immaculately set on the beach, yet within a national park and on the doorstep of the Great Barrier Reef. Palm trees, white sands, blue water and a verdant backdrop, Orpheus is seriously beautiful.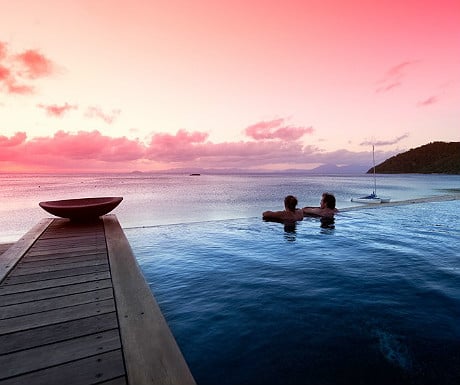 You will appreciate its beauty when you arrive by helicopter from either Townsville or Cairns. You can choose to explore the Great Barrier Reef, which can be done by diving, snorkeling or a glass bottom boat. You may catch sight of a dugong, or many other unusual marine life.
Bedarra means peaceful waters and claims to be the "ultimate in bare foot luxury". As a privately owned and discretely run resort, you will be just one of 14 guests on the island at any one time. Each of the seven guest villas are sufficiently isolated from the others that you need not run into anyone else, should you choose. This island is for rejuvenating yourself in a stunning and serene environment.
However if you need to be doing something, the resort offers many options, again associated with the reef and the rainforest.
This resort is described as 'beautifully remote' and as such is totally unique. Located in the heart of the two world heritage sites, the fabulous Daintree Rainforest and the Great Barrier Reef, the location does not get much better. Bloomfield Lodge is all about relaxing and enjoying yourselves. The seclusion inevitably encourages relaxation, and you won't be disturbed by the outside world, as mobiles/cell phones do not get coverage. The resort is eco friendly, generating its own power and utilizing fresh local ingredients for the wonderful meals that are part of this all inclusive package.
The opportunities to explore the Daintree are well worth taking whether on foot or by boat. This an awe inspiring rainforest where you will see all manner of flora and fauna. Just ask the crocs. The Great Barrier Reef again is a must see and do experience, and it is hard to describe the magnificence of this largest of living creatures.
Getting to this remote resort is either by private plane, helicopter or car, which all depart from Cairns.
Far North Queensland is enticing because of its sheer beauty and because these resorts capitalize on their natural surroundings and bring luxury to the party.