There will never be total agreement on "the" best ski resort in France. Each 
is different, yet all offer enormous skiing opportunities, geographical appeal and an atmosphere that is conducive to an excellent holiday. Some of the resorts are purpose-built, while others retain their 
French Alpine charm. Some are seriously renowned for their après scene, and each 
have their differences in ski terrains that can offer both challenges and just plain fun. Each also provides other activities to keep you entertained and engaged. So how to choose the featured resorts is highly difficult and will 
undoubtedly broach a pleasant debate.  Here are 5 recommendations:
Chamonix
Chamonix retains a lot of cultural alpine charm and is one of the oldest ski resorts in France, having hosted the 1924 Olympic games. The famous and stunning Mont Blanc 
provides a magnificent backdrop and is an obvious skier and boarder paradise, because of its long runs down. This mountain is a great draw card for the extreme sports enthusiasts like mountain climbers and has earned the unfortunate title of  "Death sport capital of the world", in a man vs nature type of way. However, for mere mortals and people who do not relish that much of an adrenalin rush, Chamonix is a luxurious little Paradise. It offers so much more to the average person, with excellent skiing and boarding accessible for all levels, a great après scene and innumerable other activities.
This is a large resort with some 145 trail areas covering over 140 kms. There are 8 areas within the Chamonix valley, including
 Le Brevent that is great for all levels.  The Vallee Blanche is really popular with a 20km run, while Grands Montet attracts a lot of visitors because of its charm and history.  There are seriously long runs here that are fast and steep.
There is an excellent bus system that takes you to each of the resorts. Chamonix is very well equipped for the luxury traveller, where you can select from high end chalets, apartments or hotels.
Aiguille du midi takes you from the valley floor to the top via cable car for some awesome views of the French, Swiss and Italian Alps and on a good day you might get to see, not only Mont Blanc, but the Matterhorn also.
Chamonix is very well equipped to pamper to your every need. It is well worth trying the cheese fondue of which Chamonix is renowned.
Courchevel
Tres chic.
Courchevel is 
part of Les Trois Vallees, or the 3 valleys and this is a serious contender as the glamour playground. Courchevel is linked with Meribel, van Thorens and les Menuires and la Tania. There are 150kms of pistes. Courchevel has slopes to suit all levels, and for beginners pistes are wide and shallow. However as this resort is so large, there are trails for absolutely everyone both on and off piste.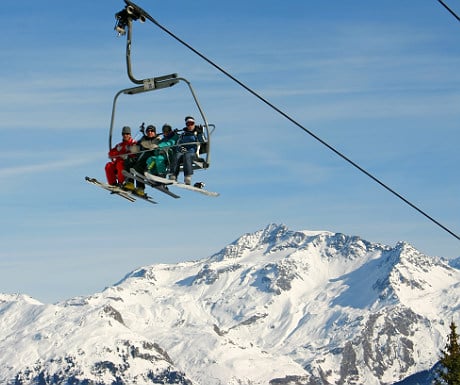 Courchevel 1850 is very exclusive, despite it's very ordinary name. It is more upmarket than 1650, which is still very well considered. You will see palaces and 5 star exclusive chalets and hotels at Courchevel 1850. Courchevel is very popular with
Parisians and Russians as the place to be. Great for all levels.
As is to be expected there is little that you will want for when in Courchevel, with phenomenal restaurants, great shopping and other winter activates and relaxation therapies. In addition, the people watching is fabulous.
Meribel
Part of the 3 Valleys, Meribel is a highly popular resort, with a reputation for its very active après scene
 and has been described as a great resort for hedonists. A ski in ski out village, that is excellent for advanced and intermediate skiers in particular, and it is still worth going to if you are just learning. Instructors and classes are well worth the effort no matter what your ability, and gives you a great orientation to these expansive terrains. Boarders love Meribel and cross country skiers have 33 kilometres of trails.
Meribel offers hot air ballooning, heli skiing, treatment spas, glacier walking and food. Again fondue and raclette are worth trying. Mountain restaurants are a great pit stop with views and sun mid way through your day. Then you will be totally prepared for the buzzing après scene.
Val d'Isere
Very popular with people, particularly younger skiers and boarders wanting to work hard and play harder. This very vast resort can cater for this and has been the venue for many Olympic events in 1992, and is still the venue of a lot of the World Cup competitions. It is close to the purpose built resort of Tignes.
The ski area itself is massive and therefore accommodates to absolutely everyone's needs. It also has a reputation as having an extremely active après scene, with many boarders and skiers enjoying their bonhomie! The town is very well set up to accommodate for these needs, with countless bars and other entertainment venues.
Val Thorens
This is the highest ski resort in Europe and largest ski area. Val Thorens is part of the 3 valleys
 and purpose built. Val Thorens is basically treeless because of its location and very high altitude, and this ethereal environment makes it enticing. The high altitude is worth remembering and avoiding sickness, by taking it pretty easy for the first few days, and apparently drinking sports drinks and water can alleviate the effects of the altitude adjustment.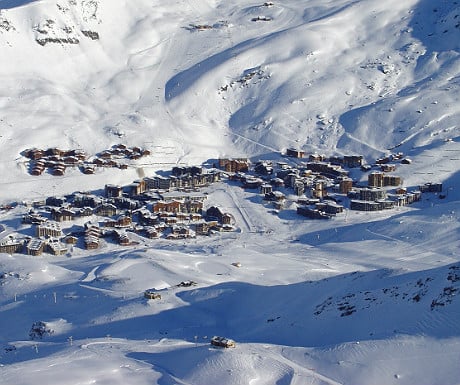 Val Thorens is a ski in ski out
 resort, which holds its appeal because of being the highest resort and having such an other worldy environment. It has expansive slopes for everyone, guaranteed snow and a laid back feel. The après scene is very good and the ski in, ski out is optimal. Ice driving is a great change as is husky dog sledding. Val Thorens is very popular with visitors to France.
Undoubtedly there have been resorts missed, but skiing in France does have something for everyone.