4 truly romantic honeymoon destinations within 3 hours of London
For many newly-weds the romantic dream of a perfect honeymoon actually starts with quite a challenging experience; the flight. Actually getting to the destination can mean seemingly endless hours, stuck in a cramped aeroplane cabin as you fly off toward some exotic paradise beach on the other side of the world. So, if you and your partner really hate long haul flights, then many of those 'traditional' honeymoon destinations may just be an in-flight meal too far. But there are alternatives. Why not opt for a honeymoon closer to home? The good news for honeymooning Brits is that less than three hours flight time from London Heathrow are some wonderfully romantic destinations.
Venice
Starting with a very short hop of just 1 hour and 41 minutes, you could be in one of Europe's most romantic destinations; Venice. There are direct boats from Marco Polo airport to Saint Mark's square, or since the flight will not have tired you out, take the red line ferry which stops off at the glass-making factories of lovely Murano Island before continuing to the heart of Venice.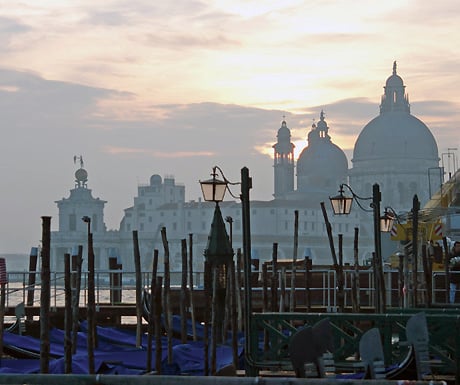 There really is no more romantic way to arrive in a city than by boat and the views from the water as you round the bend and get your first view of the entrance to the grand canal are heartbreakingly beautiful. Once there, Venice is yours to lose yourselves in as you explore the twists and turns of the cobbled streets to discover a wealth of classical art, the stunning architecture of Venetian churches and palaces, a deliciously mouthwatering local cuisine and fantastic views around every corner;  not to mention some fabulous shops selling mementos of your special time together.
Casablanca
How about a honeymoon in Northern Africa? Casablanca is just 2 hours and 41 minutes flight time from London. This coastal city was the setting for one of the greatest love stories ever told. You have seen the film, now why not play at being Rick and Ilsa yourselves? Then, once you have tired of asking the piano man to 'play it again', take the opportunity to explore this amazingly beautiful, welcoming country.
With Mediterranean beaches in the north, huge mountains in the south and in between, beautiful ancient cities such as Fez and
Marrakesh
, there is so much to enjoy.
Morocco
is dazzlingly different and yet so very near and easy to get to.
Athens
Another warm and sunny destination is Athens, the cradle of European culture and civilisation. Just 3 hours after you leave Heathrow you can be looking up at the Acropolis which dominates the city skyline. Stay in Athens if you want a city-based honeymoon or head down to the harbour of Piraeus and jump aboard a boat for an island-hopping honeymoon, visiting some of the countless beautiful Greek islands.
Madeira
If you like a little more isolation than is offered by the well connected islands of the Med, why not head out into the wild Atlantic ocean to the island of Maderia.
Madeira was colonized by the Portugese over 500 years ago and has evolved a culture all of its own. With a wonderfully temperate climate year round and a wide range of native flora and fauna on the slopes of Maderia's volcanic mountains, this island is a paradise for walkers and nature lovers just 3 hours and 13 minutes from Heathrow (or 3 hours on the nose when the wind is blowing from the north). Jeep safaris through the volcanic heart of the island are popular but at the end of the day we suggest you return to the coast and enjoy some of the fantastic seafood that goes so well with the famous local fortified wines. You will soon discover that all  the food and drink on Maderia is amazingly good and you may find you return from your honeymoon quite a few pounds heavier. You have been warned.
Victoria Brenner is Director at The Couture Travel Company.
If you would like to be a guest blogger on A Luxury Travel Blog in order to raise your profile, please contact us.
Did you enjoy this article?
Receive similar content direct to your inbox.