Wild swimming is becoming more and more popular all over the world; swimming in a natural resource is one of the most rewarding and thrilling experiences, and Africa has plenty of natural resources that just beg to be explored, and of course, swam in. We have been lucky enough to visit all of these places and more, but these certainly left the biggest impression.
Devil's Pool
The Devil's Pool is perhaps the most famous natural pool in Africa, simply because it is on the edge of the infamous Victoria Falls (Zambia). Your expert guide will help you clamber across the rocks to this little pool right on the edge of the Falls, which is perfectly safe (in the dry season) thanks to a natural rock wall just below the surface. The thunderous roar from the falls is humbling to say the least. Devil's Pool is adjacent to Livingstone Island, the island that was famously the first place that David Livingstone himself set eyes on the falls. Tongabezi is the best lodge in Victoria Falls, and from there you can easily arrange to visit Devil's Pool.
Hot Springs Beho Beho
Beho Beho is one of our favourite luxury lodges in the Selous (
Tanzania
), and we loved the excursion that takes you walking leisurely along elephant footpaths up to a secluded spot set in tropical style bush – there before you are three hot springs of varying heat, all gin clear and inviting. If you have never experienced a hot spring then put this one on your list, it has to be one of the most enjoyable mornings on safari we've ever spent.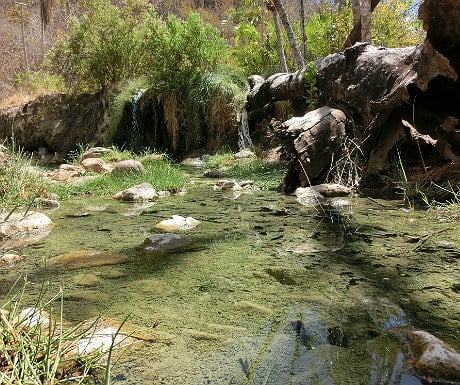 Leobo Dam
Leobo is a vast and beautiful nature reserve in the Waterberg,
South Africa
, which offers an unrivalled freedom on safari, they have the most beautiful reed surrounded dam which is also crystal clear – the jetty leads you out into the middle of the dam where all sorts of misshaped dives and belly flops (!) take place. On a hot day there is nothing better than heading out to this cooling and soothing pool.
Okavango Delta Channel
Now you know as well as we do that the Okavango Delta (
Botswana
) channels are full of crocodiles and hippo, luckily the guides from Uncharted Africa's mobile unit know the areas so well that they easily stop the boat in a shallow channel, produce chairs to sit on and have your lunch, in the Delta, and then take a refreshing dip in the crocodile and hippo free channel of choice – one of our most exciting
wild swimming
options for sure.
Tassia Pool
Tassia (Kenya) is one of the best remote walking and bird safari lodges in Africa and for those who want a really once in a lifetime safari this place is a must – at certain times of year a natural pool fills with water and walks out to this lovely piece of heaven with a delicious picnic cooked by chef and owner Antonia Hall is nothing short of magical. Tassia's swimming pool is also carved beautifully from the natural rock face that Tassia sits on.
Rose Hipwood is Managing Director of Africa Rose Travel Ltd.
If you would like to be a guest blogger on A Luxury Travel Blog in order to raise your profile, please contact us.
Did you enjoy this article?
Receive similar content direct to your inbox.