10 of the best places to stay in Europe for post-Summer sun
Wondering where the sun has gone? As we say goodbye to Summer and enter much cooler weather, it's useful to know where you can travel and yet still enjoy some post-Summer sunshine. So here are 10 European ideas to help you extend your Summer into the Autumn months and enjoy the sun's rays for that little bit longer.
Blue Bay, Ibiza, Spain
This exclusive and secluded property is situated on a magnificent cliff with direct access to the open sea. The property is located adjacent to the bay of Cala Mastella and near to the picturesque village of San Carlos with it's charming farm and red country surroundings. Some of Ibiza's best secluded beaches are just a few minutes drive along a quiet coastal country road.
This classy traditional style finca has 4 en suite bedrooms built on two levels, overlooking the infinity pool and the open sea. Large windows maximize the full frontal sea view and the lush tropical garden view towards the back. The ground floor includes a large living room and two en suite bedrooms accessing the gardens and pool. Upstairs is a guest room and the large master bedroom with a spacious terrace and balcony overlooking the infinity pool and the entire beautiful bay.
Jazz of Monaco, Monaco
Jazz
is a 30 metre Benetti Tradition, the perfect motor yacht for Mediterranean cruising. Large enough to have a custom-designed layout with five separate deck areas, an elegant saloon and four double cabins, yet small enough to anchor in turquoise water and cruise into micro harbours.
Sunbathing? Monaco enjoys sunshine fro 9 months of the year. There is a choice of a split-level sun deck. A wide swimming platform makes it easy to dive into the warm sea with a freshwater shower for when you return.
Boutique Hotel Vivenda Miranda, Algarve, Portugal
The Algarve enjoys an annual average of 3,000 sunshine hours making it one the sunniest places in Europe, sunnier even than
California
! Occupying one of the most stunning locations in the Algarve, the
Boutique Hotel Vivenda Miranda
is nestled on the dramatic cliffs above the pretty Porto de Mós beach, no more than 2 kilometres from the historic town of Lagos.
Originally built in the 17th Century by an English nobleman as his family home, this beautiful, romantic hotel remains a secluded, intimate paradise. Boasting just 25 individually inspired rooms and suites, each with spectacular sea and/or garden views; the Vivenda Miranda has been sympathetically restored and has lost none of its historic and individual charm.
Masseria il Trullino, Salento, Italy
Situated in the heart of the Salento countryside, Masseria Il Trullino is a masterpiece close to the turquoise waters of the Mediterranean sea and its capital Lecce, also known as the 'Florence of the South'. It was completed in November 2008, crafted by artisans from Pietra Leccese, the local stone using traditional techniques featuring impressive stellar and vaulted ceilings. Blessed with 300 days of sunshine a year, Salento can be enjoyed well after the summer is over. The masseria is nestled amongst 400 year old ancient olive trees set in five acres of olive grove, which produce hundreds of litres of superior extra virgin olive oil.
The well-appointed and tastefully decorated accommodation offers all modern comforts and amenities including an infinity pool, an outdoor hot tub, aircon/central heating, mosquito nets on all windows, wonderful fireplace, gas BBQ, kids playground, kids equipment and toys, bikes, various outdoor dining and sitting areas, fresh vegetable and herb garden; complimentary WiFi and office equipment; welcome basket. This spacious masseria has been designed to guarantee privacy and relaxation. Sleeping up to 10 guests, the main building offers one double and one double/twin bedroom sharing a family bathroom; two independently accessible twin/double bedrooms sharing a family bathroom; and a separate guest house offering a further twin/double bedroom en-suite. With its full time property manager and concierge services, the villa is the ideal place for families to spend a memorable holiday.
Argentario Resort Golf & Spa, Southern Tuscany, Italy
Nestled in coastal southern Tuscany, the five-star Argentario Resort Golf & Spa is on the Monte Argentario promontory, which was once an island but is now connected to the mainland by three strips of lands that form two WWF-protected lagoons. The resort offers delightful views of this spectacular landscape. The sunny and mild weather usually allows for a cool swim even in late October, with a choice of sandy beaches and rocky bays. A day out in the crystal-clear sea on a boat is also ideal for admiring the breathtaking, rugged coastline.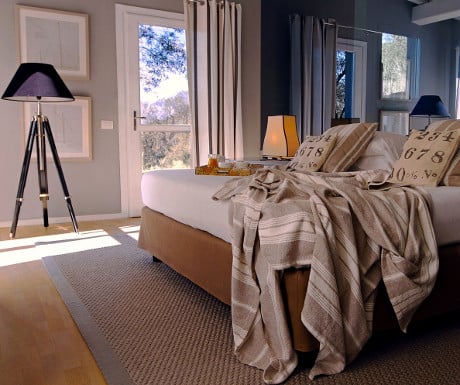 Activities to be enjoyed during fall and winter include cooking classes with the executive Chef in the resort's restaurant; wine tasting and guided visits in local wineries; and sightseeing in charming hilltop or seaside villages. The Argentario is located halfway between Pisa and Rome, which means that you can take day trips to the world's most famous spots and also enjoy Italy's less touristy, authentic areas. The Argentario Resort Golf & Spa offers 73 design rooms and an independent, three-bedroom villa. Each type of accommodation has its own private terrace with panoramic views of the surrounding Mediterranean landscape. The modern spa includes a large gym and a heated indoor pool that is open all year round. The Argentario Ceremony, an exclusive 50-minute spa treatment performed with local products including Tuscan olive oil and lavender, is not to be missed.
Villa Kisiris, Imerovigli, Greece
Villa Kisiris in popular Imerovigli is a cool heaven of relaxation in one of Greece's most vibrant islands,
Santorini
. The perfect location for those seeking sun well after the Summer holidays. Built in 1857 and operated as a canava (winery), this old Santorini wine distillery produced traditional sun-dried wine up till the 1980's. In 2007 the canava was sensitively renovated and was skilfully turned into Villa Kisiris. It developed into a brilliant blend of its traditional canava architectural originality with sophisticated luxury influences and modern facilities.
With all the amenities of a deluxe hotel and the intimacy of a beautiful home, this four double bedrooms en-suite villa can accommodate 8 people. The large private terrace with outdoor large hot tub offers panoramic sea views. Other amenities include a rich Welcome Basket, aircon/heating, office services and facilities, complimentary WiFi, baby equipment. Daily Concierge and maid services ensure a smooth and stress free holiday. The villa is suitable for families with small children as well as for those with restricted mobility.
Cortijo El Carligto, Andalucia, Spain
With nearly 300 days of Andalucian sunshine each year the Mediterranean coast near
Cortijo El Carligto
, in eastern Malaga Province, claims the best climate in Europe. As the intense heat of summer eases and the days begin to shorten, your perch in the hills overlooking the sea from El Carligto provides the perfect retreat for after summer sun. Autumn is even more comfortable than summer as something of a second spring brings life back into the parched hillsides and outdoor explorations of such historical sites as the Alhambra in Granada and the Mezquita in Cordoba become more pleasant with fewer crowds and more temperate conditions.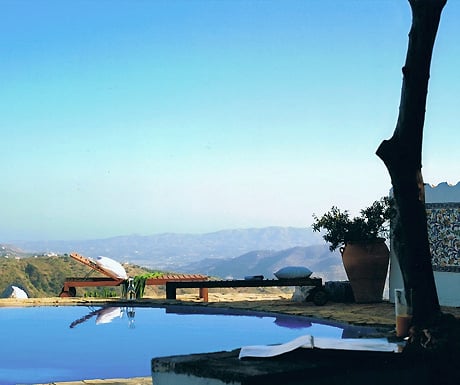 The luxurious and private Cortijo El Carligto, sleeping up to eight guests, is also the perfect base for these explorations with private guides and inside access available upon request. Hiking in the adjacent mountain nature reserve is again possible in autumn and from El Carligto you are only steps away from endless enchanting trails and magnificent trekking. Your hosts can also offer insights into the numerous harvest festivals taking place in the surrounding villages at this time of year; and for the adventurous food lover, they offer a host of harvest and other culinary outings, tours and cooking courses. For those who prefer unabashed relaxation and poolside pampering, the spa treatments and first rate private chef service available onsite here at Andalucia's top "gastro-villa" will certainly fit the bill.
Palacio Belmonte, Lisbon, Portugal
Palacio Belmonte is one of Lisbon's best-kept boutique hotel secrets and offers a secluded base from which to explore the city of Lisbon. Located on the edge of the Castelo São Jorge district and surrounded by medieval streets, Palacio Belmonte offers 11 stunning suites and was named one of the "coolest 21 hotels in the world" by Condé Nast Traveler. Many of the rooms have sun-soaked verandas looking out over the River Tagus and the hotel's pool.
The Belmonte is the most veiled secret in Lisbon… and definitely a place to experience!
Corral del Rey, Seville, Spain
Seville is the perfect escape for those looking to book a ray-catching break before the Autumn sets in, with daily temperatures hitting the 30s. What better place to stay than the award winning boutique hotel, 
Corral del Rey
, located in the heart of the historic quarter, in the Barrio Alfalfa, just five minutes walk from the Cathedral.
The original 17th Century Casa Palacio has been meticulously restored and converted into a small private luxury boutique hotel, offering chic accommodation with a relaxed café/bar and private dining facilities. Guests will love the rooftop terrace with plunge pool and the extended mirador, where one can relax with a glass of wine and some tapas whilst enjoying the spectacular views of the Cathedral and Giralda tower.
Xara Palace, Mdina, Malta
Malta enjoys 300 days a year of good weather so is a good bet for post-Summer sun. Head for the exclusive, family-run
Xara Palace Relais & Châteaux
which is perched on centuries-old bastions, surrounded by stunning baroque architecture. This unique 17th Century Palace is hidden away in the medieval fortified city of Mdina, the old capital of Malta.
Offering luxurious accommodation and award-winning haute cuisine, this exclusive 5 star boutique hotel has been meticulously and sensitively restored to reflect its former noble standing and is a true haven in which to pause and be pampered.
Did you enjoy this article?
Receive similar content direct to your inbox.