First came the handheld mobile phone devices equivalent to the size of a brick; this was followed by the craze of the smaller the better along with the rising popularity in the production of flip phones and laptops before the arrival of the now prominent smart phones, tablets, notebooks and much more.  So as technology moved on, so too did cruise lines.
The need to push the boundaries of connectivity on board became more and more evident.  With that in mind the level of connectivity offered on board has become a key way of creating a unique selling point for a cruise line.  Long gone for many people are the days of enjoying the sun during the day and relaxing at night.
Today's cruise passengers require entertainment in abundance and an everlasting list of activities available to enjoy.  The evolution of cruising has become vital in order to stay one step ahead of competitors and with that in mind we decided to take a closer look at the best cruise lines out there for staying connected.
As the choice of cruise lines has expanded, so too has the list of essential items to pack.  What used to be swimwear and sun tan cream has been replaced with smartphones and laptops (though swimwear and sun cream are still regarded as essentials!)
In reality the cruise ship internet connections are never going to match the service we are used to on dry land but some cruise lines continue to explore new concepts and wireless connections will only improve in time.
Currently the internet connections that are available at sea are still pretty impressive and with ever improving mobile phone technologies you are now able to fully stay in touch with family, friends and business.
While many cruise operators have made giant leaps forward in their quest for technology, other cruise lines have not taken such positive steps and remain in danger of falling behind in their ability to provide high speed services for passengers. Here is an overview of 5 cruise lines that understand that staying connected while cruising is now an important aspect for many passengers.
We'll start with Royal Caribbean, as they are one of the most technologically advanced cruise lines in the world to date.  You'll find Wi-Fi access available throughout many of their vessels whilst the few ships that do not offer this throughout will still provide the aforementioned facilities such as hotspots and Internet cafes.  The cruise line has announced that Wi-Fi will be available throughout all ships in the fleet by 2014.
Royal Caribbean does provide one clever and shrewd move to set them apart.  They acknowledge that leaving work behind isn't always the easiest thing to do, so on top of their already impressive service, they also provide direct connections for key websites, in particular, stock updates.  Another benefit on board is the option of creating your own personal Royal Caribbean email account.  You may not be a regular internet user at home but you may be interested in keeping up with how the family are doing or perhaps sending a few photos home, if that's the case then you can simply and quickly create an email just for your time on board, which will delete when the cruise comes to an end.
Mobile phone service is also something the cruise line continues to improve.  A partnership with Wireless Maritime Services has flourished into the ability to provide passengers with a more than adequate service to be able to call home at all times.  The partnership will also see the unveiling of a newly developed 3G cellular data service on board being rolled out to the Oasis of the Seas in the coming months.  The new service is in its second phase now and will continue to be trialled before being rolled out fleet wide.
The cost?  Well if you're going to be using the Internet services on board quite regularly then we strongly recommend choosing an Internet package.  Royal Caribbean offers packages from $35, which gives you 60 minutes of online activity; the packages then rise up to $150.  Should you wish to use the Internet on a pay as you go basis, this is also an option and you will be charged $0.65 per minute to do so.
This hugely popular cruise line tick many boxes for passengers in terms of luxury and iconic service but how do they stack up when it comes to staying connected?  Well, whilst they don't currently have a Wi-Fi service available throughout the ship, they do offer a 24-hour service at the Cunard Connexions venues on board as well as the ships libraries.  This may seem not all that great to start off with but if you do visit one of these areas, there will always be someone on hand to provide assistance so it makes for a good opportunity if you are a beginner or someone not so savvy with getting online.  Passengers wishing to access the Internet via personal tablets or laptops can do so from their own staterooms, this is available and will continue to be enhanced.  Simply head to your Internet browser and you will be greeted by a welcome message and the option to use the ships Internet services.
Cunard also offer a clever facility through the interactive televisions that are found in all staterooms on board.  As well as being able to browse countless viewing options from films to tv favourites and check up on your bill, you can also access something called "CruisE-mail".  This innovative facility is an in cabin email service that you can then use to keep in touch with home as well as other passengers on board.  The interactive television will make you aware whenever a new e-mail has arrived for you.
Should you wish to access the Internet outside of your stateroom but would prefer to use your own laptop rather than heading for the provided computers, you can also use the wireless equipped locations on board.  These vary from ship to ship but the key areas include the Games Decks, the Golden Lion Pub and Sir Samuel's Lounge.
Cunard do provide a good service for mobile phone reception.  The service is available on all three ships in the fleet but will only work as long as your phone has the applicable international roaming requirements. Most modern day phones will have this ability so I wouldn't worry about that too much.  The cruise line does put passengers relaxation and peace first however by ensuring that no mobile phone service is available throughout such public areas as the on board theatres and certain restaurants so be aware of this before you start thinking there's a fault on your phone.  We can understand Cunard doing this, whether you're at home or on board a cruise holiday, if your sitting down to enjoy a show in the theatre, the last thing you want is to hear mobile phones ringing all the way through or listen to a person behind you catching up with their family during the production.
Price packages are available on Cunard.  You can opt for a pay as you go service, which is priced at $0.75 per minute or you can opt for a reduced rate package depending on the time you would like to purchase.  Packages range from 120 minutes at $47.95, 240 minutes at $89.95 or 480 minutes at $167.95.
Norwegian Cruise Line is renowned for their ship build and design innovations.  This is the cruise line that developed the first ever ice bar at sea along with a string of fantastic entertainment features throughout each and every one of the ships in the fleet.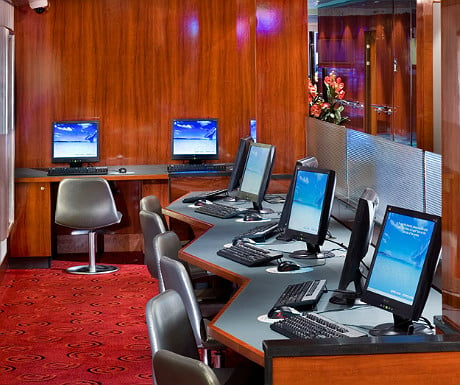 On board an NCL cruise you will have access to the Internet 24 hours a day at the internet cafes but the almost all ships also have Wi-Fi throughout.  The only ships that do not provide a ship wide wireless service are the Norwegian Sky and the Hawaii based Pride of America.  Both these ships still offer wireless connection in public rooms but not throughout the ship and not in passenger staterooms.  The rest of the fleet however provides a superb service.
Like the two previously mentioned cruise lines, NCL also offer guests the chance to create an email account on board but when I say offer, they actually take the liberty of creating one for you, just in case you need it and to save you the hassle.  All you need to is activate it and off you go.
Passengers travelling aboard the revolutionary Norwegian Epic will also have the ability to access a facility known as iConcierge.  This is a phone application that can be accessed through Android, Apple, Window 7 and iPad using devices.  The facility allows guests to be able to keep up to date with the latest passenger information as well as tailor make their cruise to how they want it to be.  Once you've accessed I Concierge you can make your own dining reservations in any of the speciality restaurants on board as well as book shore excursions in any of the destinations your due to visit.  This service is at present only available on Norwegian Epic but following successful trials, the cruise line does expect to introduce the initiative to the rest of the fleet soon.
Mobile phone services on board are extremely good.  NCL's Freestyle Cellular Service allows guests to be able to use all mobile phone functions including calls, text messages, email and internet access throughout their cruise and whilst the ship is at sea.
Like most cruise lines, NCL offers the choice of a pay as you go system for the internet or the option of pre-paid time plans.  For pay as you go you will be looking at a charge of $.075 per minute or alternatively the time plans include options for 100 minutes and 25o minutes, which when calculated, work out at $0.40 and $0.55 per minute.  The iConcierge application is free to download and for use when wishing to book dining and excursion options but if you wish to use the facility to contact other passengers on board, there is a setup charge for this of $7.95 so be aware of this when your being lazy rather than walk down the corridor.  Then again you are on holiday, if there's ever a time to be lazy and relax, it's now.
P&O Cruises are in process of enhancing their ship Internet connection facilities.  The cruise line once only offered Internet cafes and still does but they have now expanded their service to allow passengers to access the Internet in a selection of Wi-Fi hotspots around the ship as well as some ships being equipped to offer in-cabin access.  The ability to access the Internet from your stateroom will soon be rolled out fleet wide.  P&O Cruises do offer a shipboard email account should you wish to use it and this will be created on your behalf similar to NCL's method so as to avoid you wasting valuable holiday time creating it yourself.  You will only need to activate the account and this can be achieved very simply.
Ventura and Azura both now offer passengers an interactive television facility in staterooms.  This facility is very similar to the aforementioned Cunard service where you are able to access the Internet and email through this system.
Mobile phone reception is very good throughout the P&O Cruises fleet and runs in partnership with mobile phone service providers and Maritime Communication Partners.
P&O Cruises operate in pound sterling on board unlike the other operators previously mentioned.  The pas as you go option is available at a charge of 50 pence per minute used but the cruise line do offer packages that are good value for money.  The rates with P&O Cruises do vary from ship to ship but on average you will find that for cruises ranging between 7-20 nights, a 100 minute plan will cost £35 whilst a 250 minute option will come in at £62.50.  There will always be a £2.50 activation fee whichever option you choose.  When travelling with P&O Cruises though it is worth considering some of the offers available.  The cruise line offer the chance to purchase internet time plans before you sail at a reduced rate, for example a 280 minute plan will be priced at a 250 minute plan.  As well as this, the closer you get to the end of the cruise, the more likely you are to pick up a discounted package.  Especially during the final few days of a voyage, P&O Cruises are renowned for offering reduced rates and lower priced packages.  On board a P&O cruise you can also rent a laptop completely free of charge when purchasing a time plan.
Celebrity Cruises provide a very good connection service throughout their fleet.  Most of the ships offer complete Wi-Fi connectivity wherever you are on board whilst the ones that don't, will still offer the service in a wide range of public areas.  The only ships that do not offer connectivity throughout are Celebrity Century, Celebrity Constellation and the cruise lines expedition cruise ship, Celebrity Xpedition.  Alongside the Wi-Fi access, Celebrity Cruises also offer a venue aboard certain ships known as the iLounge.  Celebrity developed the concept of the iLounge in partnership with Apple and passengers are welcome to go to this public area to use the Apple Mac workstations or take in classes to help develop their skills.  Classes range from simple beginners basics to enhanced digital photography.  At present the only ships that offer this facility include Eclipse, Millennium, Reflection, Silhouette, Summit and Infinity.  The initiative has been such a success that the cruise line boasts state of the art Mac products as well as a speciality restaurant known as Qsine where guests order food and drinks through their own personal iPads.
Roaming charges will apply when using mobile phones on board but this applies to all cruise lines.  The mobile phone service is extremely good and offers guests the ability to stay in contact with home and business whenever they wish.
Internet time plans are available to suit everyone on board, from the occasional user and email sender to the regularly connected businessman.  Time plans include options from 90 minutes for $49.95 up to 555 minutes at a price of $199.95.  There is also a package available for passengers that wish to spend a big part of their holiday online and is known at the "Involved" plan.  This option comes at a price of $399.95 and will acquire you a total of 1,666 minutes of connectivity.  Of course you can stay away from the package options and go down the pay as you go route.  Selecting this option means connectivity will cost you $0.75 per minute.
Summary
All of the 5 cruise lines mentioned offer a similar service and those that currently do not will have to reconsider as failure to do so will result in lost custom. Many people who are looking to book a cruise will now often check whether Internet and mobile communication is available on-board.
New concepts and ideas are continuing to emerge with NCL's iConcierge and Celebrity's iLounge being very popular, P&O also offer laptop rental, which is always going to appeal.
With more people using the Internet to run and manage their businesses plus the requirement to stay in touch with family cruise lines need to meet (and exceed) these demands, only time will tell as to whether they all adapt.
Michael Wilson is the Managing Director at Bolsover Cruise Club.
If you would like to be a guest blogger on A Luxury Travel Blog in order to raise your profile, please contact us.