Probably my favourite of all the islands in Asia, Taiwan is a little known yet fantastic destination, offering a variety of culinary, cultural and visual treats. It's tough to whittle down the list but after much hand-wringing I have managed to select what I consider to be the five must-see sights on the island:
A trip along the Taroko Gorge
This is quite literally a cracking natural site. Tracing a deep ravine in the rocky landscape of Eastern Taiwan, Taroko Gorge is billed as the world's deepest marble gorge and is a popular spot for hikes and bike rides. A site of spectacular natural beauty, the gorge is just one of many beauty spots that dot a country more associated in many a foreigner's mind with industry and technology. A hidden treasure.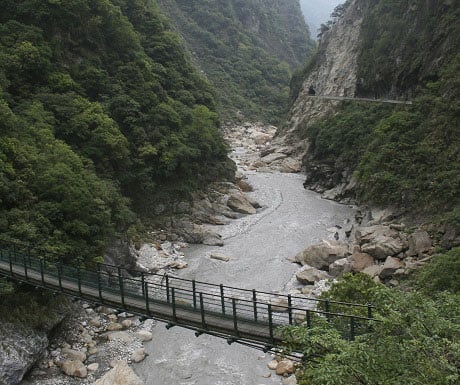 A boat ride on Sun Moon Lake
The still, turquoise waters of Sun Moon Lake are best seen from the top of neighbouring Wenwu Temple, but to really feel you've got to grips with the place, a boat ride is essential. The lake is surrounded by tea fields, temples and pagodas which can best be enjoyed in their entirety, from the centre of the lake. You won't be alone however, as the area is popular with local tourists, who come to taste the regional specialities which include a whole range of fruit wines as well as cakes and biscuits flavoured with tea.
Marine Biology Museum and Aquarium at Checheng
This has to be one of the top aquariums in the world and is certainly one of very few to have welcomed whale sharks, the world's largest fish. As part of their research program, the aquarium at Checheng has housed a number of young and damaged whale sharks, which they have gradually been trying to release into the wild as they grow too large for captive care. The aquarium also displays an extraordinary number of species of local marine life, all presented in transparent walk-through tunnels enabling the visitor to get a close-up view of the wierd and wonderful creatures that lurk beneath the island's waters.
Zhiben Hot Springs
Due to its volcanic terrain, Taiwan boasts a number of natural hot springs, many of which were developed into spas at the time of Japanese occupation. Although there are plenty that are worth visiting, one of the most popular is that of Zhiben. Visitors can plunge into the waters, zipping from one pool to another to find the temperature of their choice and to test the various massage jets. This has to be the ultimate in natural relaxation!
Fresh crab at Houbihou Marina
Oh my! The first time I went to the Marina at Houbihou and tried the stir-fired, freshly caught crab, it was like re-discovering food. The fishing boats dock directly in front of the market here, allowing potential diners to browse the day's catch before tucking into the delicacy of their choice. The sushi is worthy of any great Japanese venue, while the deep- fried white bait and soft-shelled crabs are as light and crisp as the very best tempura. This is an absolute must for any foodie and is something absolutely worth doing during a stay in Kenting.
Jane Downs is Co-founder of Islandesia.
If you would like to be a guest blogger on A Luxury Travel Blog in order to raise your profile, please contact us.