By
Paul Johnson
on Oct 15, 2013 in
Asia
,
Attractions
,
Going Out
,
India
,
Nepal
,
Regions
,
Restaurants
,
Road Travel
,
Speciality Travel
,
Travel Miscellany
,
Videos
Today was a well-earned rest day and an opportunity to do some sightseeing in Delhi. Unfortunately, it was one of those days that just didn't go as smoothly as it might. The traffic didn't help matters and, take note, a number of Delhi attractions are closed on Mondays, but unfortunately our guide didn't appear to have given this much thought!
Our first stop is the President's House and the Parliament building of India which we saw from the outside before continuing on to India Gate (passing a snake charmer along the way) where a rehearsal was taking place for ceremonies that are held when there are important visitors to the city such as Presidents and heads of state.
Designed by Sir Edwin Lutyens, India Gate is the national monument of India, somewhat similar in appearance to Paris' Arc de Triomphe, commemorating the 70,000 soldiers who lost their lives whilst helping the British during World War I.
From there, it was on to Raj Ghat, a memorial to Mahatma Ghandi who was assassinated in Delhi in 1948, killed by three bullets to the chest that were shot at close range. The site marks the location where Ghandi was cremated but was closed for lunch at the time of our visit; this was a sign of things to come as the places that followed – a mosque and Red Fort – were also unfortunately closed.
We had better luck with a visit to Gurdwara Sis Ganj Sahib – a Sikh temple that proved to be one of the highlights of the day. To get there, we walked down a crowded alleyway where, as you can see, the electrics left a lot to be desired!
After a short briefing, removing footwear and covering our heads, it was into the temple.
Of particular interest were the kitchens where food is cooked and served by volunteers for people from all walks of life to eat for free, regardless of whether they may be rich or poor.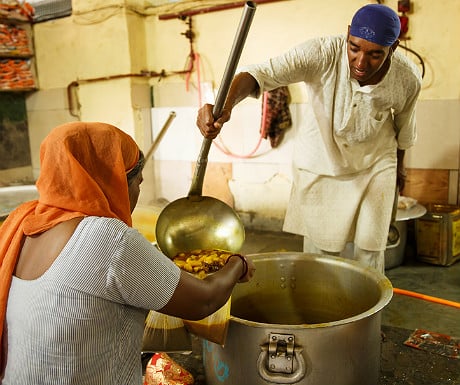 After a rather belated lunch ourselves at the Panchshila Rendezvous (excellent food but somewhat lacking in atmosphere, probably because we were the only diners – by this time, it was nearly 4pm admittedly!), we returned to the hotel, spotting an elephant travelling in the opposite direction. Since our journey from Nepal a week ago, we'd by now seen most things on the roads – pedestrians, bicycles, motorbikes, cars, trucks, goats, cows, chickens, pigs, water buffaloes, horses and carts… but this elephant was a first for us!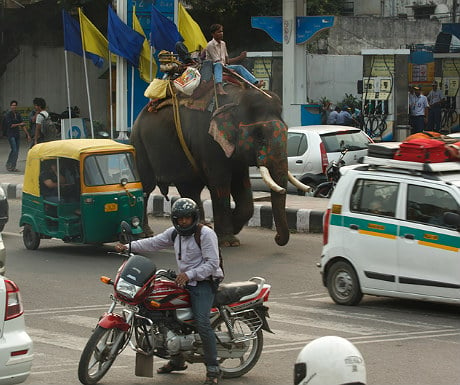 In the evening, I said my farewells to the people I'd travelled with. Some were also leaving, whilst others will staying on for the remainder of the journey to Mumbai. A 7am departure meant a 5am get-up for them, so that they could visit the Taj Mahal, before continuing towards Jaipur. I, on the other hand, am spared the early start (although it would have been nice to visit the Taj Mahal) and instead get to have a much-needed lie-in before departing for Delhi airport and my return home.
I wish my colleagues well in reaching the final destination of Mumbai and am sure the vehicles are more than up to the job. It'll more depend on how erratic the traffic is around them rather than the reliability of the Range Rover Hybrids which have coped with everything thrown at them.
It's been a truly memorable trip and the journey has given some incredible insights into areas not normally visited by tourists, as well as given me a great first-hand experience of the world's first hybrid SUV. Look out for it when it goes on the market next year.
Afternote
I'm pleased to announce that the Range Rover Hybrids did successfully make it all the way to Mumbai. Here is a video of the epic 53-day journey from its start in Solihull, Birmingham, UK right the way through to its final destination. Leg 8 of the trip – the section that I was on from Kathmandu to New Delhi – runs from 3.08 to 3.48.
The Silk Road Trail 2013 is a 16,000 kilometre expedition across some of the world's most challenging roads, passes and trails, and the final development drive for the new Range Rover Hybrid from Land Rover.