You are on vacation in Italy, and want to find a great restaurant in which to enjoy a great meal. You turn to TripAdvisor to help you locate a place, but are faced with wading through dozens of options. How do you find the perfect place without spending hours on line doing research? I use TripAdvisor, along with other resources, to discover new restaurants to introduce on our tours. It is a fantastic tool, but can be quite time consuming. Here are a few tips that I use to wade through the alternatives and quickly cull my choices to a select few.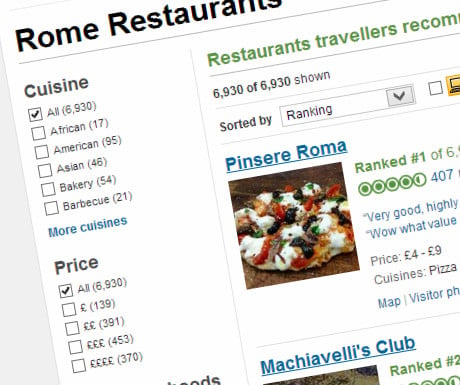 1. Use the search by location map
Focus your search by using the map, rather than immediately starting with the highest rating. For any given location, say Siena, the listings will include many restaurants that are located well outside the town. These can be great destinations if you have a car, and the desire to travel to dine, but most of the time my travel radius is limited. I  begin by listing the restaurants within my travel area.
When you do this, note the town name of each restaurant you list. I have noticed on many occasions that restaurants that appear on the map aren't really in the town — a recent search on Siena showed a restaurant in San Gimingnano. These are incorrect, so don't include them on your list.
Now read the reviews
The review ranking is only somewhat useful – it is unclear how/why #1 earns it's spot, and if you look at the ratings of many of the restaurants at the top of the list, they are pretty close. I read many of the reviews to determine which restaurants are prime candidates.
2. Are the reviews all in English? Look for many great reviews in Italian
If the review are all in English, it is a place targeting tourists. I am looking for authentic, regional cuisine, so I want to eat where Italians find great food. A bad review complaining that the decor was so-so and no one spoke English is actually a selling point for me!
3. Look for details of menu and avoid the tourist dishes
If the reviews rave about the spaghetti with tomato sauce and the caprese salad, you are likely not eating the local specialities. If this is what you are looking for fine – but these are not dishes featured on most restaurants with traditional cuisine.
4. Look at the number of reviews
If these number in the thousands, and rave about the place, you'll need a reservation. Don't be afraid to call, most will speak English enough to reserve a spot. But calling in advance will very likely be required.
5. Look at the dates of the reviews
You can often see trends here; restaurants that had rave reviews in the past, but more recent ones where several site similar issues. And vice-versa, restaurants that suffered poor reviews in the past, but have really turned things around.
And don't forget to check the opening days and hours. Most restaurants in Italy are closed one day a week, and this can be just about any day from Sunday to Thursday. If the information is not on the Trip Advisor listing, check the website. If the website link doesn't work from TripAdvisor – and it is often out of date – just Google the restaurant name.
Kathy Bechtel is Owner of Italiaoutdoors.
If you would like to be a guest blogger on A Luxury Travel Blog in order to raise your profile, please contact us.