It probably comes as no surprise to hear that the Caribbean is one of the most tourism-dependent regions in the world. The islands aren't known for their great working opportunities or fantastic living conditions, but they are known for their pristine sand beaches, clear blue waters, and almost endless opportunities for sunbathing and water sports that really draws the crowds. This is especially true during the winter months when many of the islands experience stunning sunshine and pleasant heats, a far cry from the wind, rain, and snowstorms common throughout Europe and North America. In fact, it's estimated that around 60 percent of all cruise ships are based in the Caribbean at this time of year, visiting the likes of Grand Cayman's Seven Mile Beach, Nassau's colourful, colonial-style buildings, and St. George's lush green rainforests.
Unsurprisingly, these ports are very popular during the winter, with some of the larger islands welcoming up to six gigantic liners each and every day. This certainly invokes a lively and vibrant atmosphere, but it's not everyone's cup of tea. Travellers who prefer a more quiet, relaxed, and authentic Caribbean experience away from large crowds may prefer to visit some of the lesser known islands, many of which offer the same luxurious experiences but on a much more intimate level. Here are some of the must-visit islands just off the beaten track:
Catalina Island, Dominican Republic
Measuring less than four square miles in size, the beautiful and compact Catalina Island is often overlooked as a cruise port as it is located just a couple of miles off the south coast of the Dominican Republic, which boasts larger, busier, and arguably more active destinations such as La Romana, Santo Domingo, and Puerto Plata. Granted, there aren't many shopping opportunities or sporting events on the island, but that's what makes it so great – it's nothing more than a secluded paradise that's great for unwinding and soaking up the classic Caribbean scenery. Catalina Island Beach, located on the western shore, is the hub of activity here, where travellers chill out under palm trees, swim in the clear waters, and don snorkelling masks to view some vibrant and unique sea life. There are also an array of beachfront vendors selling delicious Caribbean street food such as fried fish fritters and local beers.
Mayreau, Grenadines
Mayreau is the smallest of the Grenadines islands at just 1.5 square miles in size, and is located some 30 miles south of the mainland. With a population of just 300, it is perhaps one of the quietest and calmest of the inhabited islands in the Caribbean. Although the beaches are spectacular, it's the middle of the island that the daytrippers flock to. Here lies what is simply known as The Village' which is little more than some small houses, a church, and some of the best West Indian bars and restaurants you'll ever visit! If you love foods infused with spices and can't resist a shot of Caribbean rum, you must stop in at Robert Righteous or Dennis' Hideaway. A visit to Mayreau is like being transported back in time. It's tiny and unassuming, and it's not uncommon to see a steel band walking past! The island is too small to cope with the larger cruise ships, so it caters almost exclusively to smaller vessels, and to passengers arriving on private yachts for an opulent getaway.
Prickly Pear Island, Antigua
This wonderfully named island (which origins lie in the type of cactus that grows abundantly throughout the Caribbean and Mexico), is located just north of Antigua. In fact, it's separated from some of Antigua's best resorts by just half a mile of water known as Boon's Bay, which means it is sadly often overlooked as a cruise port. However, for those in the know, it's an isolated, uninhabited utopia that boasts unrivalled snorkeling opportunities around the coral reefs just off the shoreline. There are two beachfront restaurants that host lunches and parties for visitors, but there are also some interesting hiking trails around the island for those interested in viewing the natural, untouched scenery.
Soufrière, Saint Lucia
Situated on Saint Lucia's western coastline, Soufrière is remarkably popular with high class resorts and restaurants, but as the island's capital, Castries, is located just 25 miles north, many cruise ships opt to dock in the big city and Soufrière remains much quieter. Interestingly, what many people don't know is that Soufrière was once the capital, named after The Pitons, the sulphurous volcanoes, by French settlers. However, when the island was colonised by the British, Castries became the more important city from a political perspective. Historically and culturally, Soufrière is fascinating, and there are many reminders of the French and British influences within the town, particularly at the Diamond Estate which features a stunning colonial mansion surrounded by colourful botanical gardens.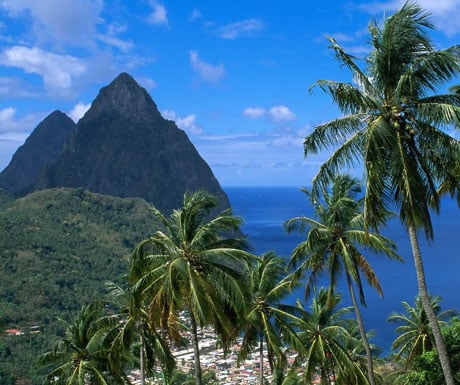 It has been reported that Caribbean cruise trends are changing, and that more and more passengers are seeking out authentic ports of call where they can experience life as locals and really immerse themselves in a different culture. This isn't something travellers can always do by visiting the larger, more popular ports. Take Labadee, for example. Although part of Haiti, the village is privately owned by major players in the cruise industry, and is separated from what is considered to be the Haitian mainland. While beautiful and interesting it is, essentially, a man-made destination that has little in common with its own country. As travellers start to edge away from this concept, there is more demand for cruises to 'real' destinations such as those above, and it is estimated that some of these islands will become far more accessible to cruisers during the coming years.
Michael Wilson is the Managing Director at Bolsover Cruise Club.
If you would like to be a guest blogger on A Luxury Travel Blog in order to raise your profile, please contact us.