Le café gourmand – a one-stop gourmand's delight
Earlier this year, I shared some of my top tips for the hungry traveller with an exclusive gourmand's guide to Paris. This time, it's all about homing in on one of the naughtiest, most luxurious treats in the City of Lights' culinary repertoire: the world-famous café gourmand. If you want to play the part of the Parisian insider, the calm epitome of aloof lunchtime chic, then there is only one sentence that you really need to learn: "un café gourmand s'il vous plaît". Once the main course is cleared and the waiter approaches with a proud "Alors?" or "Je vous écoute", this really ought to be the only response. In basic terms, the café gourmand is a gastronomic concept that brings together the obligatory postprandial espresso and a selection of mini-desserts, all served on the same plate. But it is so much more than that… In my own personal view, the café gourmand is a lifeline, as it saves me from the terrible dilemma that besets me at the end of every meal. I am talking, of course, of the eternal struggle, the existential crisis bound up in one little greedy question: what shall I have for dessert? When faced with virtually any menu, this is a virtual impossibility: I absolutely love crème brûlée, but does that mean I have to forego the divine chocolate fondant? And what if I want a little fruit hit too, with one of the strawberry or raspberry options winking at me? The café gourmand comes to the rescue each and every time by giving you the best of all worlds in the form of around three or four bite-sized puddings. There is no legal requirement to make a café gourmand a café gourmand… each chef will have his or her own creative variation on the theme, so the chances are that you will never have the same combination twice in your trip. Part of the fun for me is to place my trust in the chef and not ask for the selection before ordering, making the surprise all the more wonderful when it arrives.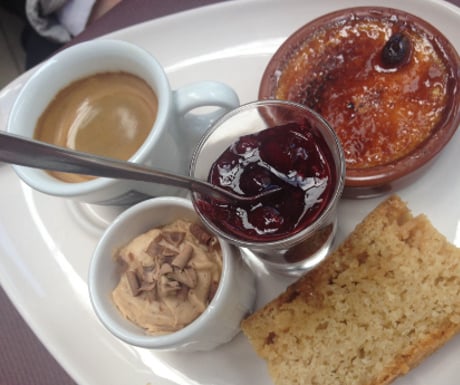 Here are five other reasons why you'll never turn back once you've sampled your first fantastic café gourmand: 1. You don't even have to be hungry. They are pure gourmandise – little treats to savour. And they are so tiny that the calories barely even count: a guilty pleasure without any of the guilt! 2. Artwork on a plate. The mini-puddings are always cute and nice-looking, and some cafés gourmands are real pieces of art, with a glorious mix of colours, shapes and sizes. 3. Taste sensation. The pairing of bitter coffee and sweet desserts enhances the flavours of both for an exceptional sensory experience. Also known as mignardises or petits fours, they are the perfect sweet-tooth accompaniment to your caffeine hit. 4. Quick fix. If you are dashing off to a gallery or to catch a show, this could be the ideal time-saver. By combining your dessert course with your coffee you can kill two birds with one stone, and get back on the road without losing any precious time in Paris. 5. Not a coffee fan? No problem at all, since you can also order a thé gourmand… the very same concept but with a refreshing cup of tea to accompany your mini-desserts. Cafés gourmands are not only available in ordinary brasseries. Here are my three favourite Michelin-starred restaurants which have made room for it on their menu: •
114 Faubourg
. The Bristol Palace's luxury brasserie, which received its first star this year thanks to the efforts of chef Eric Desbordes, mentored by Eric Frechon – Hôtel Le Bristol's "Chef des Cuisines" – and Laurent Jeannin, Hôtel Le Bristol's pastry chef. •
39V
. Pronounced "thirty-nine five" – which stands for 39 avenue George V, in the eighth arrondissement – this is chef Frédéric Vardon's unique and astonishing rooftop restaurant looking out onto the Parisian sky. •
L'Arôme
. Located at 3 rue Saint-Philippe du Roule, Paris 8. Talented chef Thomas Boullault joined L'Arôme in 2007 and was awarded his star at the age of just 28. He offers a creative and refined menu based on seasonal ingredients.
Magali Déchelette is CEO at Family Twist.
If you would like to be a guest blogger on A Luxury Travel Blog in order to raise your profile, please contact us.
Did you enjoy this article?
Receive similar content direct to your inbox.