Recipe of the week: Turkey confit with honey and mustard sauce
More often than not turkey tends to be desert-dry, but not with this delicious dish. Cooked in duck fat, the fat replaces the water and gives it a succulent and distinct flavour, whilst keeping the meat nice and tender. The tender turkey combined with the pleasantly crumbly and grainy texture of the polenta cake, and the crispy deep fried onions gives this dish a unique texture and provides a taste sensation. This dish is ideal for warming up on cold evenings.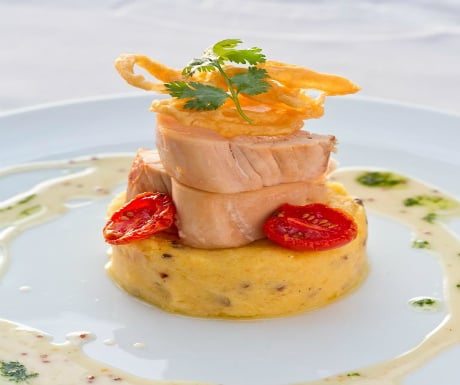 Ingredients
Turkey confit
1 whole turkey 500g rock salt 50g thyme 2kg duck fat
Honey and mustard sauce
1/2 cup Dijon mustard 1/2 cup honey 2 tablespoons mayonnaise 1 tablespoons lemon juice Salt and pepper
Deep fried onion
1 onion sliced 25g chickpea flour Salt
Polenta cake
500g polenta 1l fresh cream 1l turkey stock 1 chopped onion Rosemary Salt and pepper Blue cheese Pan fried mushroom Sunflower seed Olive oil
Directions
Turkey confit
Debone the turkey, then cover it with salt and thyme, and marinate for two hours. Rinse the turkey and put it in a baking tray with the duck fat, then cook in the oven at 80 degrees for 10 to 12 hours.
Honey and mustard sauce
Put the mustard, honey and mayonnaise in a blender, blitz and add the lemon juice little by little until you have a smooth sauce.
Deep fried onion
Sprinkle the onion with salt to take out the water, then rinse and dry with a paper towel. Roll the onion in the chickpea flour and deep-fry until crispy.
Polenta cake
Slowly fry your onion in the olive oil (no color) then add the milk and the cream; bring to the boil then add the rosemary and the polenta. Once cooked add the blue cheese, mushroom and sunflower seeds and put in a bain-marie immediately. Make sure you put an oiled plastic wrap into the bain-marie and before you add the polenta mix to ensure it doesn't stick. Assemble the elements, layering the turkey on the polenta cake, adding the sauce and sprinkling the deep fried onion over the top to garnish.
Thank you to Alexandre Coupy, Head Chef at Sun International's Royal Livingstone Hotel, Zambia, for the recipe.
If you have a recipe you would like to share with  A Luxury Travel Blog's readers, please contact us.
Did you enjoy this article?
Receive similar content direct to your inbox.