Why choose Cunard for your transatlantic crossing
Transatlantic cruising was huge back in the early 20th Century – not only was it a cost effective way for the lower classes to cross the pond in search of the American Dream, it was also a way for the upper classes to demonstrate their wealth – transatlantic cruising was, largely, a symbol of status.
However, as air travel became more accessible and offered a faster way of getting from A to B, the transatlantic cruise industry started to decline – that is, until now. Transatlantic cruising is on the rise, and the industry appears to be going from strength to strength. As more and more travellers shun air travel due to the ever-increasing prices, poor quality environments and safety concerns, cruising is fast becoming the most sought after way to travel to and from the Americas.
Many major cruise lines offer low cost transatlantic cruises, yet Cunard stands out over all others. Why? Take a look….
The ship
Cunard exclusively uses the RMS Queen Mary 2, or the QM2 as it's commonly known, for its transatlantic crossings.
The Queen Mary 2 was designed purposely for this journey, with a stronger structure to withstand the potentially choppy ocean, and with a faster sailing speed to reduce the time taken to make the crossing (standard itineraries take just 6 days to sail from Southampton to New York, making the QM2 faster than others by around 24 hours).
However, what many people want to know about the ship is how luxurious it is, and the answer is – very! The QM2 never fails to impress even the most seasoned cruise traveller.
Along with all the standard offerings you'd expect from a luxury cruise line, such as theatres, libraries and spa facilities, this ship goes above and beyond, with rather unique amenities and attractions such as a planetarium, ballroom dancing classes and even a prestigious
Todd English restaurant serving up some of the chef's classics such as the mouthwatering porterhouse lamb.
A further aspect that really makes this ship shine is the internal design. On the QM2, it's the little touches that make the difference for example the elevators on board are set back from the hallways, and are somewhat enclosed, meaning that cabins remain a good distance away and thus preventing any noise disturbance whatsoever, maintaining the haven of peace and relaxation that a Cunard cabin should be.
It's these small considerations that make such a tremendous difference between the Cunard experience, and the experience of another cruise line.
The itinerary
While many transatlantic itineraries often sail from Southampton to New York, and vice versa, only a select few gives passengers a choice of route. For example, some cruise lines will sail direct, others may stop in France or Spain, and some may dock on elsewhere on the USA or Canadian coastline before hitting NYC, and they tend to stick with a single journey.
Cunard, however, offer travellers two variations of their transatlantic crossing, playing to the interests of the two distinct type of cruise traveller – those that use the cruise as an enjoyable way of getting from A to B, and those who see the cruise itself as a part of the holiday and enjoy a slower pace, taking in different ports along the way.
One itinerary travels directly between Southampton and New York and takes just 6 days. This is ideal for those who want to make the most of their time stateside. The other itinerary takes 7 days and makes a stop in Halifax, Nova Scotia.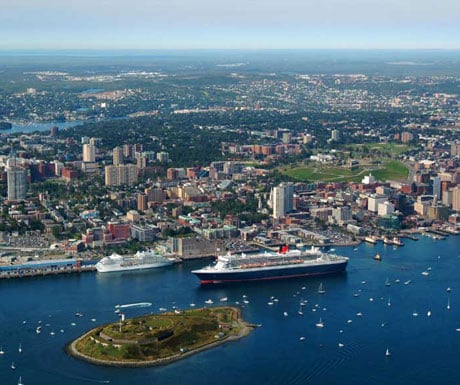 There's plenty to do in Halifax for the whole family – so much so that it's a shame you're only there for one day! If you're travelling with children, the waterfront area has everything you need, from down-to-earth eateries to fun boat tours, while if you're on an adults-only trip; you can't afford to miss out on the Alexander Keith's Brewery tour – complete with free samples!
Onboard and shore experiences
Having a good shore experience is as important on a cruise as having a good on board experience, and fortunately Cunard ensures all passengers are happy and entertained both on and off the ship.
On board, choose from wine tastings led by some of the biggest producers in the field such as Akashi-tai, children's activities such as the Play Zone, complete with puzzles, reading books and crafts, or head to one of the theatres to hear some amazing, inspirational speeches from talented individuals – Travel & history writer Bill Bryson, Royal commenter and reality TV star Jennie Bond and Hollywood director Baz Luhrmann are just some of the big names that have graced the theatres of the Cunard line in recent years.
You can also visit the QM2 excursion desk to book some activities in Halifax or New York City to ensure you see the best of what the destinations have to offer.
This is particularly beneficial if it's your first visit to New York. There is so much to see and do that planning can become a little overwhelming, so let the cruise line do all the hard work! Choose from a city highlights tour (great for first-timers), boat trips across to the Statue of Liberty, or guided tours around the site of Ground Zero for an alternative and somewhat humbling view of the Big Apple.
Even if you're familiar with the city, you can still arrange an enjoyable trip through your cruise line – how about a trip over to Brooklyn to see the up-and-coming trendy neighbourhoods, or perhaps even a day trip down to Philadelphia?
Cruises across the pond are quicker, smoother and more exciting than ever before.
There has never been a better time to cruise the Atlantic across to Canada and the Americas. Cunard has really listened to what passengers want when designing the QM2, and, having been built especially for transatlantic journeys, there really is no better cruise liner, or cruise operator, to travel with when making such an iconic, historic, and romantic trip to the United States.
Michael Wilson is the Managing Director at Bolsover Cruise Club.
Did you enjoy this article?
Receive similar content direct to your inbox.