Barbados sits quietly on the southern corner of the Lesser Antilles and is in fact the easternmost island in the Caribbean. The different coasts of the island offer different types of beach with sandy coasts sitting next to crystal clear seas to the rocky, rugged Atlantic side where you'll find surfers and naturalists. Here are five of the most impressive and striking Barbadian beaches to consider if you're visiting the sun-drenched isle.
Bathsheba
This small, intimate East Coast fishing village transforms completely when the surfing contest comes to town. Bathsheba beach is the surfing capital of Barbados when the season begins. If you're not into surfing then there's the chance to snorkel and sunbathe with pools and coral reefs to discover. This beach isn't your typical white sandy affair as it has a wild, natural edge with crashing waves which enhance its appeal.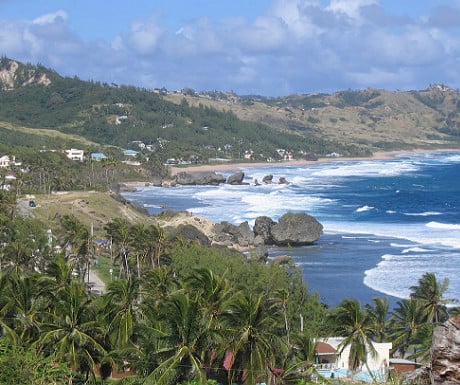 Silver Sands
The windy nature of Silver Sands makes it extremely popular with windsurfers. It's internationally recognised for this particular sport and sits neatly on the southern coast of Barbados. Every February extreme sports fans can enjoy the Watermen Festival which celebrates all things surf-related. You can truly kick back and relax, enjoying the sport or you could even give it a go yourself.
Crane
Crane Beach is based around an original Caribbean harbour and is one of the most naturally beautiful beaches the island has to offer. It's one of the historically popular resorts and there is even scope to enjoy your own luxury private villa in the area. The waves are gentle and welcoming so newcomers to the extreme sports world could give surfing ago for the first time. Coastal coves also give you the opportunity to enjoy some relaxing swimming in intimate luxury.
Bottom Bay
Located to the north of the famous mansion known as Sam Lord's Castle stands out due to its vibrant pink sand. It's protected by a range of jagged cliffs and coconut palms sit along the edge, perfecting the exotic beach image. The waters are crystal clear and wonderful to watch but they're not ideal for swimming in. Instead enjoy a beachside picnic and simply bathing on the sands.
Accra
Sometimes known as Rockley, Accra is one of the most popular beaches you'll find in Barbados – so it's perhaps not the place to go to if you're looking for secluded intimacy. The sandy beach is one of the widest on the Barbadian coast and it's popular with beachside vendors and jewellery merchants. Waves are relatively moderate without any undertow which means it suits sportspeople as well as those just wanting to relax. Try windsurfing, snorkelling, boogie boarding or sunfish sailing.
These are just some of the stunning beaches you can enjoy on a once in a lifetime trip to Barbados and if you explore on your own you may find many more hidden gems.
James Mannings is Co-Founder of Top Villas.
If you would like to be a guest blogger on A Luxury Travel Blog in order to raise your profile, please contact us.