By
Michael Wilson
on Jan 09, 2014 in
Adventure Travel
,
Belize
,
Caribbean
,
Cayman Islands
,
Central America
,
Florida
,
Honduras
,
Leisure Travel
,
Mexico
,
North America
,
Regions
,
Speciality Travel
,
USA
Its Caribbean cruising season and what better time to look at the finest destinations this beautiful region has to offer for underwater exploration.  The Caribbean offers some of the most relaxing and indulgent holiday experiences imaginable but when you feel like getting up from your sun lounger and trying something a little more active, the array of opportunities is just as exciting.  With a wonderful and diverse range of underwater marine environments, this magnificent region captivates all snorkelling and diving enthusiasts, from novices to experts.
Without any further ado, here are five of the best ports of call to visit with snorkelling and diving opportunities, guaranteed to impress.
Grand Cayman
This intriguing destination will never let you down.  Lavish hotels, stunning beaches and superb restaurants are to be expected but this is also a tremendous dive and snorkelling destination that will never disappoint.  There are many snorkelling opportunities when visiting here but without a doubt, the signature and most popular attraction is the famous Sandbar and Stingray City.  The experience was initiated by fishermen that originally used this location to clean their catch.  This provoked a response from a vast array of stingrays to the area and this has been the case ever since.  Dive operations have taken the place of the original fishermen but still maintain the same process to ensure the stingrays remain constant residents of the location.  This experience offers the chance to really get up close to these fascinating and graceful creatures.  With the ability to step off a boat and wander around in the middle of the sea, the Sandbar is an amazing attraction in its own right.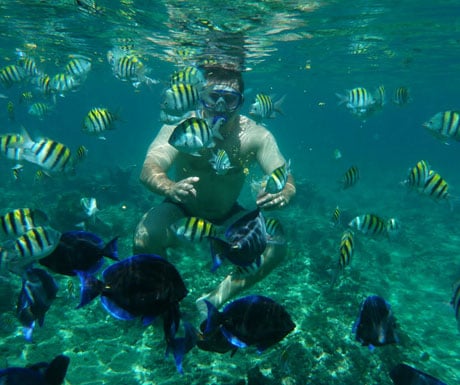 One thing to remember is that because of the popularity of this experience, it does get very busy and will always draw large crowds.  Be sure to plan your trip early and if possible try to visit the area early morning.  All times are busy but the morning is often the least hectic and temperatures will also be less striking than during the middle of the day.
There are opportunities here for beginners to the most experienced of snorkelers and divers.  Always check with your cruise line prior to boarding to see the tour options available and be sure to book sooner than later to ensure you avoid disappointment.
Key West, Florida
From the focused attraction of Grand Caymans Sandbank, the next on our list is a far more vast and diverse area of underwater explorations.  Key West, Florida offers the chance to discover the Florida Keys National Marine Sanctuary, an attraction that spans 120 miles.  The sanctuary begins in the north at Key Largo and makes its way down to Key West in the south.  The marine sanctuary is famous for being home to the third largest barrier reef in the world and also for its protection of approximately 3,000 nautical miles of coastline.
Diversity is certainly appealing here as visitors will be spoilt for choice when it comes to heading underwater.  Stunning coral reefs and dramatic mangroves are regular features along with shipwrecks and sea grass habitats.  There are different attractions available for different levels of experiences.  Snorkelers will enjoy the chance to see the sunken treasures of the Dry Tortugas National Park; an attraction often available to see through day trip excursions.  The waters here are of a perfect depth to see such sights as groupers and lobster with depths ranging between 5 and 15 feet.
For seasoned divers, one of the most appealing experiences is the USS Vandenberg.  Previously a missile tracking ship for the military, this vessel submerged just a short seven miles from Key West in 2009. The peak of the ships structure can be reached at a depth of 45 feet but further levels will require more experienced divers in order to be seen.
Cozumel, Mexico
Looking for incredible snorkelling opportunities?  This is a great place!  Visiting Cozumel is an invitation to witness a phenomenal underwater rainbow of colour.  The reefs here are world renowned and considering this beautiful destination usually enjoys over 350 days of sunshine a year, the weather isn't too bad either!  The island is almost teardrop like in shape and the conditions are truly idyllic for an underwater adventure.  Over 500 species of tropical fish can be seen here and a huge attraction is the enchanting Mesoamerican barrier reef that can be found just off shore.
Cozumel has long been considered a premier dive destination and without thrilling sites such as Santa Rosa Wall, Tormentos Reef and Palancar Reef, it's certainly not hard to see why.  Due to Cozumel being such a popular destination for these activities, the fish are used to being on show and are renowned for seeming to pose for onlookers as they make their way around.
Along with a great variety of tropical fish, the area is also hugely attractive for its differing coral formations.  From shallow waters, ideal for novice snorkelers to deeper depths and caverns for more experienced divers, the conditions are perfect for all kinds of experiences.  Certain coral walls descend over 500 feet but the crystal clear visibility is what's most impressive.  Cozumel ranks between the top 305 dive destinations in the world so it goes without saying that snorkelling is pretty impressive as well.  The ranking of this wondrous location is often due to the aforementioned clear waters, producing visibility that often spans over 150 feet pending the water currents at any given time.
Cruise itineraries visiting here will always include various options for snorkelling and diving but if you are unsatisfied with the opportunities on offer then you can also book with local guides.  Many good trips depart from Money Bar dock, otherwise known as Dzul Ha or alternatively there is also Chankanaab Marine Park, which is another superb spot for snorkelling.
There is a great mix of experiences available here for all levels of experiences.  The one thing to consider is whether you are comfortable with currents.  The visibility and weather conditions are certainly appealing but Cozumel is also known for its strong currents, which more novice divers must pay attention to before deciding on what to do.
Ambergis Caye, Belize
Cruise itineraries will arrive into Belize City, a port of call offering a wide variety of exceptional attractions but for those looking to snorkel and dive here, the easiest and most convenient destination to reach is Ambergris Caye, situated just a mile offshore.  A hugely popular area to explore is the Hol Chan Marine Reserve, a fascinating spot for all levels of experiences whether you are looking to dive or snorkel.  The reserve is absolutely bursting with sea life including snappers, barracuda's, schools of jacks and much more.  The reserve has been a protected site since 1987 and therefore has retained its glorious beauty for all snorkelers and divers to enjoy.
Be sure to also consider Shark-Ray Alley when planning your time here.  This superb site has become one of the most popular of Belize due to the sheer amount of nurse sharks and stingrays that's come together here, always looking for food.  All levels of experiences will love this spot as the depths only go to as much as 30 feet therefore it's ideal for taking in wonderful marine life with upmost ease.  Eels, turtles and fairy basslets are all known for making regular appearances here.
Roatan, Bay Islands, Honduras
Roatan invites cruise passengers to experience the second largest barrier reef the world has to offer.  The reef spans from the northern Yucatan of Mexico continuing to the Bay Islands of Honduras, creating spectacular spots for diving enthusiasts.  Of all the spots available to enjoy, one of the most popular and famous by far is Mary's Place, a location renowned for its coral fissure extending to 95 feet.  The location is good for varies levels of experience as novice divers can still enjoy the sights on show from approximately 20 feet below at the top of the fissure.
For snorkelling, one of the best places to visit is just off West Bay Beach, which also provides one of the islands most beautiful beach scenes with a stunning stretch of sand.  Here you will find lavish hotels and an immersive resort centre but if you make your way to the far ends of the beach you will find a gorgeous coral reef to explore as well as a variety of small fishes including the likes of parrotfish and butterfly fish.
These exciting destinations are some of the best to for snorkelling and diving enthusiasts when visiting this remarkable region.  Here we only just scratch the surface of the Caribbean's underwater attractions but you will never be disappointed by the wonderful aforementioned locations.
Michael Wilson is the Managing Director at Bolsover Cruise Club.
If you would like to be a guest blogger on A Luxury Travel Blog in order to raise your profile, please contact us.