Planning your very first trip to New York can be a daunting prospect. With so many things to see, and so little time, it's difficult to know where to start. In a city that claims to have 90,000 hotel rooms, just choosing where to stay can be a daunting prospect in itself. If you are only in town for a few days and, here are a few tips to help you make the most out of your trip.
1. The Gansevoort Park Avenue NYC
Situated on the corner of 29th Street and Park Avenue, The Gansevoort couldn't be more centrally located. With a roof top pool and terrace, offering spectacular views of The Empire State Building, this quirky, slightly edgy, but luxurious hotel is a world away from your average downtown corporate branded establishment. The rooms are generously proportioned too, which is a rarity in such a central location.
2. The Empire State Building
The word "awesome" must have been invented to describe the views from the top of this iconic building. If you have never been to NYC before, you tend to think that you already know what it looks like, because you have seen it in so many movies and TV shows, but nothing can prepare you for the feeling you get when you look down onto the city from each side of the Observation Deck. If you are pushed for time, it is well worth booking the Express Pass which really does give you VIP status and entitles you to jump all the queues, whizzing you to the top in no time at all.
3. The Circle Line Cruise
The Full Island Cruise which circumnavigates Manhattan Island will enable you to see 3 rivers, 7 major bridges, 5 boroughs, over 25 world renowned landmarks and a magnificent close up of the Statue of Liberty, all in 3 hours. The tour guide's commentary is both interesting and informative, and it is hard to imagine any other way of seeing so many sights, and learning so many facts, in such a short space of time.
4. Shake Shack
A trip to NYC wouldn't be complete without consuming a least one burger. There are of course hundreds of burger restaurants to choose from, but for a simple, traditional New York style burger experience, Shake Shack in Madison Square Park takes some beating especially on a balmy summer's evening. Don't let the length of the queues faze you, as they move quite quickly and theses burgers are well worth waiting for.
5. Central Park
Whether you choose to take a bike, Vespa, horse and carriage or gentle stroll through Central Park, its green meadows, sprawling waters, unique bridges and outstanding beauty are not to be missed. Its peace and tranquillity offer the perfect escape from the hustle and bustle of the city.
6. Ground Zero
The 9/11 Memorial which honours the lives of those who were lost, occupies 8 of the 16 acres at WTC and serves as a tribute to the past as well as a place of hope for the future. The names of every person who died in the terrorist attacks on September 11 are inscribed around the twin memorial pools. Free passes can be reserved in advance. The museum is due to open late spring.
7. Rockefeller Center
With its 3 viewing decks and a 360 degree city views, a visit to the Top of the Rock at the Rockefeller Center is a must. The sweeping views of Central Park and the city skyline are quite spectacular. Tours of the Rockefeller Center and NBC Studios are also available.
8. Walk the High Line
The High Line is a 2 km long green space which used to be an elevated railway line, but is now an art-filled public park. Extending alongside 10th Avenue from West 30th Street to Gansevoort Street in the Meatpacking District, the High Line gives you great views of the Empire State Building, the Chrysler Building and the Statue of Liberty.
9. Grand Central Station
It might be a train station, but it is indeed a very beautiful train station. Even if you just call in for a quick look while you are in the vicinity, it is well worth a visit. It is one of the nation's most historic landmarks and remains the busiest train station in the country. Avoid visiting during rush hour as the thousands of commuters zigzagging across the concourse can be a little disconcerting. As the saying goes, stand here long enough and the whole world passes by.
10. Times Square
It's brash and it's busy, but no trip to New York would be complete without a visit to Times Square. There are enough restaurants, bars, and shops to keep you entertained all day, but if you have an aversion to neon and noise, perhaps a stroll through on your way to a Broadway show might be your best option.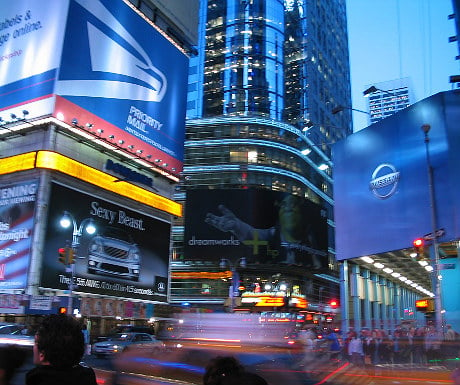 Ceri Tinley is the Co-Founder and MD of Consensio Holidays.