From traditional riads in Morocco's bustling cities, to more secluded and off-the-beaten-path kashbahs throughout the countryside, traditional Moroccan accommodation offers both comfort and luxury. Whatever your preference may be, here is my pick of Morocco's top five luxury accommodation options.
Morocco has its fair share of wonderful accommodation options, but the Capaldi Hotel, which opened its doors to visitors in 2012, is a real contender for the most impressive.
Within the short time the hotel has been open it has established itself as one of Morocco's more exclusive residences; located just 35 minutes' outside of Marrakesh in an old olive grove and en route to the High Atlas Mountains, it has a real feeling of seclusion and privacy. This is a great base from which to explore both areas in unadulterated luxury and style.
As you would expect from a property of this calibre, the Capaldi also offers a wide range of facilities from two swimming pools and an intimate spa, to a hammam, gym and even a small cinema which can be reserved free of charge!
Exceptional cuisine is very much part and parcel of a stay at the property, which features an superb international restaurant. The Capaldi's French chef uses influences from around the world to create mouth-watering dishes sure to impress, and ingredients are seasonal and locally sourced – some are even grown on site.
La Maison Arabe can be found in the heart of bustling Marrakesh and offers a welcome respite from a day exploring this frenetic and colourful city.
The property is one of the most well-known in the city and is also one of the longest established. With a reputation for its superb cuisine, this riad is home to perhaps the most famous cookery courses in all of Marrakesh, so if you're a fan of traditional Moroccan fare you'd be a fool to miss spending a few nights here.
Facilities including a heated pool, spa and hammam, are found within the property's new and somewhat modern wing, but tradition and character can still be found in the older section of La Maison Arabe, where warm colours of North Africa blend seamlessly with the style and grace of a French country house.
The High Atlas Mountains are a wonderful place to experience a more tranquil side of Morocco and Kasbah Tamadot is an idea base from which to explore this delightful part of the country.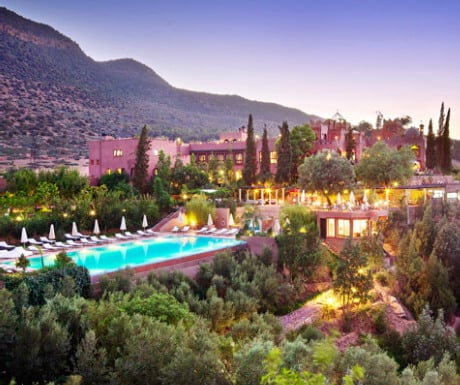 The property is owned by Sir Richard Branson who spotted it during a hot air balloon trip. It has been sympathetically restored and has maintained a traditional feel that cleverly incorporates all the modern comforts one would expect from a luxury boutique hotel.
Guided hikes and mule trekking can be arranged from the property for those wishing to explore, or if relaxation is your intention, why not take advantage of Kasbah Tamadot's spa, hammam, jacuzzi and two swimming pools.
Situated in Marrakesh's old medina, Riad Kniza has been restored by renowned antiques dealer, M. Bourskri, and exudes luxury and style.
The property was built in the 18th century and provides an excellent base from which to explore the city. It is just 20 minutes' walk from the city's main attractions, including the world-famous Djema El Fna, souqs and cultural treasures.
One of the main draws of this hotel is its size: with only 11 rooms and suites that are built around three inner courtyards, Riad Kniza is perfect for those looking for a more intimate travel experience. Don't let its size fool you into thinking the riad lacks facilities either – a spa with a hammam, Jacuzzi, sauna and small pool await you, and two attractive patios serve as the perfect areas to relax with a drink during the hot summer months.
Another property just a stone's throw away from Morocco's famous Djema El Fna, Villa des Orangers is a fine riad with an impressive reputation and equally impressive views over the Atlas Mountains.
The 27 rooms and suites that make up the hotel are stylish and spacious, and some even offer a private roof terrace. The roof houses a small pool wonderful for relaxing in after a busy day sightseeing, while in the courtyards pretty fountains bubble against the backdrop of orange trees.
Old fashioned charm reminiscent of its 1930s beginnings combines seamlessly with modern facilities, making this an attractive option to anyone visiting Marrakesh.
Craig Burkinshaw is a Founder Director of Audley Travel.