New Zealand's top 3 hideaway beaches
For many people in the Northern Hemisphere, January means snuggling up in a rug by the fire with a hot chocolate. Down Under however, it's the middle of summer, and that means hitting the beach. New Zealand has the 10th longest coastline in the world with 15,134 kilometres of beaches, cliffs and bays to explore. The best beaches are those reached by foot – not only do you get to enjoy the scenery on the way, but when you get there you are rewarded with zero crowds and a distinct feeling of discovery! Here are our picks of the top three hideaway beaches to explore in Aotearoa.
Cathedral Cove
Just outside of Hahei on the Coromandel Peninsula in the North Island, lies what is arguably New Zealand's most picturesque beach, Cathedral Cove. A 45min-1 hour walk will take you to two spectacular coves nestled between cliffs covered with sprawling native pohutukawa trees. A massive arch carved into the cliff, which gives the beach its name, divides the white sand coves. Visit in December and the hills will be on fire with the Pohutukawa trees (known as New Zealand Christmas Trees) in full bloom.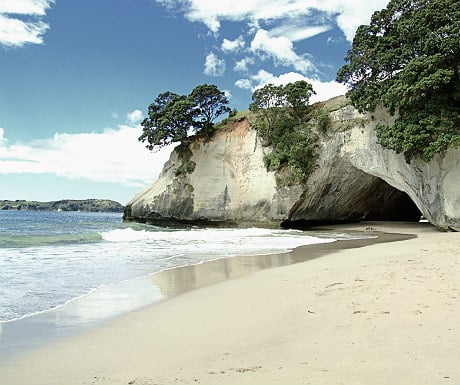 Abel Tasman National Park
The Abel Tasman National Park at the top of the South Island, boasts not just one beach, but a string of stunning white sandy bays. One of New Zealand's 'Great Walks' the beaches can be traversed by foot over 3-5 days. For those less active that still want to visit the park, there are daily water taxis that will pick you up and drop you off at any of the spectacular bays along the track. Wildlife is abundant with tuis and bellbirds filling the forests surrounding the beaches with song, while in the water you can see blue penguins, seals and dolphins.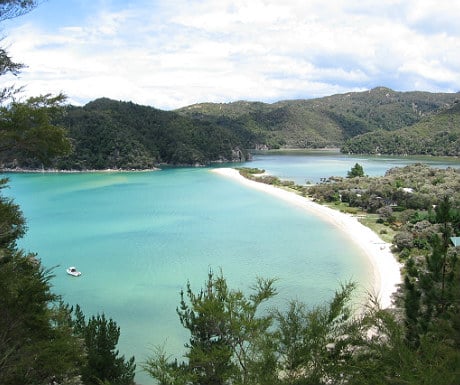 Tunnel Beach
A quick drive from Dunedin will take you to Tunnel Beach. After a 30 minute stroll across farmland, you will descend through a manmade tunnel to the beach itself. A local man built the tunnel in the 1870's to give his family access to their own private beach. Sadly his daughter drowned at the beach after being caught in a strong rip. While maybe not the best place for a swim (the average water temperature in summer is a chilly 13 degrees), the beach boasts sandstone cliffs, arches and boulders, plus interesting fossils to discover.
Angela Schrider is Director at NZ Snow Tours.
Did you enjoy this article?
Receive similar content direct to your inbox.