The ancient hilltop villages of Tuscany are famous today for their churches, their charm, and their cheeses; for their vineyards and their vampires (the movie version, of course); and certainly for their art and architecture. Some are also blessed with inns so special that they have become Tuscan treasures in their own right.
In the small Tuscan towns of Montepulciano and Pienza, you'll find two such extraordinary properties.  Stylistically, they are as different as can be, yet they have much in common: both structures are centuries old, now family owned, and have been restored and transformed into inns filled with beauty, luxury, love, and respect for the region in which they reside.
Il Tosco, Montepulciano, Tuscany
In the heart of the stone-walled village of Montepulciano you'll find a 16th Century "palacio" that has been dramatically updated and converted into a small, classic inn. To be a guest at Il Tosco is to be coddled and cared for by the Barbi family, and, especially, by daughter Elena, the resident manager.
The inn has a total of four bedrooms situated in pairs, flanking two separate wings of the inn where each set  adjoins their own spacious living room. Throughout Il Tosco, authentic antiques original to the palacio's rich past have been painstakingly refinished or recovered in elegant fabrics. Whimsical accent touches abound: some are modern, like the starburst wire chandelier that hovers in one of the living rooms; some are historic, like the scattered vignettes of charmed objects and framed art that reflect Il Tosco's many lives.
Rooms overlook rolling Tuscan hillsides and ghostly morning mists that slither over treetops and the red-tile roofs down below. A feeling of rustic timelessness, of today and yesterday blending in mysterious alignment, is a precious constant. The building's original ceiling frescoes and 16th Century architectural elements spotlight the past, while tech-smart additions are kept scrupulously up to present standards. There's something rather mind-melting about thick ancient walls and enormous wooden doors encasing snappy Wifi, a jetted spa bathtub, and flat-screen satellite TV (with adjustments for multi-lingual access).
Out of Il Tosco's kitchen emerge more unexpected pleasures… that is, until a few days pass, and you become accustomed to the continuous parade of fresh, melt-in-your mouth delicacies. Whether you're swooning over a private dinner prepared by the family chef, or sitting down to a daily breakfast banquet, the dishes are so varied and filled with home-cooked richness that they're almost sinful.  Then there's the evening aperitif and antipasto gathering where Elena, trained as a sommelier, selects outstanding regional wines to accompany a selection of traditional Tuscan specialties, many handmade by her mother or sister.  Members of the Barbi family might even stop by to meet you and ensure you're properly cared for, even if you're the only guest in the house during the quietest week of winter, as I was.
When I arrived at Il Tosco I had planned to stay three nights.  I actually stayed five. That's because Il Tosco is an "I-don't-want-to-leave" kind of place, and the Barbis are people to whom it's very hard to say goodbye.
La Bandita Townhouse, Pienza, Tuscany
What do you get when you cross a 15th Century nunnery with an ex-Sony Music exec and a travel writer from New York, then toss in a Scottish celebrity chef for good measure?  The result is an ultra-cool, 12-room boutique hotel with a rave-reviewed dining room in the tiny village of Pienza, near Siena.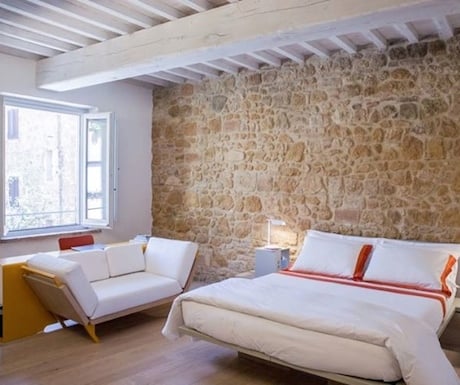 Owners John Voigtmann and his wife Ondine Cohane scooped up a former convent dating from the village's founding in 1460 and transformed it into a high design enclave fit for foodies, oenophiles, and city folk who simply can't leave their hipster havens behind. And that's okay, because this particular brand of maverick cool is quite simply beautiful, with its honey-toned exposed original brick, massive whitewashed beams, and custom, clean-lined furnishings.
The building was as much a project of excavation as renovation for Voigtmann and Cohane, who saw centuries worth of plaster scraped away to reveal the structural stone walls that now highlight each guestroom.  Darkened terracotta floors were replaced by pale wood to brighten the spaces; these were then dressed-up in white-on-white with little pops of orange to tease the eye. Yet the owners remained true to the property's roots when sourcing even the modern elements, like metal desks and four-posters, for they were all made in Tuscany.
Having collected accolades for both design and the impeccable kitchen overseen by Chef David Mangan, one key item often goes unmentioned when La Bandita appears in the press.  That's the fact that each and every one of the staff members in this little cottage of cool exudes warmth, attentiveness and professionalism, without a smidgen of snarky hipster 'tude.  As bend-over-backwards service goes, many 5 star hotels could learn a lesson or two from the exceptional young men and women at La Bandita.
While La Bandita Townhouse is luxurious, it's still minimalist, meaning that a few posh amenities or conveniences are lacking.  But on the plus side, the crisp cool bedding is perfect, and the beds themselves are among the most comfortable in Europe, with "real" king mattresses, thank you! Whatever it may lack in uber luxe, the hotel compensates with over-the-top stylishness, epicurean fabulousness, and the sheer niceness of everyone on hand.  Only the perilously slow and erratic Wifi was a problem for me, and I'd suggest that the owners undertake a version of excavation and renovation of that system, forthwith. After all, a sophisticated, fashionable spot like La Bandita Townhouse really can't continue to bleed broadband if it wants to maintain its hipster cred.