By
Matthew Coe
on Jan 31, 2014 in
Africa
,
Attractions
,
Australia
,
Europe
,
Florida
,
Going Out
,
Italy
,
North America
,
Oceania
,
Peru
,
Regions
,
South America
,
USA
,
Western Europe
,
Zambia
Continuing from our previous instalment of the ultimate bucket list (see part 1 here and part 2 here), we are scouring the Earth trying to find the most adventurous and memorable things to do before kicking the proverbial bucket…
Swim in the Devil's Swimming Pool
Live life on the edge – quite literally – in the Devil's Swimming Pool, located on the lip of the world's largest waterfall.
A submerged rock is the only thing standing in the way of you and a 100m drop over the edge of Victoria Falls in Zambia, making this one hell of a place to take a dip. The Devil's Swimming Pool is formed each year during the dry season, when water levels are reduced, thus enabling bathers to swim near the very edge of the falls.
Thrill-seekers visit the falls every year to take advantage of this phenomenon, and really, who can blame them? You'll never witness a view quite like the one from the Devil's Swimming Pool.
Meet Mickey at Disneyworld
Disneyworld in Orlando is not only the dream of many eager children, but adults too. A carefully constructed magical kingdom is waiting to welcome you, just as it has welcomed thousands of people before, and treat you to a once in a lifetime experience.
Not only are there exhilarating rollercoasters to ride, but a host of parades and shows are waiting to be taken advantage of, including the nightly fireworks displays.
Visit Machu Picchu
Located in Peru, Machu Picchu is one of the world's seven wonders, and rightly so. Built around 1540, Machu Picchu was constructed during the Incan Empire, but was abandoned 100 years later due to the Spanish Conquest.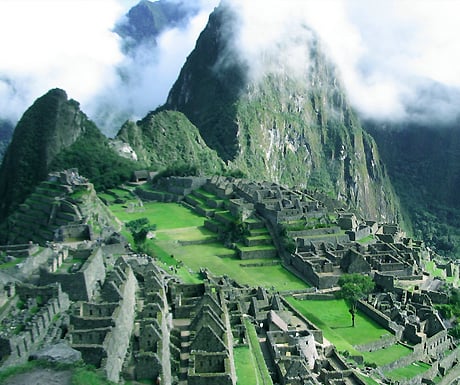 Machu Picchu is a landmark that represents an ancient civilisation, and exudes an air of mystery that is impossible to resist.
It is one sight that is truly worth seeing, and will surely prove to be a humbling experience, whether you are a tourist or local admiring its magnificence.
See Mount Vesuvius
Mount Vesuvius has a long, tragic history, and was responsible for eradicating the towns of Pompeii and Herculaneum during its eruption in AD 79. It is the only volcano on the European mainland which has erupted in the last 100 years, classifying it as a live volcano.
Today, the summit of Vesuvius is open to visitors, with a series of paths around the mountain available to explore.
The historic dig site is well worth visiting too, as it provides information about the volcano's eruptions which devastated thousands of lives; there's little else that will make you feel more alive.
Drive along the Great Ocean Road
The Great Ocean Road in Australia is an Australian National Heritage stretch of road, weaving along the coast of Australia and boasting glorious views of the ocean.
Officially beginning in Torquay and ending at Allansford, there are a variety of sights and landmarks along the Great Ocean Road. The London Arch is a particular favourite, which is a solitary mass of land standing in the blue ocean.
What could be more satisfying then renting a luxury sports car and coasting along this 151 mile road, with nothing but the ocean to keep you company? Nothing, that's what we say!
Matthew Coe is Online Marketing Manager for Wanderforth.