By
Matthew Coe
on Feb 14, 2014 in
Africa
,
Asia
,
Europe
,
Food and Drink
,
Myanmar
,
New York
,
North America
,
Regions
,
Singapore
,
South Africa
,
Travel Miscellany
,
United Kingdom
,
USA
,
Western Europe
Afternoon tea is a regal and delectable way to while away the afternoon, where you will be waited on hand and foot and treated to some delicious cuisine. Once reserved for society's elite, afternoon tea is now a treat to be enjoyed by all. Although synonymous with England, afternoon tea is a concept now adopted by many countries around the world. We've created a list of the best places for afternoon tea, ensuring you're never far away from luxury no matter where you are in the world.
This five star hotel in London has been serving afternoon tea for years, and hasn't waned in popularity at all. If you are in search of an authentic high tea experience then you need look no further than The Ritz. Serving delicious sandwiches, scones and pastries, accompanied by a wide selection of loose leaf teas, you'll be treated to an unforgettable culinary experience here. The Ritz also serves champagne afternoon tea and celebration afternoon tea, ideal for those wishing to commemorate a special occasion.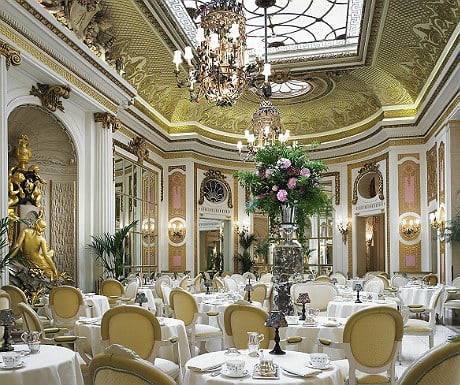 Mount Nelson Hotel, South Africa
Although South Africa may not immediately jump to mind when you picture quintessential afternoon teas, the Mount Nelson Hotel's high tea is world renowned. Enjoy a delectable selection of freshly made sandwiches, filled with a variety of delicious fillings including rare roast beef, and sweet pastries. The dining room's airy windows provide views of South Africa, providing the perfect backdrop to this fine meal. The hotel also offers a morning tea, which is a light version of their afternoon teas; the perfect option for those who want to get their day off to the right start.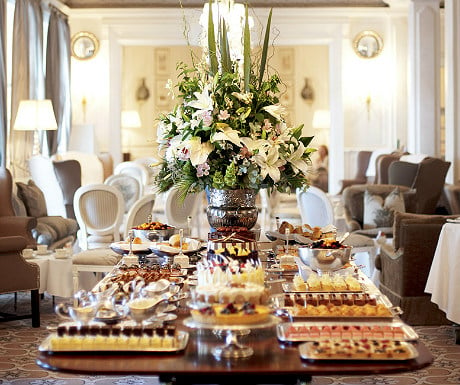 The Raffles Hotel in Singapore is dedicated to all things decadent, including their high teas. Served in the hotel's historic Tiffin Room, you will be able to enjoy all the standard delights of an afternoon tea, plus a buffet of mouth-watering goodies. From fresh dim sum to extra cakes, tartlets and fresh fruit, you'll surely leave the Tiffin Room fit to burst at the seams! Oh, and don't forget to sample the array of fragrant loose teas which accompany the hotel's menu.
Located in the historical Yangon, The Strand hotel is an example of colonial decadence, with an afternoon tea menu to match. Enjoy your sumptuous afternoon tea as you take in the hotel café's interiors, from its teak furnishings to the striking black and white photographs of the country's monks. Savour homemade pastries and a selection of loose leaf teas which comprise the hotel's afternoon tea menu, with attentive staff on hand to cater your every whim.
Situated in the heart of Greenwich Village, this authentic English shop serves classically English dishes, including an authentic afternoon tea. Featuring delicate finger sandwiches, pastries and scones, you'll find that everything on the menu is homemade – including the delectable strawberry and raspberry jams! Their scones are particularly popular with both locals and tourists, having gained a reputation as being extra fluffy and flavoursome!
Matthew Coe is Online Marketing Manager for Wanderforth.