Bali; the ultimate tropical island paradise, featuring everything from pristine turquoise waters with powdery white sand beaches, to lush terraced rice fields. Small and intimate, yet vibrant and lively, Bali is an island rife with variety that knows how to pack a punch. This eclectic island serves up sensational dining, celebrated shopping, stunning temples and an array of natural wonders. There is little wonder why Bali is one of our favourite luxury destinations, which is why we have compiled a list of the 7 things every luxury traveler to Bali should know, just for you.
When to go
No matter what time of year you visit, Bali is a hive of activity. There are two main tourist seasons; dry season runs from April through to September and sees consistent warm weather, an influx of tourists and a hike in prices. Rainy season, October through to March, on the other hand offers cheaper prices and a less crowded experience, however humidity is high and storms are frequent. Ideal travel to Bali is April, May and late September when prices haven't reached their peak and crowds are smaller.
What to pack 
There is a secret when you pack for your trip to Bali, and it's simple; do not take much! Bali is hot so pack lightweight clothing that allows your skin to breath, at least two pairs of swimmers and something a little dressy for evenings spent in Bali's world-class bars and restaurants. If for some reason you get caught out you're bound to find what you need, at a fraction of the price you would pay back home. We do suggest you take your toiletries from home, as these can often be more expensive in Bali than in western countries, in particular sunscreen and insect repellent. We also recommend taking Imodium, just in case you get caught with the dreaded Bali Belly.
Where to stay
Bali is a destination that really has something for everyone, no matter what your taste or budget. Each area of Bali offers something unique and caters to a different type of traveler.
Our favourite destination is Seminyak; Popular for its upmarket, boutique vibe, cutting-edge eateries, designer shops and expansive beach lined with impressive beach bars. Seminyak is a destination for those who enjoy the finer things in life.
Coming in second, and a striking contrast to the hustle and bustle of the vibrant beaches of the south, are the hills of Ubud. Relaxation, a focus on culture and a quieter pace encompass the area. Ubud is the perfect spot for those wanting to get away from it all.
Transport
Hiring a car, a driver or a motorbike are your best options for transport in Bali. For a small price per day, your options to explore are drastically increased, giving you the chance to discover so much more of Bali than you would by foot. Many villas and hotels will pre-arrange drivers and motorbikes.
Shuttle services and taxis are also available and can be just as cost effective. Taxi drivers are supposed to use their fare meters, to avoid getting ripped off make sure your taxi driver turns it on, or get back out.
Things to do
Far from your average tropical island, Bali offers an array of different activities, catering to all types of traveler, so whether extreme adventure or indulgence and pampering are high priority, there is no shortage of entertainment.
Being one of Bali's biggest draw-cards there are an abundance of water based activities, the balmy waters surrounding the island are renown for surfing, diving and snorkeling, spending time in them is an absolute must.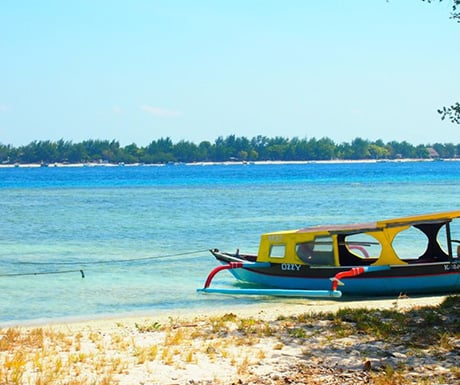 Not limited to days at the beach other must do activities include experiencing the unique Balinese culture. Visit one of the many temples or watch traditional dance; Bali Nusa Dua Theater features huge traditional puppets and spectacular hi-tech special effects, this should be high on everyone's list of things to do.
Soaking up the carefree vibe in Ubud will leave you in a state of total relaxation. Days can be filled with yoga, holistic spa treatments and long walks through the rice terraces and Bali's infamous sacred monkey forest.
Finish your days back on the beach at one of the many beach bars watching the sunset, sipping cocktails and staying late into the night. Amoung the best are; Ku De Ta, Potatohead Beach Club, The Rock Bar and La Plancha.
Shopping
Shopping in Bali easily rivals many of the world's famous shopping destinations. Offering a large variety of goods from different price points you literally can find anything you want! Seminyak in particular has become celebrious with stylish boutiques. Don't miss the following stores; Mist, Biasa, Kody & Co, Shakuhachi, Blue Glue, Magali Pascal, Mogil and Mister Zimi.
Food and drink
A highlight of any trip to Bali is the cutting edge culinary scene. Bali far exceeds its reputation as a world-class culinary destination with its take on tradition, sophistication and indulgence. Opulent spaces in unique locations coupled with a dedicated focus on the use of fresh produce, work together creating restaurants and bars that consistently top lists of the world's best.
Our favourites include: Sardine, Sarong, La Lucciola, Mozaic, Mama San, Merah Putih, Motel Mexicola, Barbacoa, Ku De Ta and Sundara.
Lizi Oldham is the Digital Marketing Manager at Amazing Accom.
If you would like to be a guest blogger on A Luxury Travel Blog in order to raise your profile, please contact us.