From sheltered bays to rugged surf spots, Barbados is home to over 100 world class beaches. Some are internationally famous, attracting tourists and locals alike in their thousands, while others remain unknown to all but the most intrepid of travellers. Whether you're seeking calm and relaxing bays or amazing reefs of endless beautiful coral, these five beaches offer the quintessential Barbados experience:
1. Bottom Bay
Hidden on the southeast coast of the island, Bottom Bay is one of Barbados's hardest beaches to find. Because of this, it's largely avoided the large-scale development that has occurred on the island's other beaches. Beautiful white sand and smooth, rolling waves make Bottom Bay one of Barbados's most aesthetically pleasing beaches. Surrounded by cliffs, it offers a postcard perfect environment that's hard to find elsewhere in Barbados.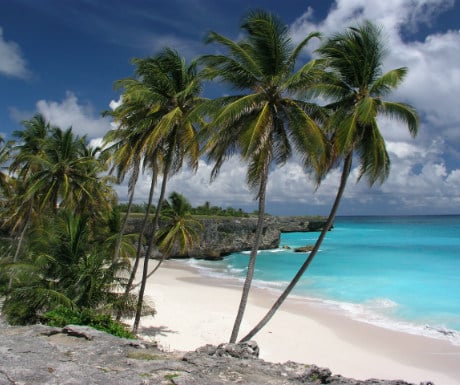 While its stunning natural beauty makes it the ideal beach for a relaxing picnic, the strong currents make Bottom Bay far from ideal for swimmers. Instead, walk up to the top of the coral cliffs to enjoy an amazing panoramic view of the coastline.
2. Crane Beach
Crane Beach is neither unknown nor isolated. In fact, it's arguably the most famous beach in Barbados. Despite the crowds, this beach offers incredible scenery and the best bodysurfing on the island's south-eastern coast. Surrounded by luxurious resorts, Crane Beach is easy to access and ideal for visitors to Barbados seeking a combination of natural beauty and luxury dining. After a day at the beach, drop in to one of the beach's many fantastic restaurants and bars for a refreshing sunset cocktail.
Although perfect for bodysurfers, the water at Crane Beach can get a little rough for swimmers. Experienced swimmers can easily handle the waves, but young children may find the beach's surf a little bit too intimidating.
3. Sandy Lane Beach
Perfect turquoise water and stunning tropical reefs make Sandy Lane a picturesque tropical paradise. Although its known for its eponymous hotel, you don't need to be a guest to enjoy Sandy Land Beach's stunningly beautiful pearl blue water. Popular with vacationing A-listers, Sandy Lane is one of Barbados's most prestigious beaches. It's also one of the clearest, boasting excellent visibility and little in the way of surf to disturb swimmers.
Sandy Lane Beach's accessible location and popularity with tourists can make it very crowded during the high season. Visit during the early morning or late afternoon to enjoy the beach at its best, without any large crowds to bother you.
4. Carlisle Bay
Located alongside Bridgetown, Carlisle Bay is one of the most impressive beaches on the island. While far from sheltered or remote, this beautiful bay is home to the best snorkelling in Barbados, particularly in the Carlisle Bay Marine Park. From cannonballs to rusting ship anchors, a wide variety of artefacts litter the ocean floor in Carlisle Bay, making this lovely beach a great destination for snorkelers in search of a unique experience.
Surrounded by luxurious hotels, Carlisle Bay is one of Barbados's best destinations for late afternoon swimming followed by a tasty dinner. Watch the sunset with your favourite tropical cocktail or explore the historical Needham's Point Lighthouse.
5. Mullins Bay
Perfect powdery sand and crystal clear tropical water makes Mullins Bay one of the island's most desirable destinations and is widely regarded as one of Barbados's top snorkelling beaches. Teeming with tropical fish, the clear waters of Mullins Bay are the perfect place for snorkelers to see the island's marine life up close. From time to time, sea turtles are even spotted swimming close to the beach's stunningly pretty rock formations.
Effortlessly beautiful and perfectly tranquil, Mullins Bay is one of the island's best beaches for rest and relaxation. Visit in the early afternoon and make sure you've got a mask and snorkel – the beach's perfect clear water is not to be missed.
Kim Goddard is Director of Sales at Royal Westmoreland.
If you would like to be a guest blogger on A Luxury Travel Blog in order to raise your profile, please contact us.