Taiwan is a foodie's paradise. For such a small island, it offers a host of weird and wonderful gastronomic delights, many of which are totally unique and cannot be found anywhere else. Tainan is traditionally the place associated with gastronomy but on my travels I have had my taste buds tantalised al across the country as there are just so many tasty local delights to try.  I have whittled my selection down to just five "favourites" here, but believe me, these are really just for starters!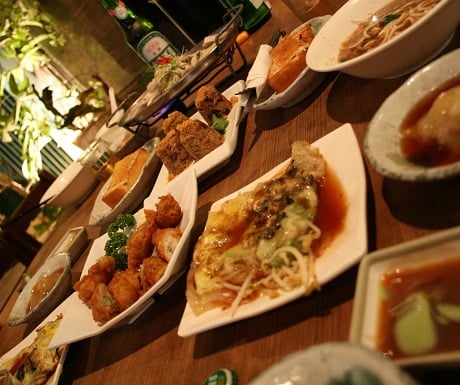 1. Seven minute chicken
I discovered this aboriginal Taiwanese dish in the mountains on the East coast. It is quite literally a whole, farm-raised chicken, roasted in a tin drum over a hot open fire for for…yep, seven minutes! The result is succulent, juicy and filled with the simplicity that only good, home-cooking can provide.
2. Dumplings
OK so these are an Asian staple. But to my mind the very best ones are the vegetarian delights served by the monks in the restaurant at Fo Guang Shan. They come in a variety of colours, are 100% vegetarian and just melt in the mouth releasing a whole host of aromatic flavours. Who needs a 36m high Buddha to pull in the crowds?
3. Hot pot
This is fondue with a difference. Diners are served a steaming pot of stock, into which they add fresh meats, seafood, herbs and vegetables, each diner cooking his own items to suit his individual taste. Depending on the region it the stock can be spicy or mild, but whatever you choose, it has to be one of the most sociable dining options in town.
4. Peddlar's noodles
Best eaten in Tainan – the foodie capital of Taiwan. The noodles are thin but dense and come served in a piping hot bowl of spicy broth, topped with minced meat a decorative but tasty prawn. The "Chikan Danzimian" restaurant is the said to be the best address in town – I loved it just for the old world décor – and I have to say, it is now firmly on my favourites list.
5.    Coffin bread
This is a night market regular, which any visitor to Tainan can easily find. Despite its rather ominous name, it is perfectly safe to savour! It is essentially of a piece of French toast, that has cooled and been filled with delicious stew and topped off with a crispy wafer. It is warming, filling and …well, it's already making me hungry!
Jane Downs is Co-founder of Islandesia.
If you would like to be a guest blogger on A Luxury Travel Blog in order to raise your profile, please contact us.