Africa has come a long way from the concept that a safari is for a few wildlife-eager tourists, armed with heavy cameras and wide-angle lenses. Or, even before that, the hot and dusty wildlife drives, with little other leisure activities. Africa has grown a whole lot more sensitive to the needs of modern pleasure seekers and has been fined-tuned by locals who have also taken to international leisure trends, such as golfing.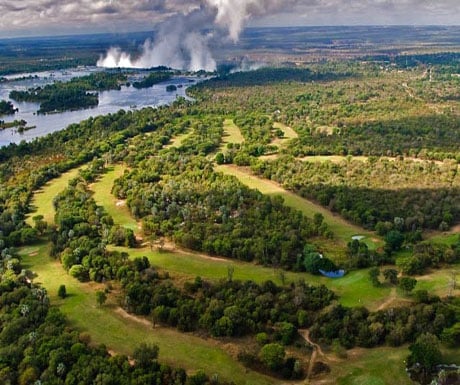 Golf safaris combine two of the world's most adored leisure activities: golf greens and wildlife adventures. Nowhere else in the world will you find such an authentic combination of leisure, luxury, adventure and pleasure, topped with African hospitality. But before we delve into Africa's top five golf safari destinations, a little background first:
Golf safaris: where it all started
Golf in Africa has a long and interesting history. South Africa, in particular, delivered several world class golf champions, making golf a highly-appreciated leisure activity and professional sport. With the rise of world champs came the development of impressive designer golf courses, such as the Windsor Golf & Country Club in Kenya and the Gary Player Country Club in South Africa. Now, what else is Africa renowned for? Its nature, wildlife and the great outdoors. It was merely a matter of time before the leisure of golf and the adventure of safaris were amalgamated, delivering the now-popular concept of a golf safari.
In describing Africa's top golf safari destinations, finding a combined winner is the key. We are looking for the combination of challenging and well-developed golf courses, plenty of wildlife and luxury safaris experiences. Here are Africa's top five:
5. Tanzania
Imagine playing a course with a view on Mount Kilimanjaro, in the heart of safari country. Tanzania's Moshi Golf Club offers just that. Although not a designer golf course, the region's safari experiences are among the best in Africa, giving you an all-round fantastic golf safari vacation.
4. Botswana
Botswana's wildlife is booming, its luxury travel options are nothing short of impressive and the weather is always a winner. The best golf course? Head over to Phakalane Golf Estate close to Botswana's capital Gaborone.
3. Zimbabwe
With its deep-rooted colonial history, golf is as part of Zimbabwe as the Victoria Falls. Zimbabwe offers a few designer golf courses, including the highly-acclaimed Leopard Rock. This prestigious course is close to the Rhodes Inyanga National Park, with views overlooking the Bvumba Mountain Range.
2. Kenya
Kenya is impressing connoisseur golf crowds with their Windsor Golf Hotel & Country Club. Windsor is also rated among Africa's top courses. Kenya in itself is not only a popular safari destination but its combination of open plains, indigenous forests and healthy wildlife populations to match each habitat are key reasons why Kenya is one of Africa's top golf safari destinations. Kenya is also finely-tuned to the needs of international travellers—you would hardly be disappointed!
1. South Africa
South Africa has produced many golf legends and is a solid competitor in world-class golf. The country has umpteen designer courses, suitable for both amateurs and serious golfers. In fact, several international golf tournaments are held in South Africa on an annual basis. Now, imagine yourself on a signature course—Legend Golf & Safari Resort is a good example. Play golf within the confines of a nature reserve, zebra and smaller wildlife may even cross the greens. For spotting the lions, a sunset safari cruise awaits.
Whichever golf safari destination you choose, expect to start your day with the swinging of your club in inspiring African landscapes, complemented with guided safari tours either late afternoon or early evening. The beauty of golf safaris is that they are usually entirely customizable, tailored to your interests and needs.
Javier Luque is a Co-Founder and Director of Your African Safari.
If you would like to be a guest blogger on A Luxury Travel Blog in order to raise your profile, please contact us.