If you are well-travelled and think no destination could still provide you a jaw-dropping experience, you certainly haven't looked south enough on the map! Reaching – arguably – the last pristine destination on the planet is a once-in-a-lifetime quest that can now be twinned with a fair degree of luxury and comfort thanks to the cruising industry.
Getting there
There are typically five launching points: Hobart, Australia, Bluff or Littleton, New Zealand, Cape Town in South Africa and Ushuaia, in Argentina. The proximity of the latter to the Antarctic Peninsula (only 1,000 km) makes it the most practical, with cruise ships taking only 36 hours to cross the brave Drake Passage and arriving at tranquil Antarctic waters. Dozens of vessels from different companies depart each season from handsome Ushuaia, considered the southernmost city in the world and a destination in its own right.
When to go
The season starts in the middle of November and lasts until late March. It's from Spring to early Autumn that temperatures are above zero.
If you go in November you will witness an amazing display of penguin courtship ritual. Also, the scientists who have wintered at their stations are effusively welcoming to the first visitors of the year. Light endures day-long so you can take photos at midnight. Your ship is likely to sail spectacularly among the first detaching icebergs and seals pack the floating layers of sea-ice.
In January and February, the warmest months, wildlife is in full swing, with whale watching at its peak in February. But so are rates!
If you go in March you will experience the curiosity of penguin chicks, who are now in their adolescence and keenly curious about visitors. Most importantly, receding ice allows exploration farthest south. At this time you can also get better deals.
What kind of ship should I look for?
Though it is possible to sail to Antarctica in private yachts, arrangements are difficult and time-consuming, and involve booking several months in advance. On top of that, you are looking at an extreme experience not everyone is ready for. So, unless you are an Ironman, your best option here is a 10-14 day expedition cruise ship, which will take the minimum toll at your comfort levels while assuring the quintessential ingredient of intrepid travel. In all cases, rates begin at 4,000-5,000 USD.
If anything can frustrate a voyage that is guaranteed to exceed all your expectations, that's choosing the wrong type of vessel.
Larger ships that shuttle several hundred passengers offer you the maximum levels of luxury, with all sort of amenities onboard. However, since landings are limited to groups of up to 100 people at a time, in a measure to lessen the environmental impact, you will have less chances of going on shore and visiting penguin colonies, islands and bases.
Medium size ships are less crowded and may be the smartest option, retaining a high standard of comfort in their suites and upper berths (all of which are equipped with TV, DVD player, fridge and their own lounge) but allowing you to join each landing announced by the captain. Antarpply Expeditions operates the MV Ushuaia – a comfortable, ice-strengthened vessel that makes around ten round trips each season and is well worth considering. You can find more options and learn about the guidelines of Antarctic tourism on the website of the International Association of Antarctica Tour Operators (IAATO). Some of these expedition cruisers can also arrange sea kayaking or overnight camping on some of the islands.
Itineraries in an Antarctic expedition are always subject to change, according to weather conditions, but most of the classic voyages take in the following highlights on the Antarctic Peninsula and include the following treats.
Aitcho Island (South Shetland archipelago)
At the third day of navigation, after you have crossed the Drake Passage, your eyes will confront the immaculate sharp profile of the South Shetland Archipielago. Here you are likely to experience your first Antarctic landing at Aitcho islands, to witness fur seals guard their harems and rockeries packed with papua penguins!
Swim in Deception Island
After sailing through a narrow passage into the flooded caldera of this active volcanic island you will face the otherworldly vista of Port Foster, a 19th century abandoned whaling station. The geothermal activity allows for a strip of warm water in the shore that will give you the odd chance of swimming in Antarctic waters!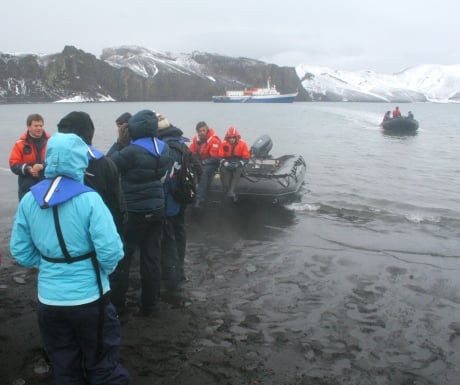 Zodiac cruising in Wilhelmina Bay
The shelter provided by Brabant and Anvers Islands brings forth a landscape of wind-sculpted icebergs and coastal hanging glaciers. Zodiac cruises in the area of Wilhelmina Bay are just about the most fascinating outdoor experience you will ever try. You will hover past the wreck of Norwegian whaler "Governoren", sunk in 1916 and spot leopard seals lying on the ice fields and penguins diving in the mirrored waters.
Le Maire Chanel – get your camera ready!
In a continent of stunning views, Le Maire Chanel has been called the Kodak Gap. Locked between the rocky vertical cliffs of Booth Island and the continent this one kilometer wide passage is one of the most photographed attractions of Antarctica. You will be glad your camera is digital.
Send a postcard home from Port Lockroy
This British base, established in 1944, abandoned in 1962 and re-opened as a museum in 1996 is the most visited destination in Antarctica. You will receive a warm accolade both by the volunteers of the UK Antarctic Heritage Trust and the colony of Gentoo penguins that nestles just by the old timber structure. The museum holds items from the founding days, including the first union jack flag that waved and unopened oat cans from 1940s. The volunteers are forced to live within the comfort standards of those days, as they are not allowed to modify anything. Therefore they live without internet, computers or TV, but they the souvenir shop dos take credits cards. Otherwise, get small denomination US$ notes to buy a few postcards and send them home with Antarctic stamps from one of the southernmost Post Offices in the world.
The great Antarctic safari
No matter which itinerary your captain decides to undertake, you are destined to spot a wonderful array of wildlife, including sea elephants and sea lions, Wedell, crabeater and leopard seals, and Minke, killer and humpback whales and the magnificent wandering albatrosses.
An iceberg on your whiskey
Don't miss your chance of asking the bartender at your cruise for a whiskey refreshed by millenary Antarctic ice. While luxury bars in the world's top cities can double the menu price for adding glacier ice on your whiskey, here it's quite at hand. What better than contemplating the latitude you have reached with a noble drink in hand as your expedition cruise heads back to Ushuaia.