By
Paul Johnson
on Apr 15, 2014 in
Accommodation
,
Czech Republic
,
Eastern Europe
,
Europe
,
Featured
,
France
,
Germany
,
Hotels
,
Italy
,
Regions
,
Spain
,
United Kingdom
,
Vacation Rentals
,
Western Europe
With the Easter weekend fast approaching you'll no doubt be weighing up your travel options for this year's holiday treat. The hours of research needed to find the perfect destination and the right accommodation can be more than a little overwhelming. Hardly seems worth it for yet another tourist trap experience. What if you could be offered something different? Something personal, something more suited to a refined taste in travel and experience?
Hosted Villas provides you with the ultimate villa travel experience. Rather than simply leaving you with a trip built on sterile accommodation and overly commercialized resorts, we invite you to enjoy a personalized stay in beautiful foreign cultures. Indeed, whilst their beautiful villas will give you the luxury you deserve, the signature feature of Hosted Villas are our local hosts. Educated bilingual natives, they will be there to ensure you have an authentic interaction with the local culture and take your vacation to a new level. From spending over 20 years in the travel sector we have built up an extensive network of friendly hosts in locations as diverse as Spain, Italy, France, Croatia and Scotland.
Having made enduring friendships with travellers from all nations they are not only invaluable sources of local knowledge, they have years worth of amusing holiday stories to tell! No matter what activities you dream of undertaking during your stay, your host will have all the local connections and local knowledge needed to make it reality. In between the activities, the food and the cultural immersion you'll also be able to relax in their uniquely set villa properties, all of which offer an understated luxury sure to set you at ease.
Hotel Vier Jahreszeiten Kempinski, Munich, Germany
Striking the perfect balance between provincial tradition and modern sophistication, Munich makes the ideal short break destination. While it's best-known for Oktoberfest, there's plenty to see and do in Munich all year round, from seeing world-class collections of art to drinking in the lively atmosphere of the traditional beer halls – and of course sampling some of the famed Bavarian beverages.
If you're looking for a truly luxurious break in Munich, then why not make your stay in the lavish Hotel Vier Jahreszeiten Kempinski? Situated in the heart of the city, the Hotel Vier Jahrezeiten is the perfect base from which to explore the sights, while its glamorous suites – inspired by the era of Maximilian II – and many leisure facilities will ensure a luxury stay to remember.
Grand Hotel San Pietro, Sicily, Italy
As the only Relais & Chateaux in Sicily this quiet and beautifully maintained retreat, a few minutes walk from the centre of Taormina town, is encapsulated by the glorious Sicilian flora that flourishes in this part of the World. From the Grand Hotel San Pietro, breathtaking views can be enjoyed over the Mediterranean seas and out to the 'Isola Bella' (beautiful island), a small emerald promontory that can only be reached at low-tide via a connecting bridge.
Stay during Holy Week and experience the fascinating Good Friday Procession along the main street Corso Umberto starting at 7pm. On Sunday morning the Holy Easter Mass at 10am in the S.S. Pietro e Paolo Church is just in front of the hotel.
Reading Room House, Newbridge-on-Wye, Wales, UK
A spacious, high quality detached house at Newbridge-on-Wye on a no-through lane to the River Wye (100 yds), the Reading Room House enjoys a quiet rural location on the edge of the village, 5 miles north of Builth Wells, 8 miles from Rhayader, and 5 miles from Llandrindod Wells.
Mainly single storey but with some steps inside, the luxurious, contemporary Newbridge-on-Wye accommodation comprises two super king (or twin) bedrooms, one with ensuite wet room and both with large FreeSat TV/DVD. Main bathroom has jacuzzi bath. Open-plan living room with impressive high vaulted ceiling, large sofa and sofa bed, dining for 6 and bi-fold doors opening fully to south-west facing deck and patio garden. Large flatscreen TV with FreeSat, DVD/CD and Wi-Fi. The kitchen is 3 steps above the living space and includes integrated double oven, gas hob, freezer, dishwasher & washing machine. Underfloor heating throughout and solar-powered hot water. 500 yards to village shop and pub.
Masseria La Raganella Celeste, Salento, Italy
What better way to celebrate 'Settimana Santa' or Holy Week than a trip to Italy and more specifically to the Salento area in Apulia, where this very important religious event is celebrated across the region.
Spend Easter at Masseria La Raganella Celeste, a luxury modern Masseria not far from Lecce, a perfect mix of contemporary design and traditional local craftsmanship. Tucked away in an extensive olive grove, this very spacious and tranquil villa with infinity pool and a plethora of amenities is equipped to offer you a magical holiday.
Gleneagles Hotel, Auchterarder, Scotland, UK
Nestled within its sprawling 850-acre country estate, The Gleneagles Hotel is a unique place to experience Scotland's beautiful Springtime. To take advantage of every spectacular sight, sound and experience of the season, Gleneagles offers its guests a stunning range of Easter holiday treats, with activities to keep couples, parents and every member of the family entertained.
The Easter 2014 Activities Programme at Gleneagles is an opportunity for guests to explore every inch of their stately surroundings through a variety of craft workshops, sport instructional sessions, food and drink tastings and more. The programme caters to every age group and takes place throughout the day: guests might choose a craft class or golf lesson in the morning, before a dance session or luxury film screening in the afternoon. And with the hotel hosting the 2014 Ryder Cup, an Easter break is the ideal way to try out the courses before the world's best players arrive for the famous tournament.
Domaine Terre Blanche, Provence, France
This Easter, experience a luxurious and peaceful family getaway at Domaine Terre Blanche on the Cote d'Azur, Provence in the South of France! Set in 1.4 hectares of beautifully landscaped gardens on one of the most exclusive golf and spa resorts in Europe, this magnificent 6 bedroom Provençal villa is located in the charming town of Tourrettes between St. Tropez and Nice. Access to a world class golf resort and spa and situated only 25 minutes from Cannes and 50 minutes from St. Tropez, this fully staffed property offers both a taste of tranquil countryside living and the glamour of the French Riviera coastline.
New to the market, this villa was fully renovated to the highest standard and was completed in Spring 2012. With 1000 m2 of living space and from the impressive double height entrance to the triple aspect drawing room; every area of the house gives a feeling of unique space and understated elegance. This beautiful home is the perfect setting for an Easter egg hunt followed by a poolside brunch in the garden catered by your own private chef. Combining luxury and services of the highest quality, A.M.A Selections will ensure an unforgettable experience for you and your loved ones.
Cavo Olympo Luxury Resort & Spa, Pieria, Greece
Celebrate Easter at the Cavo Olympo Luxury Resort & Spa – the newest beach, health & wellness resort in the area, located steps from the crystal clear waters of the Aegean Sea – in the traditional Greek way. Set at the foot of the legendary home of the twelve ancient gods, Mount Olympus, this new 5 star holiday resort provides world class luxury and comfort to its guests, and promises to make your stay truly unique.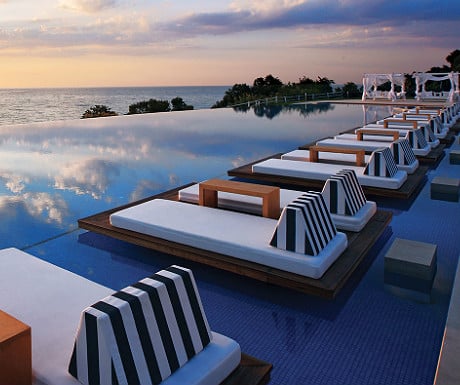 Experience an unforgettable, moving experience, discover old traditions and visit Chorioudakiaopou where locals will welcome you warmly and invite you to join in the festivities and celebrate Easter.
Cortijo El Carligto, Andalucia, Spain
For people of all ages, religious or not, the Semana Santa (Holy Week) celebrations in Spain are a cultural experience not to be missed. And nowhere else in Spain do they engage in the week long spectacle with the intensity, pomp and vibrancy as do the Andalucians. It's impossible not to sense the emotion and solemnity of the spectators and participants alike as the colourful, hooded members of each city's religious guilds slowly lumber along the procession route under the weight of the massive and ornate religiously themed floats.
Situated within easy reach of Malaga, Granada, Cordoba and Sevilla, the luxurious and stylish private country estate Cortijo El Carligto makes for the perfect base for exploring this phenomenon. With a newly renovated second villa, The Hunting Lodge, opening soon on the hilltop estate, families and parties of up to fourteen can enjoy the secluded hideaway and its breath taking views of the Mediterranean Sea and the surrounding mountains together. The two walled-in villas sit far enough apart to guarantee privacy, but close enough to share: the extensive gardens, courtyards, tranquil terraces and first rate facilities including private swimming pools (one heated), full air-conditioning and multiple outdoor kitchen and dining areas ensure contemplative leisure for all. Add optional services and full hosting to include private gourmet chef service, daily housekeeping and concierge and you may find it hard to tear yourself away from your spa treatments and stunning surroundings for a foray out to take in the Semana Santa activities!
Aria Hotel Prague, Czech Republic
Experience the boutique Aria Hotel Prague this Easter – an unforgettable luxury Prague hotel just steps from Charles Bridge or Prague Castle. Composed of 51 luxurious suites and rooms each dedicated to a specific style of music or a particular artist or composer, this 5 star hotel harmonizes the unique musical concept with luxurious accommodation, exceptional service and surprising amenities to offer its guests a symphonic experience.
Nestled in enchanting Mala Strana, the Little Quarter, Aria Hotel provides the perfect accompaniment to your stay in "the golden city" this Easter.