Among Morocco's many seductions are a panoply of luxurious riads and resorts with lush courtyards, sensual hammans, and "the best tagine in North Africa".  The defining variable is quality of service which, despite Morocco's claim to warm hospitality, varies significantly. Here are three of best places to stay in Marrakesh and Essaouira that offer seamless service along with exquisite environs.
L'Heure Bleue Palais, Essaouira
On entering the cool foyer of this Relais & Chateau property in the ancient medina guests step into an E.M. Forester novel where colonial rule imposed a mannerly calm.  L'Heure Bleu retains the architectural exoticism of its former life as an 18th century merchant's palace, but in ambiance it is distinctly British Empire.
In classic riad style, teak-shuttered, meticulously styled rooms surround the courtyard with exceptionally tall palms. Most impressive are the suites which have a fireplace, marble and teak bathroom and sepia-toned, circa 1930s photographs. The first floor library is richly paneled and its creased leather couches are reminiscent of a gentleman's club (think: Winston Churchill negotiating the Suez Canal).  Just below, on a dimly lit subterranean level, a black marble hammam offers a cleanse that is gentler than the classically rigorous Moroccan spa.  Catch the rooftop pool before its dusk-closing and you can view the whitewashed port with its jumble of fishing boats painted the startling "Majorelle bleu".
Even if you don't stay overnight at L'Heure Bleu, you will want to have a civilized tea and  handmade pastries in the courtyard and later, a multi course dinner prepared by Chef Ahmed which is a destination in itself.
Mosaic Palais Aziza, Marrakech
Set outside the city in an exclusive enclave that is home to Saudi kings and dignitaries, Mosaic Palais Azizza Resort takes to heart Baudelaire's L'Invitation au Voyage where all is "Luxe, calme et volupté".  A sanctuary of exotic gardens and impeccable accommodations that offers guests a flûte of Champagne on arrival and a "pillow menu", Mosaic Palais sustains a refined hospitality throughout your stay.
Rooms that face the pool are densely quiet and subtle in décor; each has a private patio with white cotton sofas shaded by archways and palms. Six standalone "pavilions" are themed with the signature the colors of Morocco's cites (white for Casablanca, red for Marrakesh…). For a romantic interlude, a "villa" with private garden is discreetly set apart.
At the Swiss-pristine Hammam and Spa, the steamy cleanse is authentically rigorous, followed by a four-hand massage, an ideal prelude to an evening aperitif at La Pergola, the lantern-lit poolside bar. Walk a few paces to the Maroliano Restaurant where Chef Daniele Turco fuses Moroccan and Italian cuisine which draws on the fruits of Mosaic's gardens and vineyard: namely, the best olive oil to be found outside Italy and a garnet red Merlot.
Only minutes from the bustling Jemaâ El Fna Square, but so deep within the city's labyrinths of ancient alleys, Riad Kheirredine sends a guide to bring guests to its door. With rooms named Fleur d'oranger, Ambre, and Jasmine  you would expect classic Moroccan style. The surprise lies behind the heavy wooden door: a mélange of textiles and textures which brings to mind a farmhouse in Tuscany appointed with the more sophisticated of North African decor.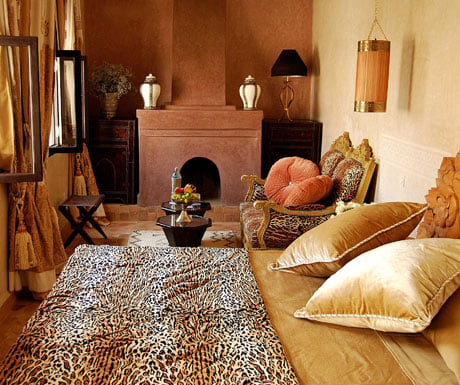 A narrow, winding stone stairwell leads to magnificently appointed rooms, one at each staggered landing, seven rooms in all.  The walls are the stucco-seeming Tadelkt, the fabrics are sumptuously Italian.  Berber rugs warm stone floors, throws are cashmere and bed sheets feel like silken sheaths. Bathrooms are tiled in class Zillij mosaic. Still, looking down at the inner courtyard you might easily expect to see a garden pergola.
The gazebo-like terrace with its canopied white couches and soft draping must be one of the most romantic spots to view the ancient city in the amber glow of evening.