When you hear the name 'New York City' you immediately think of the skyscrapers of Midtown Manhattan, the busy streets, gourmet restaurants, elegant boutiques and yellow cabs, right? Did you know there was a destination just steps away from Manhattan offering all of the above but in a much more relaxed and personalized setting?
A place where you don't have to battle tourist crowds to do your sightseeing or shopping yet you can find the same luxury brands…
A place where the maitre d' at your favorite restaurant knows you by name…
A place with buzzing nightlife, casinos, arts and entertainment of all kinds…
A place where city landscape and countryside peacefully co-exist so you can escape, return and escape again…
This place is Westchester County, home to large cities like White Plains, New Rochelle and Yonkers as well as small gems like historic Tarrytown. Westchester is easily accessible by the Metro-North Railroad or by car (avg. 45-60 min. from Manhattan). If you're coming in from afar, consider taking a commercial flight (Jetblue, Delta, United, AA, US Airways) or helicopter into Westchester County Airport (HPN).
When it comes to hotels, you have dozens of options from motels to 5-star establishments like the Ritz Carlton in White Plains or the Castle Hotel and Spa in Tarrytown channeling romantic medieval Europe. Once you've arrived, the most difficult thing will be to decide how to fit the most into your time.
For sightseeing and cultural experiences start at Kykuit, the Rockefeller Estate featuring expansive terraced gardens and a collection of 20th Century sculpture. Other historic Hudson Valley sites include Washington Irving's Sunnyside with stunning views of the Hudson River and the Union Church of Pocantico Hills containing stain glass windows by Henri Matisse and Marc Chagall.
Feel like going shopping? Visit The Westchester for luxury brands like Gucci, Tiffany & Co. and Tory Burch or shop at the country's largest crafts fairs taking place at the historic Lyndhurst Mansion twice a year.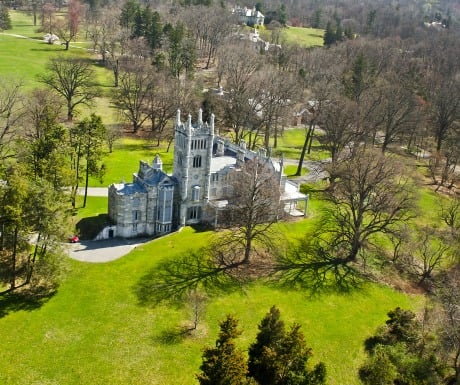 In the mood for a Broadway show? Head to the Westchester Broadway Theatre for classics like Mary Poppins and The Wizard of Oz. Music? The Westchester Philharmonic in Purchase hosts concerts to satisfy all kinds of musical cravings.
All these activities will be sure to get you hungry, but don't despair: the myriad of dining options available in Westchester will satisfy even the most exquisite palate. For a quick grab-and-go lunch visit The Iron Tomato in White Plains where you can enjoy everything from sushi to pizza. For an upscale dining experience that also offers a great bar vibe and signature mixed drinks, head to 42 The Restaurant – not surprisingly, located on the 42nd floor of the Ritz Carlton in White Plains. If you'd prefer a quiet, intimate dinner to reminisce about old days, book a table at the Crabtree's Kittle House in Chappaqua which houses one of the nation's most celebrated wine centers with literally thousands of bottles.
To find out more, visit the official website of Westchester County Tourism. See you in Westchester!
Anna Macsai is Director of Finance and Marketing at Wings Air Helicopters.
If you would like to be a guest blogger on A Luxury Travel Blog in order to raise your profile, please contact us.