5 black sand beaches for adventurous travelers
Stop your vacation planning and listen up! We know you've read those '10 Best Beaches' lists and dreamed about white sand between your toes, but chances are, you've already been there and done that. So why not go for something a little more daring? Something a little more out of the ordinary? Those are a little more your style after all, aren't they? Consider one of these black sand beach adventures instead, your bucket list and Instagram friends will thank you.
Perissa, Santorini, Greece
Between the crystal clear water and smooth, but devilishly hot sand, you may have just found your new favorite beach in the world. Protected by Mesa Vouno and the ruins of the ancient Spartan city Thera to the north, Perissa is considered one of Greece's top beaches. The stark contrast between the black sand beach and the white buildings of the city make for one picture perfect scene. Make the ambitious 3 kilometer hike to Mesa Vouno at dawn to take in a sunrise fit for the Gods.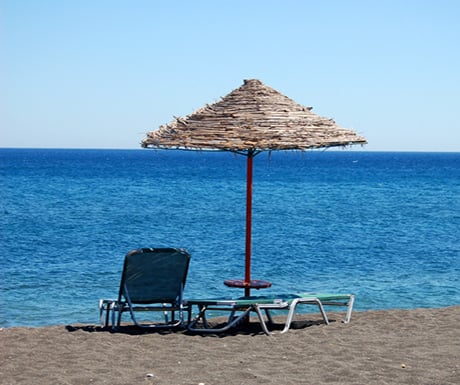 Vík Beach, Iceland
In the southernmost point of Iceland you'll find the village of Vik, home to one of the prettiest black sand beaches in the world. This stretch of black basalt sand is one of the wettest places in Iceland, getting about 90 inches of rain a year and is surrounded by volcanos and glaciers – which if you ask us, makes for one heck of a unique destination.
Black Sand Beach, Prince William Sound, Alaska
Glaciers, green hillsides and wildlife will compete for your attention when you're at Prince William Sound. Just 60 miles from Anchorage, getting to the sound is worth the trek. Experienced kayakers try braving the waters to get to the beach. Not so experienced kayakers, opt for the boat tour. Either way, take it all in, there's nothing else like this in the world.
Punaluu Beach, Hawaii
Located on the Big Island, Punaluu Beach is actually a result of lava that's flowed to the ocean and cooled, creating a beautiful, but rocky beach. Watch out for sun-bathing Hawksbill and Green turtles, you're on their turf after all. Be sure to stay at least 15 feet away from these endangered creatures otherwise the beach patrol might cut your visit short. Oh, and taking some of that stunning sand home with you as a memento isn't allowed either.
Black Sand Beach, Lost Coast, California
4,000 feet below the surrounding mountains California is so famous for, this black sand beach lies pristine and relatively untouched. Hard to get to in any form, small mountain roads might be your only chance to get to this remote beach. Camping and hiking are big in this area, connect with nature but don't forget your camera, there will surely be some picture-perfect opportunities.
Think we missed a must-see black sand beach destination? Let us know in the comments!
Did you enjoy this article?
Receive similar content direct to your inbox.