By
Paul Johnson
on Apr 27, 2014 in
Accommodation
,
Attractions
,
Europe
,
Family Travel
,
Featured
,
Food and Drink
,
Going Out
,
Hotels
,
Leisure Travel
,
Regions
,
Restaurants
,
Special Features
,
Speciality Travel
,
Travel Miscellany
,
United Kingdom
,
Vacation Rentals
,
Western Europe
Less than an hour west of London lies Kingston-upon-Thames – a thriving suburb of the capital, with a relaxed but vibrant feel to it. There we enjoyed a leisurely stay in one of the brand new Flying Butler apartments by Deep Blue, close to Kingston Bridge and overlooking the River Thames.
Once we located the apartment building, access into the apartment was straight forward with no keys or keycards required – all we had to do was enter a code to gain entrance and another to enter the apartment. Once inside, we found an airy, open plan living room, kitchen and dining area, with a balcony view over the River Thames and towards Kingston Bridge to the left. Beneath us was Turks Pier from where you can take boat rides up and down the Thames.
The lounge is equipped with TV, docking station and comfortable seating, and the kitchen complete with fridge, freezer, oven, microwave, toaster, kettle, etc. Some basic provisions (bread, milk, cheese, juice, water, tea and coffee) were also kindly provided. A Waitrose supermarket is just a stone's throw away if you wish to cater for yourself but equally there are many places to dine out within easy reach.
Just down the corridor from the open plan living room, dining area and kitchen is a double bedroom and bathroom, simply but tastefully decorated. Free WiFi is available throughout.
One further door – which looked like it might just be a storage cupboard, in fact revealed a spiral staircase to a floor above with another – much larger – double bedroom with en suite shower room.
Bold pictures such as this series of prints with selective colour complemented the bold colours found in other furnishings in the room.
Where this apartment is different from your usual rental accommodation is in the offering of a 'Flying Butler' service. With this service, help is just a call away, whether you are looking for assistance with dinner reservations, theatre tickets or a special event. And it doesn't just stop there – they'll even assist with everything from chauffeur transfers to dry cleaning and a lot more in between. Alternatively, if you prefer to be just left in peace and quiet, then you'll have all the privacy you'd expect.
There are lots of cafés and restaurants just a short walk away the apartment – TGI Fridays, Carluccios, Côte Brasserie, Brown's, Pizza Express etc. – quite a few are chains so instead we opted on the first night to dine at Langleys in nearby Surbiton, just a short cab ride away.
Inside the place was buzzing and you could see why – dinner there was very enjoyable. I had the Langleys fishcakes,marinated cucumber salad with melon and fennel chutney, followed by the rump of lamb, watercress purée, fondant potato, medley of vegetables and red wine jus (pictured).
For me, the dark chocolate stuffed with ricotta and candied orange, poached rhubarb and fruit coulis was less of a success, but overall the meal and service had both been good.
Another evening we ate at Jamie's Italian in Kingston, one of the first of Jamie Oliver's small empire which now extends from as far as Aberdeen in the north to Brighton in the south and has grown to a total of 37 restaurants. This was an easy walk from our accommodation. Pictured is my wife's Tuscan bean and Capezzana olive oil bruschetta – braised beans and creamy mozzarella on grilled sourdough, drizzled with Capezzana Special Reserve 2013 olive oil – remarkable value at just £3.75.
For main I had the prawn linguine – fried garlicky prawns, shaved fennel, tomatoes, chilli and rocket. Service was good (if a little slow at times) and the food a worthy match.  Our waiter even took time out to chat to our kids about chillies, even bringing with him a few samples (not too fiery!) from the kitchen for them to try.
In addition to there being lots of places to dine, the apartment proved to be an ideal base for things to see and do in the area, the most obvious nearby attraction being Hampton Court Palace, Gardens and Maze, cared for by Historic Royal Palaces. Originally built for Cardinal Thomas Wolsey, a once good friend of King Henry VIII, the palace was passed to the king in 1529, and has been occupied by both the Tudor and Stuart families. I remember going to the maze as a child myself, so it was fun to be able to see our own children running about and getting wonderfully lost!
After that we wandered around the grounds which are extensive, beautifully landscapes and meticulously maintained, with numerous water features. I managed to snap a close-up of these cygnets just before Mum arrived, but then felt it was probably best to 'back off'… swans do have quite a vicious reputation afterall!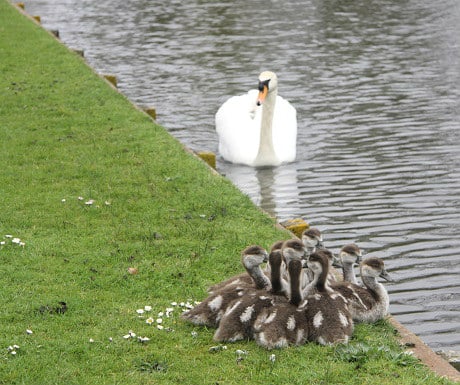 A great way to explore the grounds – particularly if you have little legs in your party – is by a horse-drawn ride that is accompanied by a short, informative tour, indicating various points of interest such as this planting which is apparently the longest herbaceous border in the world.
Some of the route had been uphill for the horses but they were suitably rewarded at the end!
Had we had more time, it would have been great to explore inside the house but instead we ambled across to nearby Bushy Park before returning back to our apartment. Bushy Park is the second largest of the royal parks – covering just over 1,000 acres – and there you will find a well-equipped children's park, as well as deer roaming nearby. In fact, it was this area that Henry VIII – himself a keen hunter – had once established as deer-hunting grounds.
In addition to the attractions in the area, shopaholics will love Kingston itself, home to more than 500 shops, be it for the individual boutiques or the good choice of High Street names. The town's Bentall Centre attracts over 14 million visitors a year and is home to a number of leading brands such as Apple, H&M, Hollister, Superdry, Timberland and ZARA. The building itself is quite impressive, with an atrium that's higher than the nave of Westminster Abbey and a façade that was inspired by Wren's design for Hampton Court.
The town has a large pedestrianized area (being re-surfaced at the time of our visit) and Kingston's ancient market place has been home to a market for over 800 years – with fruit, veg, fish, meat and flower markets – as well as visiting markets (French, German, Italian and Moroccan).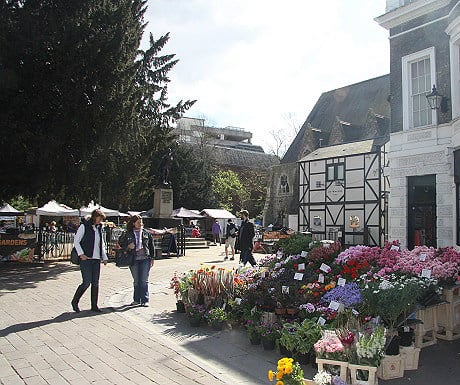 Despite the vast choice of shops, Kingston still has a small town feel to it and a good theatre for evening entertainment in the form of the Rose Theatre. But don't forget this apartment also offers easy access to the capital and all of its theatres and attractions.  From the property, the railway station is just a short walk away and, with a quick change at Wimbledon, we found a trip to the Science Museum could be done easily in the day. There we found lots of interactive displays but sadly a day isn't enough to do it all justice!
The museum also filled my enthusiasm for travel with a section devoted to the history of flight, and an intriguing cross section taken from a British Airways 747.
The museum is free to enter but welcomes donations and has some sections within it that command a fee. We did the 3D Red Arrows flying experience and a 4D Legend of Apollo trip to the moon, both of which I'd highly recommend.
Staying in Kingston had allowed us to experience a little of London without all the hustle and bustle, and experience a town that has a lovely atmosphere, day or night. On that note, I leave you with a picture of Kingston Bridge (which is visible from the apartment) as you'll find, should you stroll along the Thames after dark.