Top 10 tips for your first trip to London
Planning your first trip to London can be a daunting prospect. With so many things to see and do, it is sometimes difficult to know where to start, especially if you are only in town for a few days. They say that when you are tired of London, you are tired of life. Well let me tell you, if you wander aimlessly around the streets of London without any prior planning or research, you will be tired – very tired indeed. Our top 10 tips should help you make the most out of your trip.
1. The Gore
If you are an affable hedonist looking for a quirky British style hotel that offers privacy, romance, character and a little bit of rock 'n roll, look no further than
The Gore
. In a fabulous location next to
Kensington Gardens
it's the perfect place to stay if you are heading to the
Royal Albert Hall
. The fifty unique rooms, furnished with handpicked period pieces, are both luxurious and enchanting.
2. ME London
This shiny new luxurious 5 star hotel occupying a fantastic location right on The Strand, has been exquisitely designed by world famous architects
Foster and Partners
. Only minutes away from Covent Garden, this glamorous and cosmopolitan hotel is perfectly placed for theatre trips, luxury retail opportunities and fine dining. Mind you, with
STK London
serving superb steaks on the ground floor, and the
Radio Rooftop Bar
offering deliciously different cocktails and incredible views of the London skyline on the 10th floor, leaving the hotel isn't entirely necessary.
3. A West End show
If you only have time to take in one show, make sure it's
Billy Elliot
. It's hard to imagine how the story of a young boy's struggle to make his dream come true, set in a Northern mining town, against the backdrop of a miner's strike can be so inspirational, but it never fails to captivate audiences from all over the world. Billy Elliot really is the ultimate feel good musical.
4. Afternoon tea
Taking afternoon tea is as quintessentially English as talking about the weather and mowing the lawn. It's not something that one would want to do every day (way too many carbs!), but as a special treat every once in a while, it's hard to beat. There are of course numerous hotels and restaurants serving afternoon tea in London, but if you like the best, you may as well head straight to
The Goring Hotel
in Belgravia. With its exquisite décor, elegant surroundings, superb champagne, delicious tea and delicate treats, afternoon tea at The Goring is as close to perfection as you are ever likely to find.
5. Harrods
A visit to the world's most famous department store is a must.
Harrods
is a shopping experience like no other. Don't think for one minute that you can simply pop in for a quick look – you are quite likely to spend an entire day in here, once you have been seduced by the sumptuous surroundings and spectacular staff. To avoid disorientation, it's best to start at the top and work your way down. Highlights include; the Egyptian Escalator, the Dodi and Diana Memorials, the world's most expensive bottle of perfume by Clive Christian, the Food Hall and the Laduree.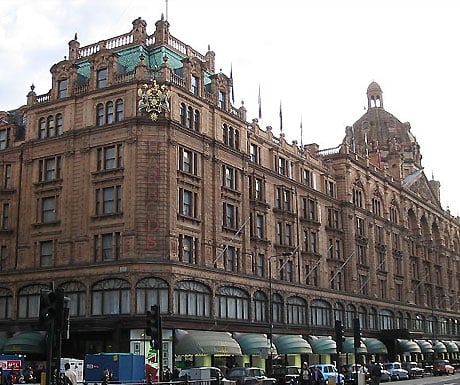 6. Royal Academy of Arts
The
RA
exists quite simply to promote art and artists – a mission it pursues through exhibitions, education and debate. It's worth visiting the RA just to enjoy the splendour of its surroundings in Burlington House on Piccadilly. A visit to the RA offers a unique cultural and visual experience, as well as providing a haven of peace and tranquillity in world away from the hustle and bustle of the city.
7. The Delaunay
Located on the corner of Drury Lane and The Aldwych,
The Delaunay
is an all-day café restaurant inspired by the grand cafes of Europe. Its elegant, spacious surroundings bring instant joy to each and every diner. The service is impeccable – the kind where you have no idea what the waiter's name is, nor do you have any recollection of what he looks like, but you know that as soon as you require anything, it will appear as if by magic. Oh, and the food is faultless.
8. Buckingham Palace
Everybody is intrigued to know where the Queen lives and a trip to
Buckingham Palace
will not disappoint. Be sure to see
The Changing of the Guard
, which is quite simply the process of a new guard exchanging duty with the old guard, but a thrilling spectacle nonetheless.
9. St. Paul's Cathedral
This magnificent Baroque style cathedral, designed by Sir Christopher Wren is one of the most famous landmarks of the London skyline. A symbol of hope, resilience and strength,
St. Paul's Cathedral
is a fascinating place to visit. Don't miss the breathtakingly beautiful views from the Golden Gallery.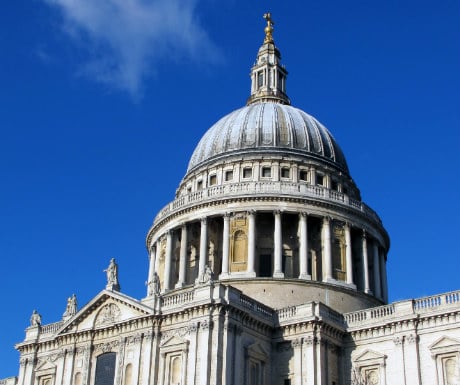 10. Natural History Museum
Famous for its exhibition of dinosaur skeletons, the
Natural History Museum
is home to 70 million specimens. If you visit the museum between 23rd May and 7th September 2014, you will be able to see a perfectly preserved woolly mammoth that died 42,000 years ago. The baby mammoth named Lyuba, meaning love in Russian, was so well preserved that there were traces of her mother's milk in her stomach. Full of fascinating facts, the Natural History Museum is the perfect place for a family outing.
Ceri Tinley is the Co-Founder and MD of Consensio Holidays.
If you would like to be a guest blogger on A Luxury Travel Blog in order to raise your profile, please contact us.
Did you enjoy this article?
Receive similar content direct to your inbox.