Costa Rica is a country teeming in diverse wildlife on land, in the sea and in the sky, and five out of seven species of endangered sea turtles pull themselves onto the country's shores every year to lay their precious eggs.
During the nesting season, more than one million turtles are said to make their nests on the Central American country's beaches and lay approximately 11 million eggs, before they make their departure back to the ocean, never to see their young again. Sixty days later, the hatched baby turtles must make the fateful wobbly walk across the beach – under the watchful eye of predators – to the ocean where the circle of life continues.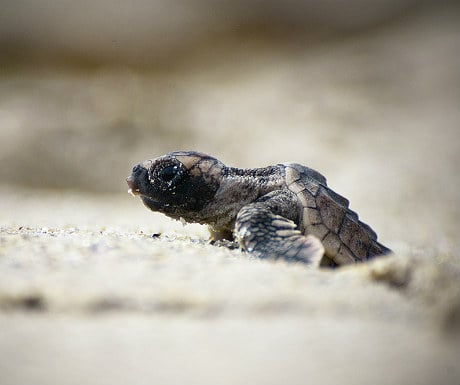 Here are three great turtle nesting sites in Costa Rica where you can witness this spectacular annual event:
Santa Rosa National Park
Santa Rosa National Park is one of the oldest and largest national parks in Costa Rica, spanning an area of 91,926 acres.
The park protects the largest remaining section of Central America's tropical dry forest and while you might mistake the grasslands and scattered trees for the African savannah, it is home to thousands of native wildlife species including birds, insects, reptiles and mammals that make up Costa Rica's thriving ecosystem.
The park also boasts 22 miles of protected beautiful beaches where sea turtles come ashore between August and October every year to lay their eggs. Naranjo beach is a hotspot for nesting Olive Ridleys, leatherback and Pacific green sea turtles, while Playa Nancite is prime spot for Olive Ridleys.
To control the number of turtle watchers, visitors must get a permit before they can head to the sites and this can be obtained from the park's administration centre, 3.5 miles from the main entrance.
Tortuguero National Park
This 19,000-hectare park is home to high rainforests, azure lagoons, soaring mountain ranges, winding rivers and brown and grey sandy beaches. These beaches are the main nesting sites for three turtles species throughout the year, with green sea turtles arriving between June and October; giant leatherback turtles February to July; and hawksbill turtles in July. Loggerhead turtles also come to the shores, but in smaller numbers, between May and August.
The park accommodates a green-turtle hatchery and enforces strict rules to ensure the creatures are protected. No visitors can visit a nesting site without a guide after 6pm and only 400 people are allowed on the beach each night (200 every two hours).
Ostional National Wildlife Refuge (ONWR)
Located on the Nicoya Peninsula, the Ostional National Wildlife Refuge covers 400 acres of land and more than 4,000 acres of ocean.
Ostional beach is one of the world's vital nesting grounds for Olive Ridleys and each year, thousands of females arrive during arribadas, year-round mass nesting periods that peak in the months of June and December, to battle it out for the all-important nesting sites on the beach.
Volunteers can take part in fortnight-long research activities such as data recording and egg counting, to help conservationists protect the Olive Ridleys and learn more about the species.
Tips for turtle watchers:
Take an evening turtle tour with a licensed guide or park ranger.
Cameras, video cameras and torches are strictly prohibited.
Keep quiet to avoid disruption to the nesting turtles.
Keep a discreet distance from turtles.
Images: Shutterstock