Suite name: Bali Luxury Villa Collection, Bulung Daya
Location: Tabanan Regency, Bali, Indonesia
Size of accommodation: 480 square metres with a garden of 3,500 square metres
Cost per night: from $550 per night
What makes it special: Leave stress behind in this luxury beach retreat set in a pristine wild landscape, far from the crowds, with a 33 metres long infinity pool, a gym, a home cinema and a private chef.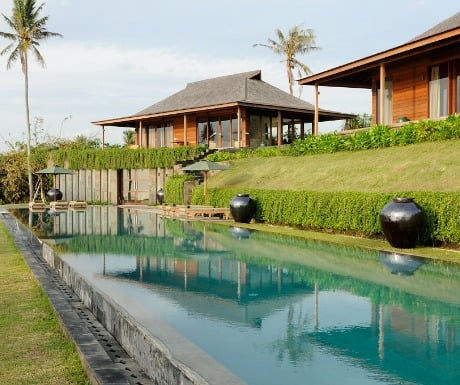 Nomad travel entrepreneur Thibault Masson opens the doors of Bulung Daya, his secret Bali retreat, to a few privileged guests. Live a memorable romantic experience in harmony with the real Bali, in this exclusive vacation hideaway, located between stunning rice paddies and a black sand beach. Unwind and get new creative ideas for your life or your business in this fully-staffed luxury holiday rental.
Bulung Daya offers 1 master suite (bedroom, ensuite bathroom and home office with high speed wifi) and 1 guest bedroom (with a double view on the wild beach and on the rice fields), 1 spacious living and dining room, 1 private gym, 1 home cinema with a screen and a projector, 1 private chef, 1 villa concierge, 1 chauffeur and 2 maids.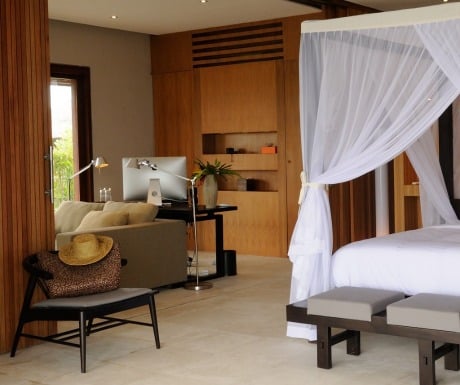 As the villa is the only building standing by this beach, guests are guaranteed maximum privacy and intimacy. What is also unique is the 33 x 5 metres infinity-edge lap pool. Overlooking the beach, the pool has been designed to make a dramatic impression and heighten the sensations you experience when you swim. You feel like flying over the ocean. At sunset, the night ambiance is highly romantic. Enjoy an evening cocktail with your loved one by the pool, while the staff is preparing dinner for you.
As a reader of A Luxury Travel Blog, you get an exclusive 15% discount on your stay when booking directly from Bulung Daya's official website. Please quote your dedicated invite code "ALTB" when contacting this luxury Bali villa.
If you would like to be featured as 'suite of the week' on A Luxury Travel Blog, please contact us.