It's a triage that should rightly take a lifetime, but given the "French Bread Law" (Décret n° 93-1074 du 13 septembre 1993), our choices are somewhat narrowly defined as to what is legally considered the Baguette de Tradition. So many baguettes (and croissants) sold in boulangeries are pre-made with commercial frozen dough, that specifications were forced into existence. On that official standard the Grand Prix de la Baguette is selected.
An authentic baguette de tradition is a slender loaf that must be mixed, kneaded, leavened and baked on premises (never frozen), additive-free and contain only four ingredients: wheat flour, water, salt and yeast.
For a warm baguette, arrive early. As baker Philippe Gosselin puts it: "The baguette is the bread of Parisians, it has a life span of just six hours." Make sure to call ahead for times when the bakery is open, as hours vary.
1. Aux Délices du Palais
Winner of the 2014 and 1998 Grand Prix de la Baguette. Following family tradition, 24 year old baker Anthony Teixeira and his wife will be keeping the Elysées Palace supplied with their golden, crusty baguette. Try also their astonishing Éclairs Chocolats and Macaron Francilien.
60 Boulevard Brune, 75014. Tel: 01 45 39 48 68.
2. Au Paradis du Gourmand
Winner of the 2013 Grand Prix de la Baguette. Tunisan artisan baker Ridha Khadher has a very modestly priced, light, crackling chewy baguette which makes a spectacular on- premise cheese and egg sandwich.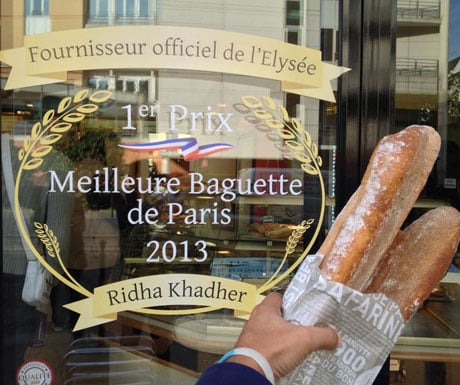 156 e Raymond Losserand, 75014. Tel: 09 62 30 47 13.
3. Gosselin
Winner of the 2011 Grand Prix de la Baguette. Baker Philippe Gosselin, Montmarte's famed supplier of bread and croissants to Jacques Chirac and the Elysée Palace, presents a classic, naturally fermented baguette in a congenial family atmosphere.
125e St.-Honoré, 75001. Tele: 01 45 08 03 59.
4. Grenier à Pain
Winner of the 2010 Grand Prix de la Baguette. Baker Djibril Bodian's rustic bakery in the heart of Montmartre is well worth the queue. Try also their whimsical chocolate-covered Pain d'Epice.
38 Rue des Abbesses, 75018. Tel: 01 46 06 41 81.
5. Du Pain et des Idées
Winner of the 2008 Gault-Millau prize for Best Bakery. This little bakery in the St. Martin Canal neighborhood is also noted for its toasty Pain des amis and an assortment of delectable fruit breads.
34 Rue Yves Toudic, 75010. Tele: 1 42 40 44 52.
6. Fournée d'Augustine
An ancienne gem in Montparnasse. Arrive early for a freshly out-of-the-oven baguette.
96 rue Raymond Losserand, 75014. Tel: 1 45 43 42 49.