By
Paul Johnson
on Jul 16, 2014 in
Accommodation
,
Adventure Travel
,
Attractions
,
Europe
,
Featured
,
Going Out
,
Hotels
,
Leisure Travel
,
Regions
,
Restaurants
,
Speciality Travel
,
United Kingdom
,
Western Europe
If you're looking for a luxury riding holiday in the UK, then look no further than bespoke horseback adventure organiser Liberty Trails. Established by Elaine Prior following three years of negotiation with landowners and National Park authories, the company offers horseback safaris for discerning riders across Dartmoor, combined with gastronomic adventures in close partnership with Relais & Chateaux hotel Gidleigh Park, one of the most highly rated hotels in the world and home to two Michelin stars and the much celebrated chef Michael Caines MBE.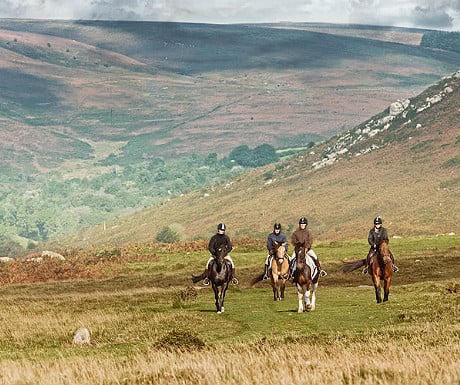 This is a new experience catering for the ever-growing adventurous luxury market, attracting an exclusive clientele from all over the world and introducing them to the pleasure of riding through the unspoiled wilds of the Dartmoor National Park – an area that extends over 368 square miles and is home to valleys, forests, grassland, rivers and,as I remember well from fieldtrips in years gone by, Dartmoor's famous granite tors.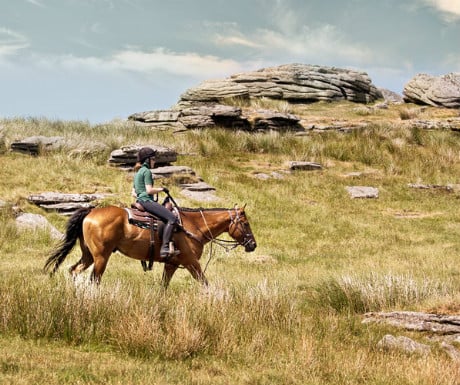 With this on their 'doorstep', and just a 2.5 hour train ride from London, residents of the UK need not be heading out to the likes of Patagonia or the African veld for a luxury riding experience. Similary, those who have come from afar to experience riding in this unique area have been amazed by Dartmoor's variety and beauty. The wide open grasslands means you can gallop horses for miles at a time away from the constraints of roads and fences.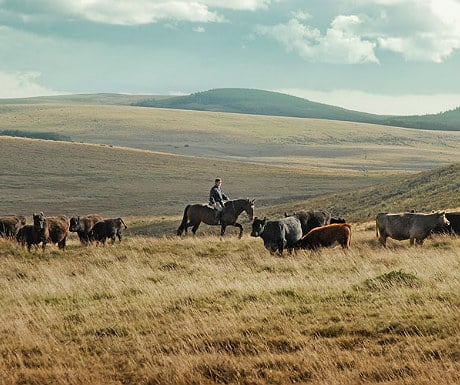 Packages from Liberty Trails are available from April until October and start from £4200 per couple, this includes three nights at Gidleigh Park and two days guided riding with up to five hours in the saddle covering up to 25 miles per day. That said, the offering is completely bespoke, so if you'd like something different, rest assured that it can be tailored to your specific needs and requirements.
A typical day, though, would begin with riders being driven by Land Rover from Gidleigh to their mounts. After a morning on horseback, exploring scenery that might be familiar to you from Steven Spielberg's epic film 'War Horse', inspired by Michael Morpurgo's book of the same name. You can even ride past Shepstor Village and the isolated Grade II listed building that was used as the Narracott family's farmhouse in the film.) Lunch is then served in a luxury dining tent out on the moor before more wonderful riding, followed by a return to Gidleigh for a well-earned rest and a gourmet dinner.
It has to be emphasised that this is not something for novice riders, but for experienced individuals who are accustomed to all paces as well as varied terrain. If that's you and you're looking for an opportunity to really escape out into the wilds in the company of experienced guides with considerable local knowledge, then this may just be for you. And, if you prefer, you may even bring your own horse… although, for no extra charge, you can ride one of Liberty Trails' own well-trained, sure-footed American Quarter horses.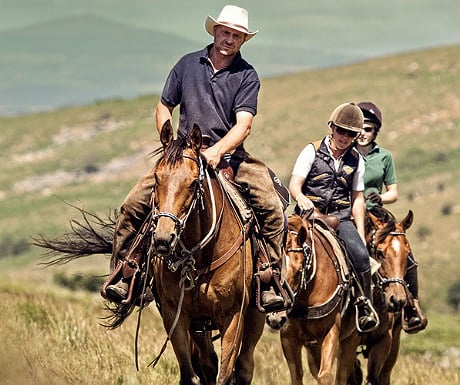 For any non-riders in your group, alternative activities can be arranged, including everything from falconry to fishing. However, once they hear about your own adventures, they may just become tired of missing out and look to become accomplished horsemen or women themselves.
Photographs are courtesy of equestrian photographer Malcolm Snelgrove. Malcolm follows these rides so that Liberty Trails can provide guests with a photo book as a memento of their experience.