19 facts about the world's no. 1 foodie region – the Basque Country, Spain
The world is full of lists – I don't know about you but I love my lists, they just seem to make life so much easier. Decisions are simpler; you know which fashion brands to wear, which hotels to go to before your friends do, which gadgets to choose to be super cool and, of course, which restaurants you may need to reserve months, or years, in advance.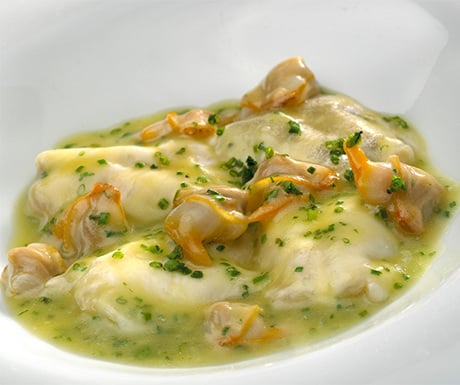 One of my favourite lists is "The World's 50 Best Restaurants", sponsored by S. Pellegrino & Aequa Panna, which not all that surprisingly names the top 50 restaurants in the world. However what it doesn't do is analyse the world's top foodie countries, regions, or cities, you need to do this for yourself – but the good news is that I've done it for you! If you want to read my methodology read the next two paragraphs, if not just ignore them and jump straight to the lovely list!!
List methodology
There are two countries with 7 restaurants on the list, which are
Spain
and America, but as America is really either a continent, or half a continent, this means that Spain is the winner. I am slightly biased, of course, as I live in Spain, but if you compare the population of the two, America comes in around 318.4 million and Spain at around 47.15 million – I believe it's a fair win. Spain has 7 out of the 50 restaurants on the list of "The World's 50 Best Restaurants", out of these seven restaurants, five are in the region of the Basque Country. I have to admit that I struggled a little bit at this point, because El Cellar de Can Roca, is in position number two for 2014, and was in the top position in 2013, and is, of course in Girona, Catalonia. But in terms of having the highest number of restaurants on the list, the Basque Country is the winner.
Check out these 19 facts which are divided into basic foodie facts, some of the Basque Country's best restaurants, and a small handful of hotspots to consider in between culinary delights. A few foodie basics about the Basque Country:
1. Most Michelin starred restaurants
If you judge the region on a per capita basis, then the Basque Country wins again, because it currently holds the honour of having the highest number of Michelin starred restaurants, per capita in the world.
2. Let's do a day or two of "Txikiteo"
When in the Basque country, you must do as the Basques do. This means doing a day or more of "Txikiteo ". Not too sure about that? Don't worry, once you understand what it is, I think you'll want to do it. "Txikiteo "is a word that the Basques use to describe hanging out with friends, while tasting different pintxos (tapas) in different places, and drinking a number of small glasses of txakoli, which is Basque wine, at the same time.
3. The Basque belief about food
One of the possible reasons for the superb International success of Basque cuisine, can be attributed to the traditions of the people and their attitude towards food and social occasions. Inherent in the nature of the Basques, is the belief that good food can be perceived as a reflection of good character.
4. The 3 types of Basque cuisine
The cuisine of the Basque country has captured the imaginations, appetites and hearts of International foodies. Over the last few decades, it has honed its culinary offerings, to be what is known as Basque Nouvelle Cuisine. However there are also two other distinct types of Basque cuisine which are Pintxos, and Sagardotegi – which is basically food in cider houses.
5. Basques and cod
In the past, the Basques used to eat cod during times of famine, but these days it's a delicacy, which you can enjoy in a wide range of delicious recipes. Some of the best restaurants in the Basque country:
6. Mugaritz – #6 in the world
In position 6, is Mugaritz in the San Sebastian area. Chef owner, Andoni Luis Aduriz's style of food is techno-emotional Spanish. Watch out for the scarlet shrimp perfume, with ice shreds. Aduriz wants your meal at his restaurant to provoke, surprise and shock.
https://www.mugaritz.com
7. Arzak – #8 in the world
The father and daughter team at
Arzak
, in San Sebastian, seem to be able to walk the fine line between honouring the culinary heritage of Basque tradition, by re-working old favourites, but using cutting-edge techniques. Their style is modern Basque, and watch out for their special squid with onion and lemon sauce.
8. Azurmendi – #26 in the world
In a dramatic eco-friendly building, perched on a hillside near the city of Bilbao, you'll find the game changing chef, Eneko Atxa, in
Azurmendi
, using ultrasound amongst his range of cooking methods. The food genre is cutting edge Basque, and the signature dish is egg, which has been cooked inside out and truffled.
9. Asador Etxebarri – #34 in the world
Asador Etxebarri
moved up 10 positions since 2013, when it was in position number 44. This is a restaurant that you will smell, before you see it. The cuisine style is rustic wood-fired Spanish, and chef Victor Arguinzoniz, admits to being in love, or obsessed, with his superb home-made grill. This is a more rustic restaurant, about one hour away from San Sebastian, where the menu is created on a daily basis. Enjoy the humble approach during this eating sensation.
10. Martín Berasategui – #35 in the world
There has been an impressive list of superb chefs that have passed through the kitchen of
Martín Berasategui
, who was sent to France by his parents, when only in his teens to become a pastry chef. By the late 1980s he was back in the Basque country running his parents' restaurant. Today you can enjoy his modern Spanish cuisine, in a small pretty town just outside the city of San Sebastien. Watch out for his rather gamy, delicious dish of – roast pigeon, onion, with Iberian pigs snout, ginger juice and capers.
And for a few more Basque restaurants that didn't make the "The World's 50 Best Restaurants" list – please note, there are so many more that deserve to be here, that it would take a small book to feature them all:
11. Petritegi Sagardoa
This one falls into the cider house eating experience, of which this restaurant is a fantastic sample. Need I say more than the fact that they have been producing their own cider in their own farmhouse since the 16th century?
12. Altzueta Sagardotegia
The best time to come really, to the cider houses, including this one, is between January and April after the autumn harvest. Here you can enjoy a fine classical cider house menu, and this family have been producing their natural cider since around 1876.
13. Sidreria Zelaia
This is another fine cider house experience, where the family maintain old traditions, but with contemporary methods.
14. Antonio Bar
You'll find gorgeous fresh pintxos at the
Antonio Bar
, because each order is prepared on the spot! Dishes are prepared in accordance with the season and the place has a great atmosphere.
15. A Fuego Negro
Contemporary would be the buzz word here – both for the dishes and the decor. At
A Fuego Negro
, you can choose from pintxos, a la carte or super tasting menus. And for when you're not having a foodie experience, but perhaps working up your appetite for the next one:
16. One of Europe's top 10 beaches
The gorgeous city of San Sebastian is home to La Concha Beach, which has been voted in at position number 10 in Tripadvisor's Travellers' Choice Awards of the Top 25 Beaches in Europe.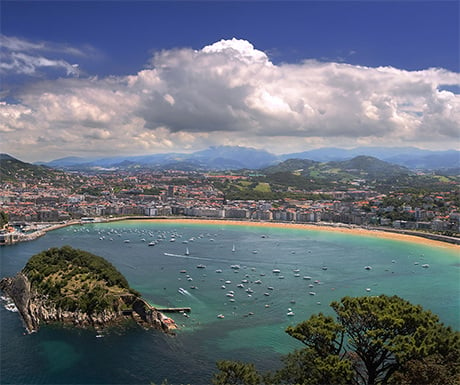 17. The Guggenheim Museum
In Bilbao you can visit the famous
Guggenheim Museum
.
18. The Sanctuary of Arantzazu
Visit the much loved, stunning Franciscan Sanctuary of Arantzazu in Oñati.
19. The San Sebastian Cathedral
Consecrated in 1897, the Gothic Revival Cathedral of the Good Shepherd in San Sebastian is really striking and definitely worth a visit.
These handful of attractions are such a tiny percentage of what the Basque Country has to offer. Although you may know of the Basque Country because of its culinary delights, it's also home to some of Spain's most beautiful cities, amazing landscapes and great traditions.
Jackie de Burca is Co-owner of Catalonia Valencia.
If you would like to be a guest blogger on A Luxury Travel Blog in order to raise your profile, please contact us.
Did you enjoy this article?
Receive similar content direct to your inbox.