6 reasons to love Mallorca this Summer
Mallorca
has been in the news for all the wrong reasons recently but – outside the raucous party resort of Magaluf – discerning travellers will find plenty to love about the Spanish island this Summer. British chef Jamie Oliver and his family, racing driver Freddie Hunt (son of the late James Hunt), and former 'Baywatch' babe Pamela Anderson have all been spotted enjoying the beautiful Balearic island recently.
The Mediterranean's only land art resort
Opened in June 2014,
Es Revellar Art Resort
is unique on Mallorca and in the Mediterranean, and is only the seventh privately owned land art resort in the world. With just 12 rooms, this adults-only property could be described as an art museum with accommodation, outdoor pool, gym, and restaurant (set amid the hotel's vegetable garden).
Located on a 600-year-old country estate, just outside the southeast town of Campos, it has verdant gardens filled with sculptures, marble columns, fountains, and ponds, and is illuminated at night. Es Reveller Art Resort is home to an extraordinary private collection of classical, religious, medieval, primitive, contemporary and ethnic art. Guests can enjoy guided tours of the art at certain times with the hotel's art advisor.
New hotel suites
Two established 5-star hotels on Mallorca have a new top suite for guests this summer: The 93-room
Sheraton Mallorca Arabella Golf Hotel
was closed for most of 2013, for a total refurbishment costing 13 million euros. Overlooking the 18th hole of the adjacent Son Vida Golf Course, its 88m2 Hole-in-One Suite has large private terrace, bedroom and separate living room. Room rates include unlimited green fees. The two-bedroom Suite Es Port is the latest addition to the
Jumeirah Port Sóller Hotel & Spa
, on Mallorca's scenic northwest coast. In a stand-alone 'house' in the hotel grounds, this suite is surrounded by pines and ancient olive trees for added privacy, with almost 360-degree views across the port and open sea. Suite Es Port has an open-plan dining and living area with fireplace, private terrace with BBQ, open kitchen with breakfast bar, maid's room and separate bathroom for visitors. The master bedroom has a private terrace.
Great gastronomy
Mallorca has five Michelin-starred restaurants: Zaranda, Es Molí d'en Bou, Jardín, Es Racó d'es Teix, and Es Fum. In addition to these temples of fine dining, several young local chefs own restaurants offering 'new Mallorcan' cuisine: creative contemporary interpretations of the island's classic dishes. Try restaurants such as Santi Taura, DaiCa, Joan Marc, Andreu Genestra and Miceli to appreciate why Mallorca is a great gastronomic destination.
Marc Fosh's cuisine
His career began at The Greenhouse in London and brought him, via the Spanish peninsula, to Mallorca and Reads Hotel. Marc Fosh is still
Spain
's only British chef to have gained a Michelin star. He left it behind to open his own restaurants – Simply Fosh and Misa Braseria – in the heart of Palma de Mallorca. Many restaurants in Mallorca's capital are closed on Sundays, but the acclaimed
Simply Fosh
is open for lunch and dinner, and Misa Braseria open for dinner, on Sundays throughout this summer.
A new unique space with a view
The 5-star boutique
Gran Hotel Son Net
overlooking the village of Puigpunyent, in Mallorca's southwest, is the first hotel on the island to offer a treehouse for small private functions. A unique space for a romantic dinner, marriage proposal, or drinks with friends, it has stunning views of the UNESCO World Heritage Site Tramuntana mountains.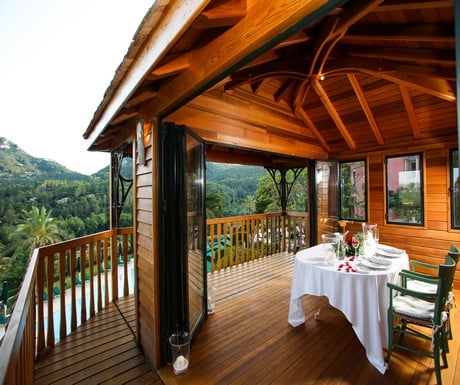 Superb shopping
Palma de Mallorca's reputation as a luxury shopping destination grows with every new boutique and store. This summer's new openings include Tara's Art: luxurious leather bags for women and men, designed by Tara Salgado and artisan-made in her workshop in Inca, Mallorca. Venerable Mallorcan luxury jeweller Relojeria Alemana – clients include the Spanish royal family – has just opened a new three-floor store in a renovated 'palacio' on the iconic Paseo del Borne; the store's ground floor is dedicated to Rolex timepieces and, purchase made, you can head upstairs for a drink in the clients' private bar. Rialto Living – the Swedish lifestyle store opened in 2007 – has just doubled in size, following expansion within its 18th-century 'palacio' premises. Featured in the coffee table book Luxury Stores: Top of the World (te Neues), the expanded store includes a new art gallery, men's and women's fashions, books, gifts, and furniture/home accessories. The store's sympathetically restored architectural features and new glass-roofed Café Rialto make this a must-visit for fans of casual elegance.
Did you enjoy this article?
Receive similar content direct to your inbox.