Abu Dhabi may not be a flashy and over-the-top as Dubai, but it has emulated Dubai's success in building itself into a booming city that has risen from the desert sands. It may not shout about it, but there's plenty to explore in the Capital of the United Arab Emirates, and these are the top 5 luxury hotels to stay in while you do so.
St. Regis Saadiyat Island Resort
St. Regis Saadiyat Island Resort is on the island that gives the resort its name. Saadiyat is set to be home to the world's largest single concentration of premier cultural assets including the Louvre Abu Dhabi and Guggenheim Abu Dhabi, although these have yet to open. Seven minutes from the city centre, this Mediterranean-style hotel is more of a beach resort than a city pad, with contemporary décor and ocean views. There are three outdoor pools, a stretch of private beach dusted with fine, white sand, and golfing aficionados can tee off at the Gary Player-designed Championship Course at Saadiyat Beach Golf Club.
Another island option, the Yas Viceroy Abu Dhabi is the only five-star accommodation choice on Yas Island, touted to be Abu Dhabi's up-and-coming leisure and entertainment district, situated midway between Abu Dhabi and the airport. There can't be many hotels that boast a Formula One course wrapped around the façade and if that doesn't provide enough thrills, Ferrari World theme park, Yas Waterworld and Yas Marina Circuit are all nearby, offering thrills aplenty. The large-scale hotel has a striking LED canopy that cycles through a series of colours at night, while cooling the hotel during the day, which provides an uber-cool backdrop for the open-air Skylite rooftop lounge.
Shangri-La Hotel Qaryat Al Beri
The Shangri-La Hotel Qaryat Al Beri sits a stretch of the water away from the Sheikh Zayed Grand Mosque, the prime rooms featuring views of the edifice with its impressive spires stretching into the sky. Full of warm tones and organic textures, the hotel has a definite Arabian influence – think rich opulence on a grand scale. The complex includes an Arabian souk (market) selling traditional artefacts, paintings, jewellery and clothes. The different areas are connected by a winding waterway complete with abras (traditional boats) to whisk you through the verdant gardens. The hotel's French restaurant, Bord Eau, is superb.
The Ritz-Carlton Abu Dhabi, Grand Canal
Complete with landscaped gardens, tinkling fountains and Venetian-inspired buildings, The Ritz-Carlton Abu Dhabi, Grand Canal is a relatively new offering, within a stone's throw of Sheikh Zayed Grand Mosque. The beach resort's 10 interconnected buildings curve around an impressive 600-square-metre pool and with a range of cuisines from a steakhouse to Lebanese fare, you'll be hard pressed to find a reason to leave the grounds. The beachfront ESPA is inspired by the colours, textures and metal-work of Bedouin culture. After a signature treatment you can kick back in the relaxation area surrounded by lush greenery, take a dip in the plunge pool, or head to the private beach reserved for spa guests.
For a decadent Arabian experience in the thick of the action, look no further than Emirates Palace. The architecture and décor is fully Arabesque and the scale is overwhelmingly grand. The enormous hotel features 114 18-meter-high domes, luxury suites decorated in gold and marble, private butlers on call, and a 1.3-kilometre long private beach. You can't help but feel like royalty here. The two swimming pools, one of which winds around pockets of greenery, are nestled within the 85 hectares of landscaped gardens. If you'd prefer to sail your mega yacht in, you can berth it at the hotel's private marina.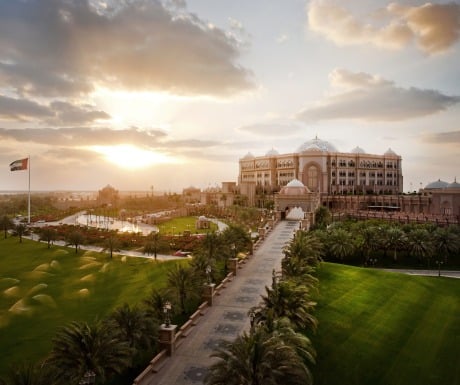 Honourable mention: Qasr Al Sarab
Technically it's not in Abu Dhabi city, but Qasr Al Sarab is the Arabia of fables. The luxury oasis is set within the legendary Liwa Desert in Abu Dhabi's Empty Quarter, which is one of the largest uninterrupted sand deserts in the world. If you're feeling particularly indulgent, opt for one of the villas, which come with a private plunge pool. Every room offers desert views that will give the illusion of a Nomadic exploration – in contemporary luxury. Here's your chance to ride a camel into the horizon over sand dunes washed with the golden rays of sunset.
Whichever temporary abode you choose, you won't be disappointed. Abu Dhabi prides itself on its international cuisine, impressive architecture, cultural heritage and welcoming Arabian hospitality.