Courchevel is known as 'the millionaire's playground' but what can you really get for your money? I have been holidaying in Courchevel since I was a child, and now, selling it as a 'go to destination' for my high net worth clients, I have seen it evolve over the past 20 years, today, you can find some of the best properties in the world. Here are my Top 4 chalets:
Chalet Edelweiss 1850
Walk through the front door and you will be welcomed by art work you only see in museums, quite apt as in 2012 the owner opened the 'Mougins Museum of Classical Art' in the South of France which showcases his collection more so. . . Edelweiss is just the Amuse Bouche. That aside, Edelweiss is a 8 bedroom super chalet, the perfect family chalet, the perfect party chalet . . the perfect everything. Very modern, crisp and fresh, the latest technologies and designs, stay in Edelweiss and have fun getting lost on the way to the swimming pool, nightclub, cinema or bar. Needless to say, if you do get lost, the team of 6 staff will escort you to where you need to be, you don't need to ski when staying in this residence, but if you do decide to don a pair of skis, the in house ski instructor will be waiting patiently in the boot room to whisk you away to un touched tracks before dining in one of the many Michelin starred restaurants on the slopes.
Chalet 777 1850
Art seems to be the theme in Courchevel at the moment, this chalet is a strong rival for Edelweiss, not only is it neighbouring the super chalet, it is also home to paintings, sculptures, original drawings, lithographies and silk-screen prints from famous and referenced international artists such as Picasso, Dali, Mathieu, Hartung, Miotte. Just wow. A Hilton McConnico piano will await you in the music area in time to delight your guests before champagne and canapés created by the highly talented chef and team of staff.
Of course this chalet has bedrooms (8 infact) but let's not dwell on where one rests their head when there are far more exciting things to discover: the ground level houses the movie room, pool table corner, leisure room, lounge and nightclub! The lower ground floor has yet more delights, kids' play area, fitness area, spa area with sauna and hammam, swimming pool, Jacuzzi and massage room.
La Bergerie 1850
Built on the grounds of what used to be the 'Bergerie' restaurant just 3 years ago, 2013/14 was the first season and new super chalet to open in Courchevel. Now this chalet is really special, everything from the carpets to the stairs to the chairs, yes everyday furnishings but non that you will have ever experienced before. I like this chalet because it has been designed with thought, bedrooms laid out in perfect coloration for families, children and a group of friends. The kitchen made me want to become a chef, the spa area a masseuse, but, alas, there were no openings as there is a masseuse and beauty therapist in chalet at all times, located on the lower ground floor right beside the stunning 20m by 5m swimming pool, fitness room with Technogym equipment and a treatment room. Sleeping 14 people in 7 fabulous bedrooms with bathrooms large enough to host a dinner party! Or how about water skiing in the bath?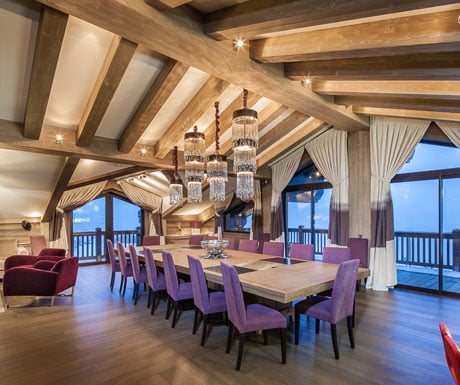 Chalet Pearl 1850
Regularly featured on French TV channels for its level of guest service, 10 staff in total which includes Manager, hosts, masseuse, chauffeur, chef, and housekeeper. There is nothing the manager cannot organise, last year we worked together to create a surprise for each evening of our guests stay, from ice sculptures to rooms full of roses. Here, in Courchevel, the world really is at your fingertips and money can buy everything. The beautiful chalet has 7 en suite bedrooms sleeping up to 14 guests in extreme luxury and includes a large master bedroom suite with jacuzzi tub.The superb relaxation area of the chalet includes one of the best spa and fitness facilities ever seen in a private chalet. There is a large heated swimming pool with loungers by the side to relax in, as well as a fitness room and steam room.
Celine Renaud is Head of Sales for Leo Trippi.
If you would like to be a guest blogger on A Luxury Travel Blog in order to raise your profile, please contact us.