By
Paul Johnson
on Sep 06, 2014 in
Accommodation
,
Adventure Travel
,
Attractions
,
Cruises & Boat Travel
,
Europe
,
Family Travel
,
Going Out
,
Hotels
,
Leisure Travel
,
Regions
,
Speciality Travel
,
United Kingdom
,
Western Europe
Just a short drive from Portree is the village of Sconser from where you can take the CalMac ferry, MV Coruisk, to the island of Raasay. Raasay is just 14 miles long and 4 miles wide, with a population of around 200 people. Taking her name from the freshwater Loch Coruisk on the Isle of Skye, MV Coruisk or Coir' Uisg' was luanched in 2003 and is unique to the fleet, appearing very tall relative to her length. Measuring just 65m in length, MV Coruisk can reach speeds of 14 knots and can accommodate up to 249 passengers and 40 cars, proving that small can indeed be powerful. On the day of our visit, there was only a handful of cars and motorbikes, plus ourselves and a few other cyclists.
We were met by Lyn, a Director at Raasay House, who was drawn to the Highlands as a teacher in Plockton before somehow transferring her skills to becoming a climbing instructor on the Isle of Skye and then starting Raasay Outdoor Centre with two others. Back then, in 1984, the house was in ruins and had had a very much chequered history – from being burnt to the ground after the Battle of Culloden to being run as a rather successful hotel between the first and second World Wars.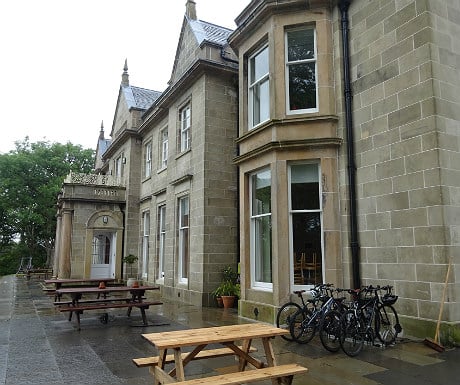 The ups and downs of the building's history continued when, in January of 2009, the house suffered from a fire once more, just weeks before completion of a multi-million pound, lottery-funded refurbishment, destroying everything bar the west wing of the building. Despite this huge setback, Lyn and her team have done an incredible job rising from the ashes, restoring the house after this disaster, and creating some rooms that are more akin to those of a luxury hotel than an outdoor centre. The house somehow manages to pull of both hotel-style and hostel-style accommodation under one roof, catering for guests who are just looking for a relaxing stay and those who are more there for the outdoors.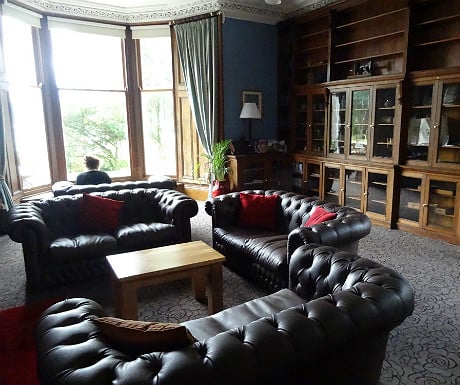 We enjoyed a tour of the house and learned more about its history before setting off on our bikes to do a little exploring of our own, calling first at Uamh nan Ramh (oar cave). This is a natural fissure with slabs laid on top, believed to be of Iron Age origin. More recently, it's thought that men used to hide their oars here so as to prevent easy theft of their boats.
From there we began to climb upwards – I think tiredness from our previous excursions was starting to creep in by this point, but the gain in altitude was worth it to look back and admire the view.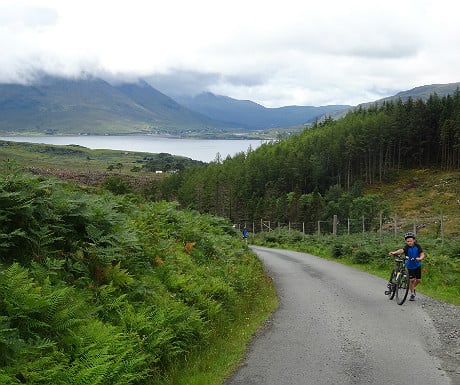 Along the route, we took in various remains of the island's iron ore industry. At one point up to 300 German Prisoners of War from World War I were sent to Raasay, with some never making it home back to Germany, to work the mine. So successful was the production on the island that it is estimated that as much as 200,000 tons of raw ore were produced from mid-1916 until the end of the War.
Although slightly shrouded in cloud, we got a good view looking back across to Skye, before dropping back down through Inverarish, the 'capital' of Raasay. This village was largely created around a century ago to house workers on the island's iron ore mine.
It would have been nice to have explored more of the island but there wasn't really enough time to do so.  In any case, this gives us a good excuse to visit again some time. Instead, after a lovely lunch back at the café at Raasay House, we tried our hand at one of the centre's activities – archery with instructor Jack.
I was completely 'shown up' by our eldest son during practice but, when told that we were going to have a little competition and there was going to be scoring taking place, I managed to 'up my game' just in time!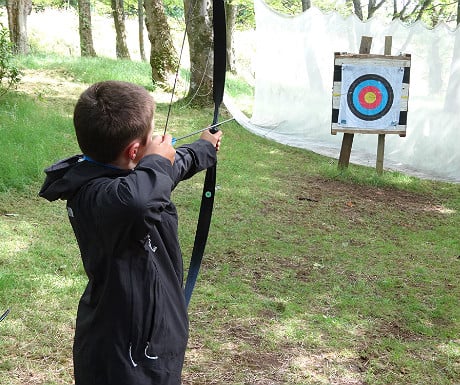 Other activities available through Raasay House include climbing, abseiling, gorge walking, coasteering, kayaking (both loch and sea kayaking) and sailing. We were originally going to take the ferry back to Skye but Raasay House very kindly gave us the opportunity to sail back on their Hebridean fishing boat 'Oigh Niseach' instead, accompanied by two of their instructors (Dave and Jack), giving our children the opportunity to apply their newly-acquired RYA skills.
From the sea, you get a better feel for the scale of Raasay House and its setting.
Shortly before reaching Sconser, we moved out of the way of the Calmac ferry which was making its final journey of the day back to Raasay.
Back on dry land, we waved farewell to our instructors. I hadn't been able to photograph the boat with the sail up until this point. As you can see, it is a lovely little vessel, full of character and one of only a handful of these boats left in the world. They were originally built on the Isle of Lewis and were used primarily for line fishing. The instructors were really friendly and will teach you everything you need to know to sail this unique boat should you ever choose to visit the Isle of Raasay and Raasay House yourself.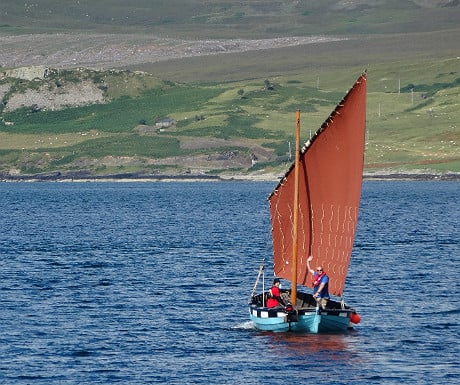 Disclosure: The above formed part of a luxury Scotland mountain bike trip sponsored by Caledonian MacBrayne, Ridgeback and Madison.