By
Tom Marchant
on Sep 12, 2014 in
Accommodation
,
Africa
,
Asia
,
Australia
,
Brazil
,
Caribbean
,
Central America
,
Costa Rica
,
Honeymoons
,
Hotels
,
Indonesia
,
Leisure Travel
,
Maldives
,
Middle East
,
Mozambique
,
Oceania
,
Oman
,
Pacific Islands
,
Regions
,
Resorts
,
Saint Vincent and the Grenadines
,
South America
,
Speciality Travel
,
Tanzania
,
Worldwide
We all need a trip to the beach every now and then to relax with a good book and get lost in our thoughts. So we've compiled our favourite beach retreats from the dazzling waters of the Maldives to the mystical mountains of Oman. The chilly end to this summer may have left you yearning for a warming jaunt to the ocean.
Escape the mania of modern life with a stay on this private island dwelling 40 miles south of St. Vincent in the Grenadines island chain. Upon the beachfront or perched above the tropical woodland are 22 cottages carefully positioned for the utmost privacy. A staff to guest ratio of 2 to 1 means that your every need is catered for with opportunities for candlelit dinners anywhere on the island, a picnic on a deserted beach, beachside morning yoga or diving with a personal PADI instructor. Rustic brick cottages are equipped with the opulent comforts of Mascioni towels, BVLGARI bathroom amenities and a Nespresso coffee machine. Waking up in the morning has never been easier when you can open the glass doors onto you private garden overlooking the shimmering turquoise carpet ahead.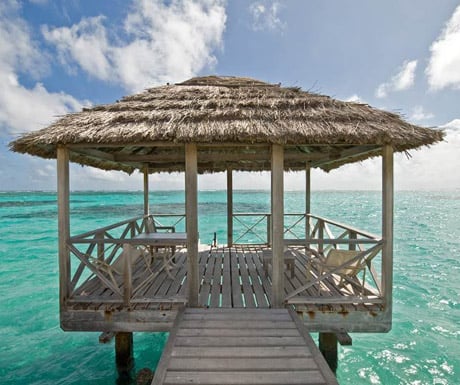 Lakanfushi is one of 1190 coral islands in a sparkling lagoon in the Maldives. Whilst each stilted villa boasts a Robinson Crusoe vibe accessible by a rustic wooden jetty, the water mansion with two master suites and one guest bedroom is the gem of Lankanfushi, with coral pools on the sun deck, a slide from the top deck into the glistening waters and 2 person bathtubs built over coral pools. All guests relax into the liberating 'no news, no shoes' policy to encourage them to disconnect from home, and the numerous restaurants allow guests to enjoy sunset cocktails or relax in water hammocks under the glistening night sky.
The definition of castaway chic, the barefoot sanctuary and crystal clear waters of Vamizi Island is one of the wildest places on earth, hypnotising us with the sense of calm across the Quirimbas Archipelago, a string of islands on the northern coast of Mozambique. Walk along stretches of deserted beaches for hours to discover the remnants of Vamizi Island's rich Arabian and Portuguese history and stumble across a church, fort, wells and a lighthouse. It's inevitable to be spoilt for choice when choosing villas; for bigger groups we recommend the Casamina and Suluwilo private villas with a courtyard and pool for lounging, complete with hammocks and swinging chairs, not to mention tree house bedrooms to satisfy your inner child.
Ultimate glamping shipwrecked-style with 11 of your nearest and dearest on Wilson Island coral cay, 45 miles from the Queensland coast. Life is simple when you wake up on this secluded retreat with a day of snorkelling ahead, followed by a star lit evening carefully watching both green turtles and the endangered loggerhead turtles laying their eggs. Or why not explore the untouched and untainted depths of the island to spot some of Australia's migrating birds taking a well-deserved break. If you ask us our feathered friends have got their holiday plans spot on.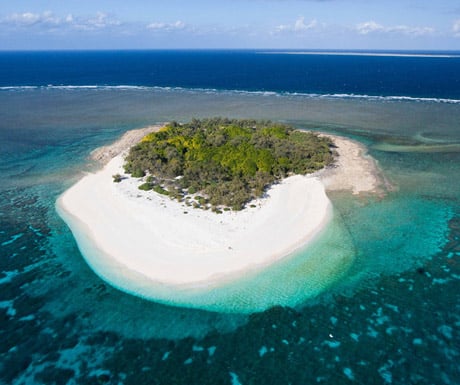 Kura Kura is the ultimate escape from reality. Guests revel in the picturesque island in the heart of the Karimunjawa Archipelago in villas hand-crafted with indigenous materials, dining on freshly caught lobster in the evenings.  Spend the night on the private Krakal Island located only 30 minutes from the resort, with only has one villa to sleep up to four people – perfect for those wanting a digital detox. No electricity or kitchen facilities means that you'll be provided with a specially made overnight picnic hamper, with candles and solar torches to guide you by night, not that you'll need guiding with the bright moonlight shining down.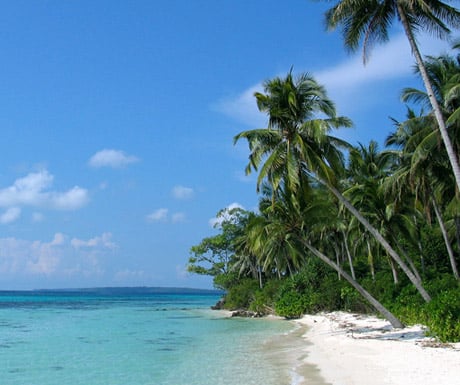 For an ultimate combination of adventure and beach relaxation, Florblanca is your match. The ultimate detox retreat, Florblanca offers health and wellness, yoga and surf packages to get your heart pumping. The hotel also offers adrenaline activities such as zip-lining, paddle-boarding, horseback riding along rugged beaches and fishing for your evening meal.  Villas are furnished with a Latin flair and merge from the rainforest into the sea front, with a casual and laid back vibe. The surf house is converted from a traditional Costa Rican home and the honeymoon house is secluded for couples to make the most of the treetop covered deck, bubbling Jacuzzi and a private beach.  Listening to the distant calls of Howler monkeys and spotting migrating whales dancing by encapsulates the true organic spirit of Costa Rica.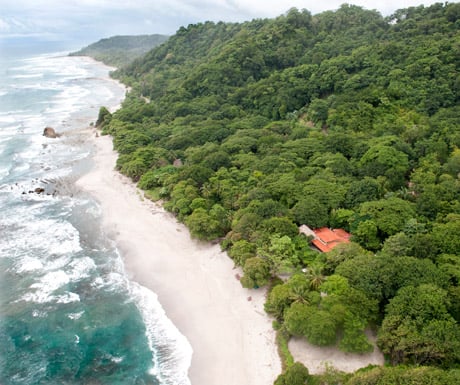 A quintessentially Brazilian fishing village located on Brazil's idyllic southern Bahian coast blends seamlessly into the adjacent historic centre of Trancoso. Colourful outside façades and indoor rustic décor mixed with contemporary comforts create 10 unique casas, which have been designed in collaboration with Dutch fashion designer Wilbert Das and local artisans. Some casas face the 16th century town green called the Quadrado while the other eco-conscious tree houses are hidden in a lush private garden. Stepping barefoot onto the Brazilian Bahian paradise you'll understand the equation: Bahaia = Sun + Sea + Vegetation. A chic beach lounge is forged from old fishing boats where you can sip on Caipirinhas whilst deciding whether to sunbathe or try out some sea kayaking and take up Capoeira.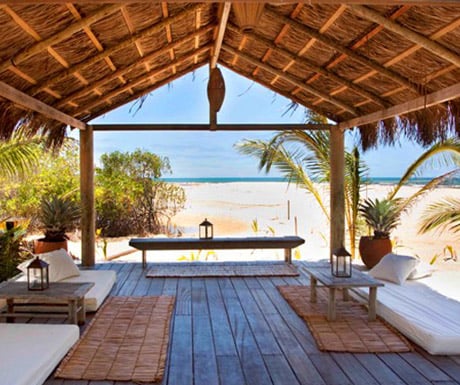 What could be a better pit-stop than taking in the serenity of Pemba after a Tanzanian safari. Your safari does not stop here, as Pemba leads you to the sea to embark on a marine adventure.  As one of the best places to dive in the world, Fundu Lagoon was recently voted as Best Marine Safari Property in Africa. With 18 safari style tented lodges embellished with Makuti thatched roofs, you can choose from properties on the beach front, or on the hillside, both with spectacular views of the sparkling Indian Ocean. A moonlit dinner on the beach showcases a fusion of Swahili, Arabic and Indian flavours with a daily fisherman's catch and tropical fruit providing an exotic twist on international cuisine. Jetty Bar is the ultimate lounging hub where you can peer at fisherman and dhow boats passing through the coral lagoon.
This charming Arabian hideaway in the Sultanate of Oman set against the dramatic mountains of the Musandam Peninsular prides itself on its spas and wellbeing programmes with an eastern twist. Each villa, in an indigenous style village, reminds us of an Omani enclave with high cobblestone walls and a plunge pool on a private deck, with some rooms and suites incorporating an in-villa spa so guests can relax with a traditional herb infused massage in the comfort of their own rooms. Elsewhere in the Spa guests are encouraged to beat the heat with an Aloe Vera Ice Hammam consisting of a herbal steam bath and body exfoliation, followed by an Aloe Vera moisturise. Massages in the Starlight Retreat are tailored to each guest's lifestyle, horoscope and phases of the moon.  At a short distance from souks, markets, Beduoin camps, museums and mosques, Zighy Bay offers a distinct combination of cultural activities along with beach relaxation in the mysterious Musandam Peninsular.
Four Seasons never fails to astound and Bora Bora is no exception. Choosing between mountain, beach or lagoon views in a stilted bungalow or a beachfront villa is the least of your worries, as they all come with private plunge pools and ladders into the sea or a private beach area. Waking up to the sounds of a ukulele playing traditional Polynesian songs as a canoe delivers your breakfast will prepare you for your day ahead.  The eclectic choice of world class snorkelling, trips to markets, building your own coral logo for fish to feast on and paddle surfing means there's something for everyone. That's not forgetting your evening entertainment of a Tahitian Cocktail cruise for sunset followed by fire dancers performing as you eat your custom made dinner.
Tom Marchant is Co-founder of Black Tomato.
If you would like to be a guest blogger on A Luxury Travel Blog in order to raise your profile, please contact us.