By
Andy McNulty
on Sep 17, 2014 in
Accommodation
,
Attractions
,
Events
,
Going Out
,
Hotels
,
Leisure Travel
,
Nevada
,
North America
,
Resorts
,
Speciality Travel
,
Travel Miscellany
,
USA
Viva Las Vegas! What a city. I've been once in my life. Some would say that's once too many, but no doubt they're imagining scenes from The Hangover! Are they right though? Is Vegas really that one dimensional? I decided to consult with one of our insiders, a lady by the name of Amy Firmani. A Vegas local, Amy owns a vacation rental in Bermuda Springs, a quiet residential area south of the Strip. She opened my eyes. Here are the 5 experiences not to miss in Vegas, as told by a bona fide Vegas insider (and note that gambling and getting married do not feature!).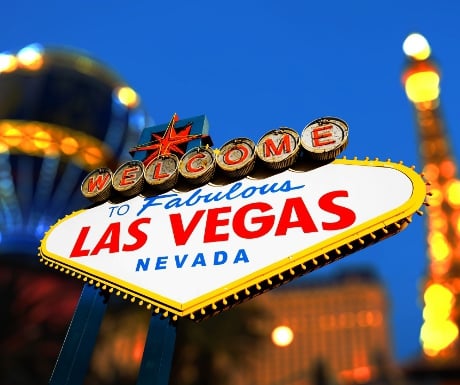 OK, this may be a cliché. But Caesars is an icon. Rebuilt and rebuilt, but still so classy. Great pools, great events, great rooms, great mall… just a fun place to visit. Head over to the spa or salon for treatments (the spa is just beautiful, with saunas and pools). Pay for a day pass, workout in the heavenly gym and then relax in a sauna. That is a good day! We also enjoy the mall and then a bit of people watching at one of the open air restaurants.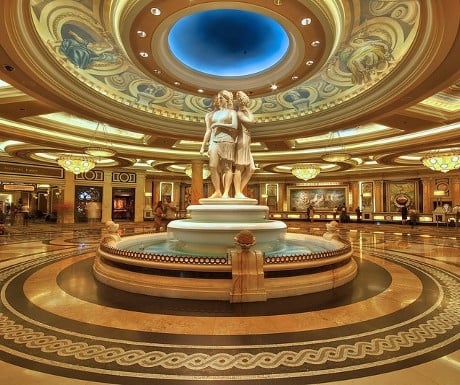 2. Shark Reef followed by lunch at Mandalay Bay
Well, this is off the beaten path! But so worth the trip. It's done Vegas style: OVER THE TOP! The glowing jellyfish are just cool. And to see the sharks swimming over and under you… love it! Head over to the little Mexican café and sit outside for a great lunch or dinner after – it makes for a great way to spend a few hours.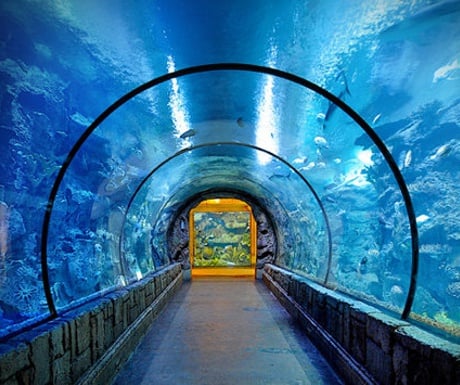 3. "O" by Cirque du Soleil at Bellagio
So many shows and they are so expensive. How do you decide which one to go to? While we can recommend a long list, this one stands out. It left us in awe. It was beyond amazing and something everyone should see. Acrobatics, synchronized swimming, diving. And all set around water and the concept of infinity. This is really only something you find in Vegas so go book your tickets!
4. Visit Red Rock at sunrise or sunset
Just 30 minutes west of the strip, Red Rock is special. It is a wonderful place to climb and hike, but to see the sun rise and light up the rocks like fire… it will take your breath away. It is spectacular. But if you can't get up at 5am then grab some snacks, prepare a picnic and head out for sunset. To see the red rocks light up and then the shadows take over, this is also quite amazing. Take an extra drive to Bonnie Springs to the see an old western town if you can.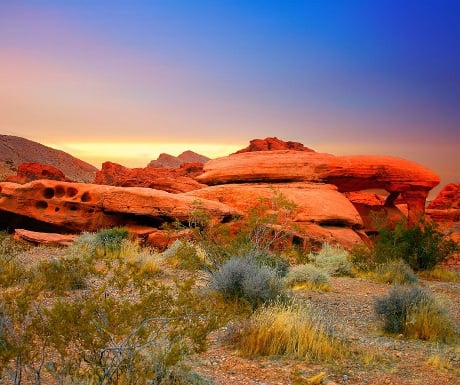 5. For the thrill seekers!
There are tons of great choices and we're only scratching the surface with these 3 choices. First up is the Voodoo Zipline between the Rio towers, where you'll hit speeds of 33 mph at 450 feet in the air! If zip lining isn't your thing, try the High Roller Ferris Wheel – at 500 feet in the air it's the world's largest observation wheel. Or, for something truly "only in Vegas", why not try driving a bulldozer over at "Dig This".
So there you have it. Yes I could see one of the guys from The Hangover wreaking havoc on the Strip with a bulldozer! But Amy has given us a more balanced view, an insider's perspective. This is not just party town!
Andy McNulty is the Co-Founder of Vacation Insiders.
If you would like to be a guest blogger on A Luxury Travel Blog in order to raise your profile, please contact us.