A luxury hotel is a better choice for a true luxury traveler than Airbnb or the myriad of apartment rental services. While budget travelers are often well served by rentals, which are usually cheaper than mid-range hotels, there are a number of advantages that luxury hotels offer compared to rentals.
1. Better value
If you're a luxury traveler, attention to detail counts — the kind of detail that is often missing with even higher end properties on Airbnb and apartment rentals. For example, a personalized welcome amenity for you, and perhaps a cute plush animal or special pastry treat for your child; Champagne if you're celebrating a honeymoon or anniversary or a cake for your birthday; plush bathrobes and slippers; reservations at hard to get restaurants via the Concierge; twice daily housekeeping; an in-room Nespresso machine for your first coffee of the day; the list goes on.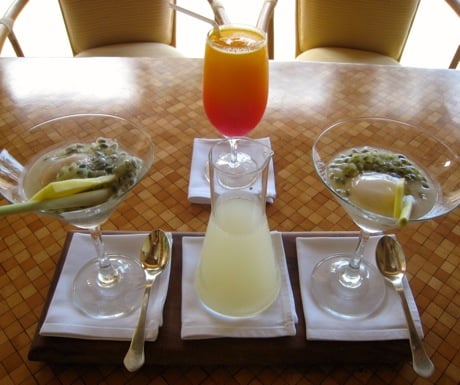 While Airbnb and apartment rentals are more akin to a change of scenery, a top luxury hotel is a true vacation from the everyday, with thought put into the entire experience and hotel staff sweating the details so that you don't have to. A luxury traveler who cares about the overall experience will find better value for money and less risk of unpleasant surprises with a top luxury hotel than with Airbnb.
Finally, it's worth mentioning that for U.S. readers, there are some luxury hotels that you can actually stay a night or two for free at, simply by virtue of applying for a credit card. For example, my husband and I each were approved for the Hyatt Visa, which comes with 2 free nights at any Hyatt worldwide as a signup bonus. We used our 4 free nights at the Park Hyatt Maldives, where villas are often $1000 per night or more.
2. Better service
There's a reason why the top luxury resorts and hotels are very rigorous with their hiring and training, particularly for associates who interact with guests: Service is a key differentiator for luxury brands, such as Aman Resorts, The Peninsula, Four Seasons, and Mandarin Oriental, over other hotel chains.
The best staff actually anticipate needs, not just respond to them. For example, at Hotel Le Bristol in Paris, the Maitre D' noticed our son becoming a little restless while we were at lunch, and invited him on a special tour of the kitchen, which of course he was thrilled to do, and enabled my husband and I to enjoy a romantic lunch together. At the Four Seasons Hotel George V, a guest who had left a broken set of eyeglasses came back to find that the housekeeping staff had had them repaired. And at Amanjiwo near Borobudur in Indonesia, after returning from a challenging hike, one of the associates, noticing my muddy sneakers, proactively offered to take my shoes and clean them, without my even asking.
3. A better night's sleep
A basic need that all hotels and places to stay must deliver on is a great night's sleep, yet you'd be surprised how many rental apartments and cheaper hotels fail in this regard, whether due to a rock hard mattress, an old saggy mattress, lack of sufficient air conditioning in hot climates, or light streaming in too early in the morning when you want to sleep in. By contrast, a luxury hotel generally offers a wonderfully comfortable bed that is supportive yet plush (or can be made plush by calling housekeeping for a mattress topper), proper temperature control that works, and—very important—blackout shades that make the room nice and dark, even for naps in the middle of the day.
4. Better VIP and loyalty perks
The top luxury hotels either offer a preferred partner program or are a member of a luxury consortium such that you can enjoy special perks, such as upgrade on arrival, complimentary breakfast, a hotel credit, and other amenities depending on how you make your booking (insider tip: don't go through an online site such as Expedia or Orbitz if you want to be treated well). Certain brands, such as Park Hyatt, Ritz-Carlton, St. Regis, etc. also enable you to earn loyalty points via Hyatt, Marriott and SPG respectively, which you can redeem for future stays or upgrades, or even, in the case of SPG, transfer to various airline frequent flyer programs to book flights. Airbnb and apartment rentals of course, don't offer these types of VIP perks or loyalty points.
5. Ability to move rooms or suites if needed
Sometimes mistakes occur or there's a problem with your room, suite or rental. If you're in a rental, you're pretty much out of luck, which could end up really ruining your vacation. If you're at a luxury hotel and there's an issue, the hotel will work to find you another room or suite that you can move to (and sometimes even upgrade you in the process): problem solved.
6. No fees if you cancel a refundable reservation
If you have a change of plans, you can freely cancel a refundable reservation at a luxury hotel, often up to the day before (check the hotel's cancellation policy) and not pay anything. Not so with Airbnb, where many hosts have strict cancellation policies that mean you'll be out the entire amount if you cancel at any time after making the booking. Even if you reserve with a host who has a more flexible cancellation policy, you won't get back the fee that Airbnb collects — your Airbnb fee is non-refundable, even if your plans change.
7. No security deposit
Many apartment rentals entail a security deposit, which you could end up forfeiting even for relatively minor wear and tear. While you should obviously take care of any place you stay as if it was your own, you're less likely to be on the hook with a hotel for normal wear and tear. If you're a normal guest and not partying in the hotel room, you'll almost never pay anything beyond the room rate.
8. Reliable check-in
At a luxury hotel (or even a regular hotel, for that matter) someone is always at the front desk or can be easily summoned with a bell. In contrast, if you're renting from Airbnb or other apartment rental agency, there is a risk of not being able to meet up with the host and access your room when you arrive. Don't believe me? I rented from one of the Airbnb co-founders a few years back, and not only was he not there at the appointed time, he didn't answer his phone for over 10 minutes. While he did apologize, it made me late to a meeting I had planned in San Francisco. This would never have happened at a luxury hotel. Lesson learned.
9. Unique activities at the resort
While some high end rentals have beautiful pools and landscaping, similar to top luxury hotels and resorts, what sets many top luxury resorts apart are unique cultural activities and performances. For example, local slack key guitar music, often accompanied by hula, at Four Seasons Maui at Wailea and Four Seasons Hualalai, or gamelan music and Javanese dancing at Amanjiwo, near Borobudur. One of my son's favorites was feeding a spotted eagle ray at Four Seasons Hualalai, with help from the resident marine biologist.
10. Complimentary kids club
One of the great benefits for families of staying at a luxury resort, rather than a vacation rental, is the chance for kids to make new friends at the complimentary kids' club. While we do many activities with our son, he also wants to play with other kids, so he always brightens at the prospect of a kids' club to go to, where he gets to make forts with other kids, play sports, do local arts and crafts, and go on scavenger hunts. He usually doesn't want to leave, and in the meantime, we get a little couples only time. Everyone gets to have a real vacation.
Hilary Stockton is the CEO at TravelSort.
If you would like to be a guest blogger on A Luxury Travel Blog in order to raise your profile, please contact us.