By
Andy McNulty
on Oct 07, 2014 in
Attractions
,
Caribbean
,
Cruises & Boat Travel
,
Food and Drink
,
Going Out
,
Leisure Travel
,
Regions
,
Speciality Travel
,
Travel Miscellany
,
Turks and Caicos
The Turks and Caicos Islands. You're imagining scenes of white sand beaches and warm, turquoise waters. And you'd be right. There's a reason why Grace Bay Beach has won countless "best beaches in the world" awards. But don't be so blinkered (like I was)! There is so much more to these islands, as I discovered when talking to our Providenciales (aka Provo) insider, Basia Zaidan. She gives us a peek into the real Provo with her 5 experiences not to miss.
1. Bella the Mermaid
Yes, we really have a mermaid! Well almost. Meet Josie, or should we say Bella the mermaid? She's a free diver, meaning she can hold her breath for, well, a VERY long time. So long in fact that she joined forces with the Undersea Explorer to give a new twist to their "semi-submarine" tour. This is a really fun way to experience and learn about our ocean life. Your kids (and the kid in you) will love it!
2. Go snuba
No, that's not a typo! It's a cross between snorkelling and scuba diving. You stay underwater for as long as a scuba diver, but without the hassle of the tank. It's simple. You breathe through a regulator which is attached on a line to your air tank in the boat above. And rest assured, Snuba is a licensed product and program, safe for ages 8 upwards, you're in good hands! Have a look at Snuba Turks & Caicos for more information.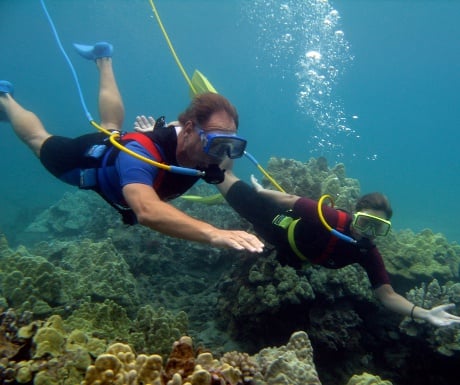 3. Visit the Rock Iguana
Come visit them on Iguana Island, located less than 500 metres from Provo. Once common across all our islands, they are now on the endangered list, but thriving on Iguana Island thanks to a strong conservation effort. Access is via tour boat or, if you feel strong, you can kayak across. Once there, follow the boardwalks. It's a fun and short trip, perfect for the kids. And the blue water is a stunning sight!
4. The Good Ship Atabeyra
Once a trading schooner, ferrying commodities between Hispaniola (the combination of the Dominican Republic and Haiti) and the Turks and Caicos. She is now retired from commercial service, operating as a charter boat, whisking you around the Caicos Cays. They offer a half day snorkel and sail, a happy hour sunset cruise and the NOT to be missed glow worm sunset. Also available for private charters and weddings!
5. Fish Fry
Barely a couple of years old but fast becoming legendary! Every Thursday evening at the Children's Park locals and tourists come together for an evening of celebration. Local stalls with all manner of mouth watering food, cooked on the spot. Fresh fish, jerk chicken, conch salad, and more. But it's not just food. There are local bands playing, dancers, handcrafted items, even some rum! And look out for Henry the Conch…
And that's your peek into the other side of Grace Bay Beach! You'll find more from Basia, including hot restaurants, sensitive eco tours, beach horse riding, and even a "millennial agenda" in the full Insider Guide. And, with that, I trust that the blinkers are now resting on your vacated beach towel!
Andy McNulty is the Co-Founder of Vacation Insiders.
If you would like to be a guest blogger on A Luxury Travel Blog in order to raise your profile, please contact us.